Netflix (NASDAQ:NFLX) reports its 4Q11 earnings on January 25th. The Street expects the company to earn $0.55 per share on $857 million in revenue. The company is recovering from its failed attempt to rebrand its DVD-By-Mail business and massive subscriber cancellation due to price hikes. Heading into the earnings, investors can expect approximately 500K cancellations and possibly more cancellations spilliing over to Q1.
For the remainder of the year, Netflix will likely remain unprofitable as it doubles content acquisition and focus on bringing UK and Irish markets to profitability.
Q3 Recap
In Q3, Netflix reported:
Revenue:$822 million (+49% y/y)
EPS: $1.16 (+66% y/y)
Subscriber

Total US subscribers: 23.79 million (+42% y/y)

Net subscriber loss: 810K

International subscribers: 1.48 million (+190% y/y)

Net subscriber additions: 510K
Netflix issued a weak guidance because its tier-pricing of the DVD and streaming services and rebranding of the DVD-By-Mail service created poor user experience and stirred backlashes among Netflix subscribers. The company expects 500K net subscriber loss for the quarter, compared to the consensus of 2 million net subscriber additions.
Q4 Preview: Weak Sub Growth; Expect More Pain Ahead
For the upcoming quarter, investors can expect continued subscriber loss and a weak guidance for FY2012.
Aside from the 500K net subscriber loss that was forecasted by management, additional losses could spill over to Q1 when the agreement between Netflix and Starz terminates in February. Because of the near-term focus the market has on Netflix, any subscriber decline will be viewed unfavorably and will weigh on the stock price, in my view.
Netflix is expected to be unprofitable for the remainder of the year on a global basis due to rising content cost and its entrance into UK and Ireland in 1Q12. According to management, Netflix will double its content acquisition domestically and internationally this year.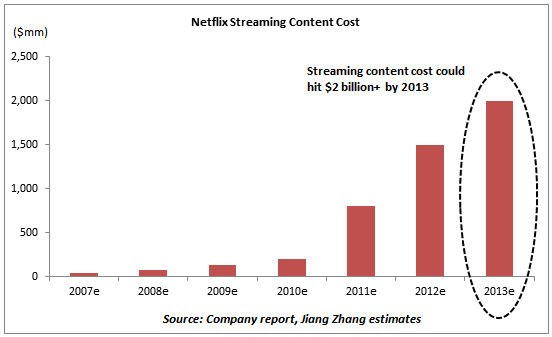 Content acquisition will be critical for Netflix to attract additional subscribers because its topline growth depends on subscriber growth to fuel its virtuous cycle.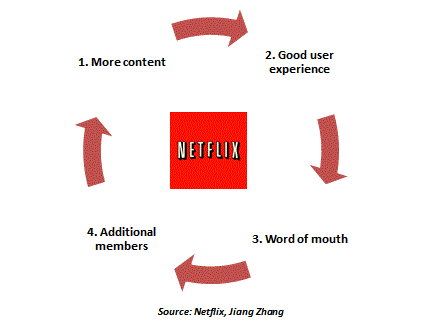 However, Netflix has limited control over its content cost because it is at the mercy of the content providers. As competition increases from new entrants such as Amazon (NASDAQ:AMZN), Hulu, Google (NASDAQ:GOOG), Dish Network (NASDAQ:DISH), and Apple (NASDAQ:AAPL), content providers will likely sell their contents to the highest bidder. The bidder with the most financial resources will likely obtain the most desired content library that will attract the most viewers, in my view.
Rising content and marketing expense amid stalled subscriber growth will severely undermine Netflix's margins if subscriber growth does not ramp up by the second half of this year. As the management has indicated earlier, there is no silver bullet to repair Netflix's brand in the wake of the poor strategic executions. Expanding content quality will undoubtedly attract viewers as Netflix's value proposition is more attractive than traditional cable TV, but it is unclear whether a brand recovery and a turnaround in subscriber growth will materialize this year.
Disclosure: I have no positions in any stocks mentioned, and no plans to initiate any positions within the next 72 hours.