The third bullish week in a row, with this one being the best of the last three. It was also the fourth winning week of the last five, and the S&P 500 has now gained 7.8% since the middle of December. While the market's seen bigger continuous rallies of late, the market's not seen rallies this long since May of last year. And, it's fairly clear the last few daily advances are getting more and more strained.
We'll see exactly how much luck the market's pushing in a second, right after we slice and dice the key economic numbers.
Economic Calendar
A pretty busy week last week, and overall, a better than expected one.
As we mentioned in the last Weekly Market Outlook, we were getting two big (and underestimated) numbers for the long-term market on Wednesday…. capacity utilization, and industrial production. Whichever direction they're pointed, so too is the market [the correlation is amazingly high].
Well, as it turns out, there's more going on economically than the short-term bears care to admit. Productivity reversed a 0.3% contraction on November with a 0.4% expansion in December, and capacity utilization ramped up from 77.8% to 78.1% last month. Though not completely back on track yet, this is an important rebound effort.
S&P 500 vs. Capacity Utilization and Industrial Production Index
click to enlarge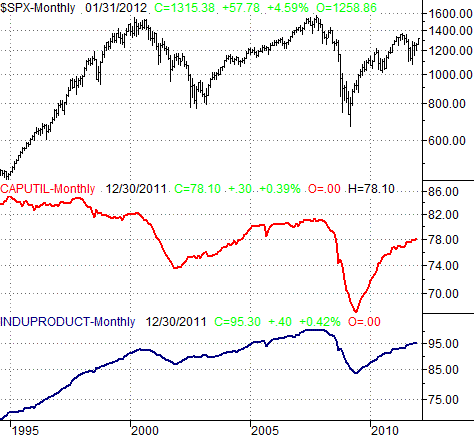 We also got some good news in the inflation front - there isn't any, or at least not much. For consumers, on a core basis (excluding food and energy) prices were higher by only 0.1%, or not at all on an overall basis. Producer price inflation actually fell 0.1% in December, and on a core basis was only up 0.3%. The annualized inflation 'rate' now stands at 2.96% - very tolerable.
On the real estate front, we're seeing things perk up as well. Housing starts fell from 685K to 657K for December, while building permits held steady around 680K (at 679K for December). That's fairly solid anyway, but quite strong given the time of year.
The rest is below.
Economic Calendar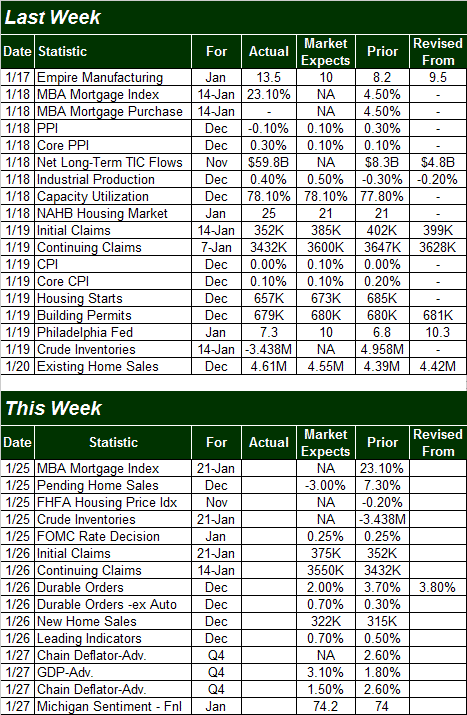 This week's going to be fairly busy too, though things don't get hopping until late in the week.
Thursday's initial and continuing unemployment claims are going to be key. The trend is decidedly downward, but has been falling even faster than expected of late. The pros are looking for initial claims to rise from 352K two weeks ago to 375K last week, but that's very much an above trend number. Ongoing claims are expected to move from 3.432M to 3.55 million two weeks ago, but again, these numbers have been rolling in better than anticipated.
Like it or not (and not just with these numbers), the jobs picture is getting better and better.
Also this week we'll get the preliminary calculation for Q4's GDP. All indications so far point to an annualized growth rate of 3.1%… a real upgrade from the prior quarter's 1.8% growth. The improved GDP figure jives with most of the other improving economic data we're seeing though.
S&P 500 Outlook
We were worried about it a week ago, though so far it's been an unnecessary worry. The concern was that the S&P 500 (SPX) (NYSEARCA:SPY) was getting overbought/overextended as it inches its way into the upper 40-day Bollinger band, currently at 1328. We also noted how the index was moving upward within a rising triangle/wedge shape. Well, that's still going on - the market's just 2.0% further into bullish channel. And, the upper Bollinger band still hasn't actually been brushed.
But boy are things getting tight - there's not a lot of room left inside that wedge.
That being said, the wedge itself is becoming more and more of a liability. As you can somewhat tell, the ceiling and floor of the wedge are not just rising, but they/re also converging. These 'ascending wedges are nice while they last, but they tend to result in some fairly sizeable [though that's all relative] pullbacks. Just think of it as a "the higher they fly, the farther they fall" premise.
The situation is aggravated by the harsh reality that there are no other floors in immediate sight other than the floor of the triangle pattern (orange). If things go sour - as they're apt to - a small misstep could turn into a big misstep pretty quickly, and we could be revisiting the 1270 area or so soon. Take a look.
S&P 500 - Daily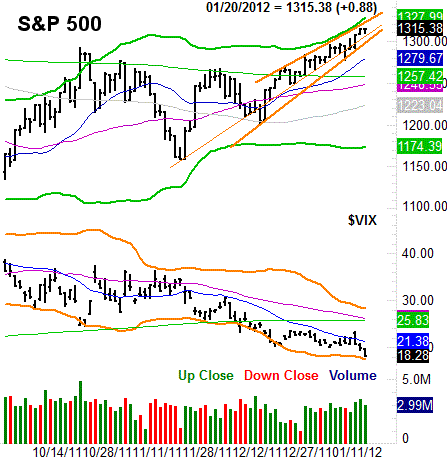 Oh wait - it gets worse than that. Did you notice the VIX (NYSEARCA:VXX) (NYSEARCA:VXZ)? It's made a strong downward thrust over the past three trading days. The direction is bullish for stocks, but the move is a little bit too intense…it's knocking on the door of its lower Bollinger band at 17.6.
There's a possibility the VIX could simply bump into that lower band and just gently guide it lower (as we saw for a bit back in mid-December). At this velocity though, paired with the way the S&P 500 is already staining to add the recent gains, a bounce from the VIX seems a little more likely.
Bottom line? The momentum is still carrying stocks upward, and the volume on the way up of late - contrary to popular belief - has been getting stronger rather than weaker. That's bullish. Nevertheless, there's just a little too much pressure at these levels, and we need to bleed some of it off sooner than later. A blowoff top (a major gain on high volume) would do the trick, though a move under the lower edge of the wedge around 1300 would also flag the beginning of that correction. Just be ready.
Also, since we showed it to you last week, here's another look at the weekly chart… just for a little more perspective. Same story though - the direction looks right, but it looks like we're reaching the near-term limits.
S&P 500 - Weekly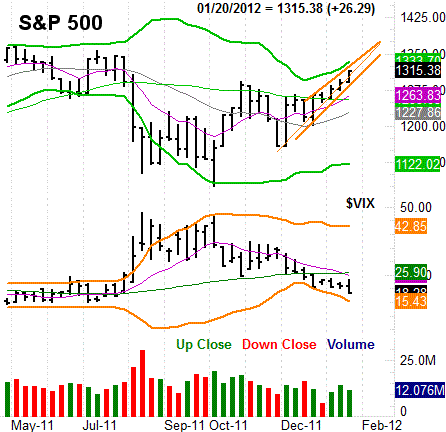 Earnings Results, Q4-2011
Though we're just getting started, it's not too soon to start keeping tabs on last quarter's earnings results, just to see if any trends develop. So far only 77 (15%) of those 500 companies have reported. Of them, 48 posted an earnings increase, and 26 posted lower numbers; three said there was no change. The average earnings improvement is 11.5%, while the average earnings decline has been 48%. The surprise beat/miss ratio is 47 to 22 (with 8 of these companies meeting estimates). So far, that's actually sub-par.
As it stands right now, the SPX is on pace to earn $23.31 per share (operating), or $22.36 on a GAAP basis. That's well under the $24.39 forecasted as of the end of calendar 2011. That forecast was only for an 8.2% improvement as it was, and so far we're not even going to reach that mark. Then again, only 15% of companies have reported - the number still has some time to increase before the end of earnings season.
We'll keep you updated as things develop, particularly on the sector front. FYI though, Q4's big winner is supposed to be the energy sector (NYSEARCA:XLE) with an average 21% improvement in earnings.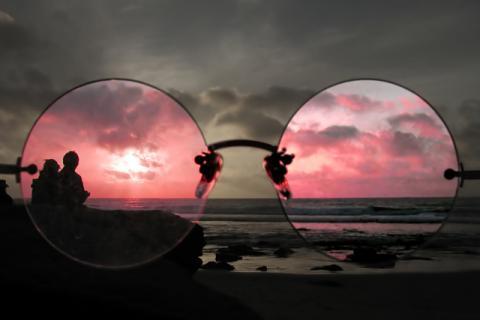 Disclosure: I have no positions in any stocks mentioned, and no plans to initiate any positions within the next 72 hours.