"Food should be fun." - Thomas Keller
One of the primary reasons for why I'm most bullish following the Summer Crash and Fall Melt-Up is the dramatic re-pricing in of inflation expectations by the market. The Winter Resolution idea which I've been writing about since the end of December is playing out specifically because inflation expectations are returning to markets, as volatility and correlations drop and a trend (up) asserts itself.
What is most encouraging is the multiple confirmations I am noticing through intermarket relationships that the mood has changed and that the stock market move looks more and more real in terms of upside potential.
Looking at soft commodities and anything agriculture oriented does seem to suggest the same type of message being sent through various sectors of the stock market and areas of the bond market. Take a look below at the price ratio of the Market Vectors Agribusiness ETF (NYSEARCA:MOO) relative to the S&P 500 (NYSEARCA:IVV). As a reminder, a rising price ratio means the numerator/MOO is outperforming (up more/down less) the denominator/IVV.
click to enlarge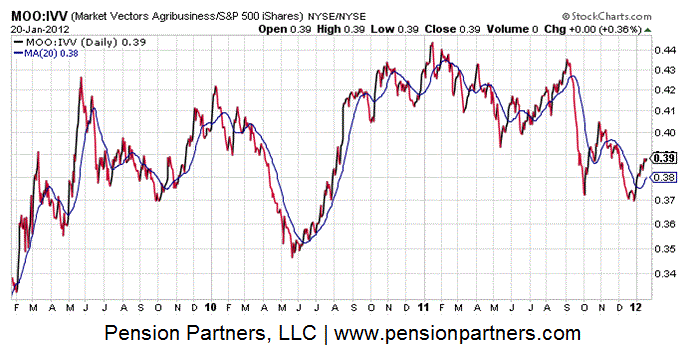 Click to enlarge
What I want to draw your attention to is periods under which Agribusiness stocks outperform broader beta. Notice the move up starting in February 2009 right before the March low in stocks (reflation). The trend headed lower in the first half of 2010 as European fears first flared (deflation scare), and rallied relative to the market in the second half when markets began anticipating QE2 (inflation fear).
In 2011, the ratio headed lower, collapsing during the Summer Crash at the height of deflation fears. Notice the bottom and V-Shape during the Fall/October Melt-Up, and then collapse following the Italy yield scare of November 10th.
Since 2012 started though, the ratio appears to have staged an uptrend in outperformance and leadership. If we assume this is consistent with inflation expectations returning, then perhaps the beaten down (from a relative standpoint) industry can stage a real period of strength going forward as inflation expectations turn into ag-flation expectations returning. It might be worth considering the idea that we'll start hearing this term all over the financial media in the months ahead all over again. After all, journalists tend to report the news of something doing well long after leadership has begun.
Disclosure: I have no positions in any stocks mentioned, and no plans to initiate any positions within the next 72 hours.
Additional disclosure: The author, Pension Partners, LLC, and/or its clients may hold positions in securities mentioned in this article at time of writing. The commentary does not constitute individualized advice. The opinions herein are not personalized recommendations to buy, sell or hold securities.