Ford (NYSE:F) has machinated its way through a tumultuous journey over the last few years. Nevertheless, they have taken the high, albeit much harder road at every turn. Ford is now on the precipice of becoming one of the most successful global auto companies on the planet, justly rewarding loyal shareholders. The following is a current chart for Ford followed by the major rationales underpinning my bull case regarding Ford's future prospects.
Current Chart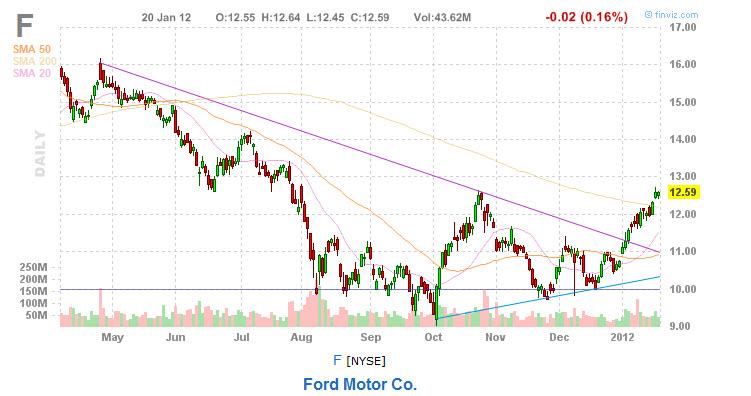 click to enlarge
Chart provided by Finviz.com
Reputation
In 2008, the U.S. housing bubble house of cards imploded, revealing the underbelly of a shadow derivatives market whose tentacles stretched across the globe creating a worldwide credit crunch known as the great recession. Many companies went bankrupt immediately; others were deemed too big to fail and received government bailouts. A few refused the handouts, pulled themselves up by their bootstraps and slowly but surely rose from the ashes. Of the three major U.S. auto companies, Chrysler and General Motors (NYSE:GM) went bankrupt and received government bailouts while only Ford refused and persevered.
According to Wikipedia, on June 10, 2009, Chrysler LLC emerged from Chapter 11 bankruptcy reorganization and substantially all of its operations were sold to a new company, Chrysler Group LLC, organized in alliance with the Italian automaker Fiat.
Regarding General Motors, President Obama declined to provide financial aid to General Motors in March of 2009 and stated that Chapter 11 bankruptcy appeared the most promising way to reduce its debts, by allowing the courts to compel bondholders and trade unions into settlements. On June 8, 2009, General Motors filed for reorganization under the provisions of Chapter 11, and as a direct result investments of all former common stockholders were lost completely,
Ford, on the other hand, did not go bankrupt and though it is under some dispute, did not get bailed out by the government. The story of Ford pulling itself up by its boot straps and facing the music only to emerge stronger is a story many American's identified with and supported. According to a Rasmussen Poll, 1 out of 5 people have bought a Ford because they did not take the bailout.
Rasmussen performed a poll regarding the situation and here are some of the key results:
Rasmussen asked, "Have You or Anyone in your family bought a car from Ford Because it didn't take a government bailout?" 19% said yes. Furthermore, 25% of people polled said yes when asked "Has the bailout and government takeover of GM caused you or anyone you know to avoid buying a GM car?" Rasmussen also asked: "Does the fact that GM took bailout money make you more/less likely to buy a GM car?" 50% said less likely - just 4% said more likely. To the question "Does the fact that Ford didn't take bailout funding make you more/less likely to buy from Ford?" - 51% said more likely and 12% said less likely.
The status as the one company not to take a government handout and pull itself up by its bootstraps is a strong force behind Ford's continued success.
Management
Alan Mulally is currently the President and Chief Executive Officer of the Ford Motor Company. Ford, which had been struggling during the late-2000s recession, returned to profitability under Mulally and was the only American major car manufacturer to avoid government-sponsored bankruptcy.
According to Wikipedia, in 2008, amid mounting losses during an economic downturn, Ford announced a proposal on December 2, 2008 to cut Mulally's salary to $1 per year if government loans were received and used by Ford. During hearings for government loans to Ford, he and other industry leaders were criticized for flying to Washington, D.C. in corporate jets. During a subsequent meeting, he traveled from Detroit to Washington by a Ford-built hybrid electric vehicle, while selling all but one of the company's corporate jets.
Due to his achievements at Ford, he was included in the 2009 Time 100 list. The entry, written by Steve Ballmer, says, "Mulally understands the fundamentals of business success as well as any business leader I know." In 2011, Mulally was named Person of the Year by the Financial Times ArcelorMittal Boldness in Business Awards. He was also named the 2011 CEO of the Year by Chief Executive Magazine.
Alan Mulally and his team at Ford have brought Ford from the brink of bankruptcy to being able to provide faithful shareholders their first dividend in as many years. This strength of this management team is indisputable.
Product Superiority
The 2012 Ford F-150, which established a new standard for full-size pickups with best-in-class fuel efficiency and capability, was recently named Motor Trend's 2012 Truck of the Year.
Mark Fields, Ford president of The Americas said:
The 2012 F-150 is a no-compromise solution that can be tailored to fit virtually every customer's needs, and the Motor Trend Truck of the Year award further reinforces that this is truly the best choice for America's truck owners. We are proud to receive this award and even more pleased that our F-150 customers have additional validation of their top choice.
This is the fourth time the F-150 has won the award - the most awards for any truck since Motor Trend began presenting its Truck of the Year award in 1989. The Ford pickup received the magazine's prestigious award for previous groundbreaking new models in 1997, 2004 and 2009. Motor Trend editors applauded F-150 because, they said:
F-150s are built to work and felt better the more they were challenged. Ford offers an enormous variety of configurations and designs, making the truck tailorable to just about any need. It's the combination of advancement in design, engineering excellence, efficiency, safety, value, and the performance of intended function that has earned the Ford F-150 the title of Motor Trend's 2012 Truck of the Year.
Just days after being revealed to the world, the new Ford Fusion was already bringing home awards. The Autoweek editorial staff chose Fusion for its Best in Show award at the North American International Auto Show. The selection is based on one compelling measurement - the car people will remember most five years from now. Fusion brings alive the next generation of more expressive vehicles from Ford. It is the first sedan to offer gasoline, hybrid and plug-in hybrid versions - each expected to deliver top fuel economy and an engaging driving experience.
Five Ford models have been chosen as being the best buy for the money - the most of any automaker - by U.S. News & World Report. The 2012 Ford Edge, Fusion, Fusion Hybrid, Taurus and Fiesta were selected for their quality and value.
Ford's product line up is exceeding expectations across the board.
Fundamentals
Ford currently has a market cap of 47.8 billion, a forward P/E of 8 and a PEG ratio of 1.07. PEG ratios of 1 or less are considered to be favorable. Ford's current ROE is 322%. Investors seem to have taken notice driving Ford's stock up 25% this month alone leading into the first earning period where Ford will pay a dividend. Ford's stock is in a confirmed uptrend trading 15% above its 50 day and 3% above its 200 day moving averages.
Ford's fundamentals and price performance are good, but the important point is they are continually improving with time. Ford's breech of the 200 day resistance level coupled with the recent upgrade of its debt are major positives clearing the way for Ford' future progress.
Sales Performance
U.S.
Ford brand 2011 U.S. sales increased 17 percent, totaling 2,062,915 vehicles, sealing the brand's first three-point market share gain over three consecutive years since 1970. Total Ford Motor Company sales for the year increased to 2,148,806 vehicles, up 11 percent for the year.
Ken Czubay, Ford vice president, U.S. Marketing, Sales and Service said:
The year finished on a high note, with industry sales momentum strengthening as the year came to a close. We saw Ford sales strengthen as well, posting our best December retail sales month since 2005 and closing the year as America's best-selling brand.
Russia
The 500,000th vehicle rolled off the production line recently at the Ford Sollers plant in Vsevolozhsk, near St. Petersburg, Russia. It marked a double celebration as the milestone car was a Ford Focus Wagon - the very first all-new Focus Wagon to be built at the plant.
India
Ford India capped a successful year in which the Figo became the country's most awarded car ever to deliver 15 percent full-year sales growth, topping the single-digit industry growth.
From January to December 2011, the company sold 96,270 domestic wholesale units, providing further evidence that Ford's fuel-efficient and best-in-class vehicles continue to attract large numbers of new-to-Ford customers despite difficult industry and economic conditions. Ford India also posted its best-ever December sales, with 5,979 vehicles sold, a sharp jump from 4,301 in the same month of 2010.
Europe
Ford sales across its total 51 European markets in 2011 increased by 2.4 per cent, or 36,700 units, to 1.58 million vehicles. Ford's performance was buoyed by continuing strong sales of the Fiesta, which was Ford's top-selling car in Europe, as well as rising demand for the all-new Focus and C-MAX.
Stephen Odell, chairman and CEO, Ford of Europe said:
Despite the serious economic challenges we all faced in the region, 2011 was an exciting year for the Ford brand in Europe. We made a commitment to relentlessly deliver new products and technologies even in the toughest of times and it's paying off.
Great sales translates into greater positive word of mouth which is the cornerstone of continued sales growth, not to mention boosting the bottom line.
Conclusion
Ford's combination of superior global repute and executive management coupled with outstanding products has led to astonishing sales, which in turn has allowed Ford to pay down debt and improve balance sheet ratios to the point where their debt was recently upgraded.
What's more, Ford is set to pay its first dividend in several years, revealing they are willing to reward patient investors for their loyalty. Accordingly, the stock price has turned the corner and is in a confirmed uptrend. Nevertheless, Ford is still 33% below its previous 52 week high. With Ford firing on all cylinders, I see no reason why Ford won't breech its 52 week high and climb even higher.
Disclosure: I am long F.