In this issue:
1. January barometer
2. What the S&P Euro downgrades mean
3. Investor Strategies for a topsy-turvy world
The January Barometer suggests that when the market rallies in January, then the entire year should show a gain. The so called Barometer also includes an early warning system that suggests the first five days of trading indicate the direction of the market for the year. According to the Stock Trader's Almanac, this early warning system has been accurate thirty-three times over the past thirty-eight years, an 86.8% success record.
All the major indexes showed gains in the first five trading days, ranging from 1.43% on the Dow to 2.74% for the NASDAQ Comp. It gets even better when the first five day indicator comes in an election year, which has a 13-2 record. Although in this era of unprecedented government intervention, extraordinary volatility and voodoo economics, investors should be as conservative as possible and take the least amount of risk possible to get the returns they need.
Never before has the market cheered more for worse economic numbers, all for one reason… more stimulus (absolutely sickening). Eventually however, the free ride and deficit spending will have to stop. At that point we will get to see a great game of musical chairs on the deck of the Titanic. I hope we'll be on shore together.
The S&P downgrade of nine European nations last Friday simply shows us that the problems are far from over, and is more fully explained in Taking Out The Euro-Trash edition. In simple terms, there are three main problems in Europe:
1. The first is that most of the banks are insolvent. They were allowed to leverage their balance sheets 30-40 times their capital invested, most of it in other nation's debt (sovereign debt) which was supposed to be unshakable.
2. The second problem is that this sovereign debt is anything but unshakable. Many countries are going to have trouble paying their debt and the massive unfunded liabilities, and it's just going to get worse. Banks will eventually have to mark down the debt to what its real value is. This is what happened here in 2008, ultimately destroying Lehman Brothers, Merrill Lynch, Bear Stearns (Do I need to keep going, it hurts). When this happens, many will go bankrupt making 2008 look like a puppet show.
3. Print money, raise taxes and/or cut spending: those are all the choices there are folks and none are going to be fun.
Central Banks know that countries cannot function normally without viable banking systems, which is why so much effort has been made towards them. This is what the Occupy Wall Street crowd is so angered about. Point blank, if banks can't make loans, then businesses can't operate and need to cut back, translating into fewer jobs, less consumer demand and lower output, which quickly becomes an ugly spiral.
Unfortunately, this all comes on top of an already massively over-leveraged and rapidly aging population which naturally spends less as it gets older. The government can stimulate all it wants to offset this, but it eventually catches up to you. Debt eventually has to be paid back… imagine that.
Investor Strategies for a Topsy-Turvy World
Obviously, nobody should be sitting in cash awaiting the end of the world and earning nothing on their money. These issues might take years more to reach a boiling point, if at all. On the other hand, things could hit the fan tomorrow, so investors should simply take advantage of what is available but have a plan in mind. At the moment, things don't look too bad out there between recent positive economic surprises, the January Barometer and the cycles, but things change quickly.
The economic strength we are witnessing is most likely the effect of the QE (Quantitative Easing) programs. Government stimulus takes 6-9 months to feel and lasts for about 6-9 months. Therefore, things may appear deceivingly good for a few months before they get bad again, as QE2 will run out in the end of the first or middle of the 2nd quarter.
There are plenty of places to make money in this market if you know where to look. Growth investors can focus on Google (NASDAQ:GOOG), Apple (NASDAQ:AAPL), Microsoft (NASDAQ:MSFT), Intel Corporation (NASDAQ:INTC), Cisco Systems (NASDAQ:CSCO), General Electric (NYSE:GE). Gold and silver look attractive at current levels whether we get sustained growth or a QE3 if the recovery fails, so buy SPDR Gold Shares (NYSEARCA:GLD), Market Vectors Gold Miners ETF (NYSEARCA:GDX), Newmont Mining Corp. (NYSE:NEM), Goldcorp. (NYSE:GG), Freeport-McMoRan Copper & Gold Inc. (NYSE:FCX), Silver Wheaton Corp. (NYSE:SLW) and ProShares Ultra Silver (NYSEARCA:AGQ). I would still avoid the banks at all costs. Even though earnings for JPMorgan (NYSE:JPM), Citigroup (NYSE:C), Morgan Stanley (NYSE:MS), Goldman Sachs (NYSE:GS) and Wells Fargo (NYSE:WFC) have not been too bad, trading revenue is slowing and there will be many more mortgage foreclosures set to hit the market.
While some nimble traders might attempt to time the short-term swings in the market, we prefer to remain alert to the primary trend and focus on investments that get the best returns with the least risk possible for our clients. Yields of 8-10% are available, so why take all the risk if you don't need to. Keep in mind the mantra I reiterate on the radio every week – Invest for need, not for greed.
Great opportunities exist is corporate bonds, preferreds and MLP's, such as:
Bonds:
Solo Cup (SOLO) - 8.5% of 8/15/14 – yielding 15% (cusip 834260AB7)
Broadview Networks Holdings (BDVU) - 11 3/8% 9/1/12 yielding 16%
Geokinetics Inc (GOK) - (cusip: 372910307)
MLP's:
Breitburn Energy Partners (BBEP) – yielding 9+%
Legacy Reserves LP (NASDAQ:LGCY) –- yielding 9+%
CVR Partners, LP (NYSE:UAN) – yielding 10+%
Terra Nitrogen (NYSE:TNH) –10 1/4% yield. Makes and markets farm products. One of the few hot sectors in our economy. It is yielding 8%.
Preferreds:
Ally PrA – 11.5% There are three very attractive Ally Bank Preferreds yielding around 10%. Ally is 91% government owned, so they're not going anywhere.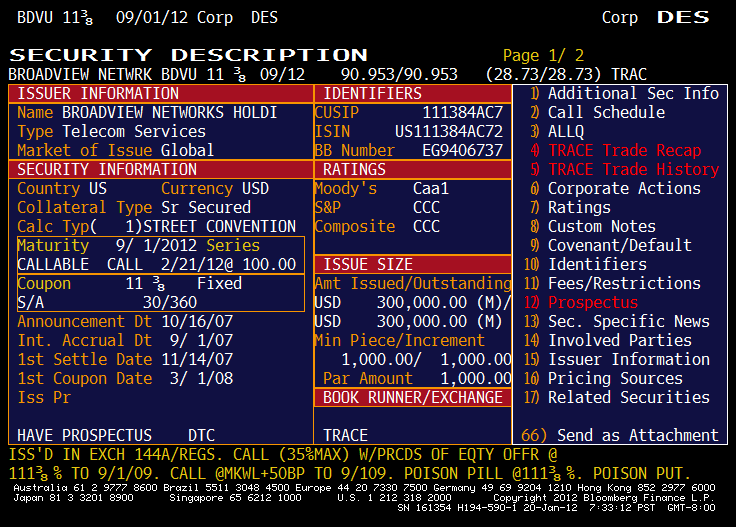 Click to enlarge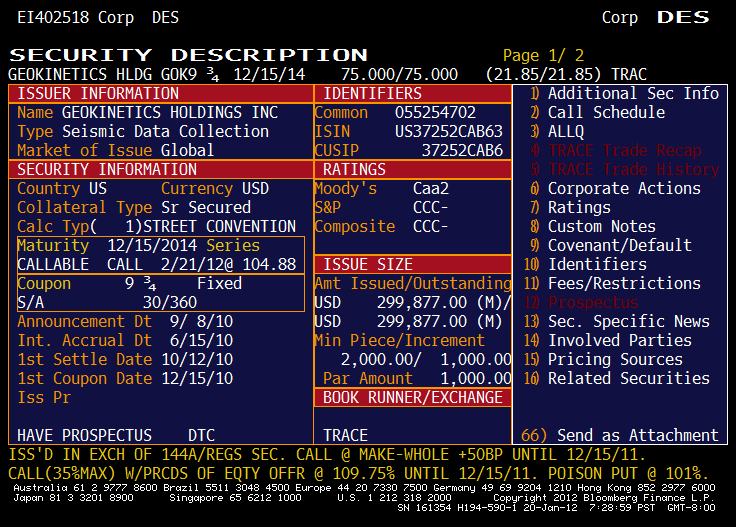 Click to enlarge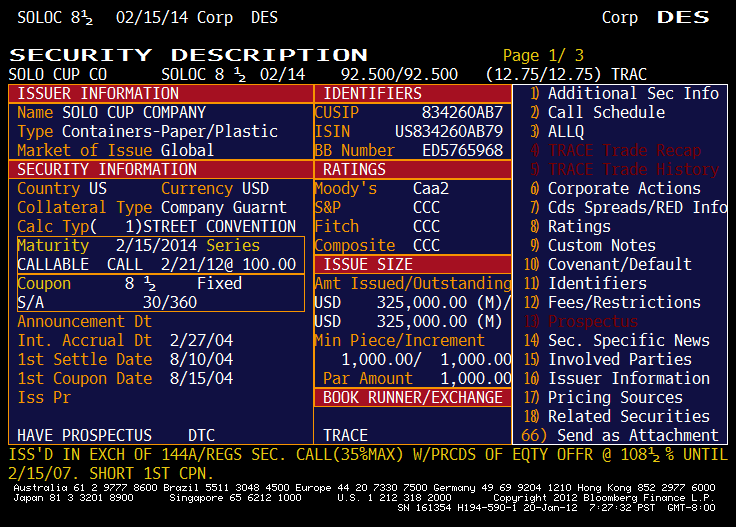 Click to enlarge
Disclosure: I have no positions in any stocks mentioned, and no plans to initiate any positions within the next 72 hours.