A stronger euro and a weaker dollar have worked wonders for the once-thought-dead gold bull market and silver turned in its most impressive weekly performance in almost three months as the world continues to marvel at the surging demand for precious metals in China, a trend that could accelerate as policy makers there shift from fighting inflation to spurring growth.
For the week, spot gold rose 1.7 percent, from $1,639.70 an ounce to $1,667.00, as silver surged over the $30 an ounce mark, rising 8.2 percent from $29.77 an ounce to $32.20. Gold is now up 6.4 percent for the year, but down 13.3 percent from its high last summer, while the silver price is up 15.6 percent in 2012 but remains 34.9 percent below its early-2011 peak.
The late-2011 surge in Chinese gold imports discussed here last week made its way into a featured Wall Street Journal story on Wednesday in what was a very favorable take on the subject. I've always considered the Wall Street Journal to be the most even-handed mainstream financial media outlet when it comes to gold as an investment and the positive closing comments indicate to me a growing acceptance of this theme:
Still, Andrey Kryuchenkov, a commodity analyst at VTB Capital, said he is "reluctant" to write off higher import volumes and anecdotal evidence of more buying by consumers as just a seasonal phenomenon.

The turnaround in gold prices "wouldn't be justified without some real fundamental backing, and every year China gets more important in that picture," Mr. Kryuchenkov said.
While Chinese buying may fade in the period ahead, recall that it was the November import data reported about ten days ago that spurred all the recent talk about soaring demand in China - imports for December, in preparation for the lunar New Year on January 23rd, will be reported in about three weeks and they could be even more impressive than the November data.
With the Middle Kingdom becoming such an important force in the gold market, sometimes it's hard to believe that owning gold there was illegal as recently as 2001.
Clearly, talk of sharply higher demand from China has helped push the gold price higher and, as shown below, the recent advance is now ahead of the pace of the 2006 correction that I've been comparing it to for a month or so.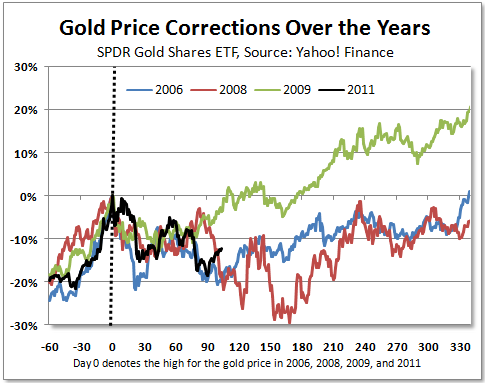 I've not checked lately, but my guess is that many technical indicators that were triggered to the downside in December have been re-triggered to the upside in January and that, absent a flare-up in the European debt crisis in the period ahead, traders will continue to look at the gold market more positively.
That goes double for silver, particularly after Friday's stunning move when the metal surged nearly $2 an ounce higher as shown in the chart below courtesy of ino.com.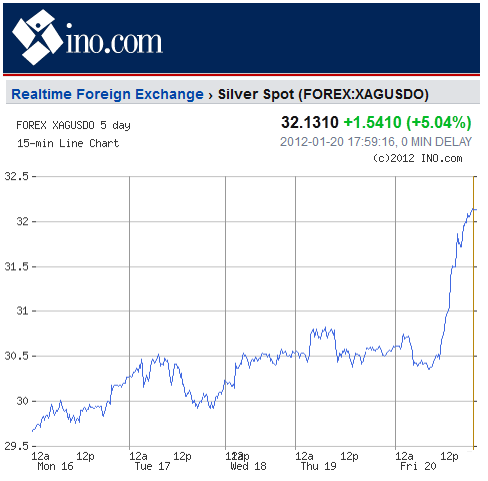 Sales of silver coins by the U.S. mint are already 50 percent higher than the average monthly sales total in 2011 and, despite the drubbing seen in both May and September of last year, demand seems to have returned after the metal spent the last month below the $30 an ounce mark.
Of course, the surge in base metals so far this year has had a lot to do with higher silver prices as demand for industrial use is now about equal to investment demand, so, if the copper price reverses, look for weakness in silver.
Eric Sprott announced that he will be purchasing another $250 to $350 million worth of silver bullion to be added to the popular Sprott Physical Silver Trust (NYSEARCA:PSLV). This is roughly 300 tonnes of the metal that will be added to the fund's current holdings of about 1,000 tonnes, bringing it to about 13 percent of the size of the iShares Silver Trust ETF (NYSEARCA:SLV).
Lastly, in an update to its 2011 Gold Survey, Thomson Reuters GFMS said they expect gold prices to reach new record highs later this year after struggling early on. They also noted that once macroeconomic conditions improve, probably sometime next year, the long-term bull market may come to an end as "a secular retreat in the price will unfurl".
Years ago, I thought 2013 would mark the end of the secular gold and silver bull market, but, more recently, I've felt that it had been stretched out to at least the middle of the decade. The good news here is that, regardless of when the end does come, we are likely to see much higher prices between now and then.
Disclosure: I am long GLD, SLV.
Additional disclosure: I am also long physical gold and silver but have no position in PSLV.