Tanzanian Royalty (NYSEMKT:TRX) is a development stage gold company with assets in the Lake Victoria goldfields of Tanzania.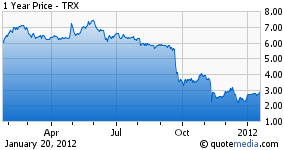 Current Projects
The company's core project is the 2.2 million ounces Buckreef project, a joint venture with the State Mining Company of Tanzania (Stamico).
Tanzanian Royalty has three other less advanced projects which have indications of commercially mineable gold values near surface. The company is developing these projects under royalty strategy. This strategy gives Tanzanian Royalty the right to earn a majority interest in specific exploration projects in exchange for annual rental payments, firm exploration commitments and sliding scale Net Smelter Royalty payments at commercial production.
Royalty agreement partners include Barrick Gold (NYSE:ABX), Jinchuan Mining, MDN Inc. (OTC:MDNNF) and U.K.-based Kibo Mining.
All projects are located within Lake Victoria Greenstone Belt, the third largest gold producing region in Africa.
Buckreef Project
Buckreef is a 55/45 joint venture between Tanzanian Royalty and Stamico. Tanzanian Royalty will recover all development costs under an 80%-20% distribution formula.
Buckreef is in development pipeline with potential to increase resources to 3-5 million ounces within two years. The company's goal is to achieve commercial gold production at more than 150,000 ounces per year from Buckreef within 30 months.
Tanzanian Royalty's agreement with Stamico raises the bar for foreign participation in the nation's mining sector. The company expects to conclude more joint ventures with Stamico for advanced stage gold projects.
On January 10th 2012 the company announced the results of the recent drilling at the Buckreef project.
Buckreef contains National Instrument 43-101 compliant gold resources at a 0.5 g/t cutoff grade in the following categories: Measured, 5.176 million tonnes grading 2.05 g/t (341,000 oz); Indicated, 24.97 million tonnes averaging 1.19 g/t (954,000 oz); Inferred, 17.173 million tonnes grading 1.51 g/t (835,000 oz).

The latest results include two holes that were drilled from the Eastern Porphyry and Buckreef North areas. Both holes returned excellent gold values with one particular intercept (46 metres) ranking among the longest ever reported in this area.
There was an recent interview with the CEO and President of Tanzanian Royalty Jim Sinclair in King World News on January 20th. Jim Sinclair was pleased with the recent drill results and the enlargement of special mining license at Buckreef.
On December 15th 2011 Tanzanian Royalty Exploration announced that the government of Tanzania had approved the application for the expansion of the area covered by the special mining license for the company's Buckreef gold project.
As a result, the mining license for Buckreef has been expanded from 3.45 square kilometres to approximately 16.04 square kilometres – almost five times its original size.
Financial Condition
The company's cash position was $32 million at August 31st 2011. The company's net loss was $10 million for the fiscal year ended August 31st 2011.
Conclusion
I recommend buying Tanzanian Royalty below $4. I believe that the company will not trade in single digits if gold price is to pass the $2000 per ounce mark.
Disclosure: I have no positions in any stocks mentioned, but may initiate a long position in TRX over the next 72 hours.