Sometimes when have a theory and it turns out that you're wrong, finding out where your analysis is screwed up can give you some profitable investing ideas.
I was looking over the performance of regional banks compared to larger banks and thought that a regional bank ETF might perform much better than a large-cap financial ETF like the SPDR Financial Sector ETF (NYSEARCA:XLF).
In fact, in researching the regional bank sector I found several regional banks that have done quite well, in a past article highlighting five banks that have actually raised or maintained their dividends even during the 2008-2009 financial crisis.
But as it turns out regional bank ETFs have underperformed the XLF. I took a look at two of them, the SPDR Regional Banking ETF (NYSEARCA:KRE) and the iShares Dow Jones U.S. Regional Banks Index Fund (NYSEARCA:IAT) - comparing performance against both the XLF and the S&P 500 ETF (NYSEARCA:SPY) since the March 2009 market bottom.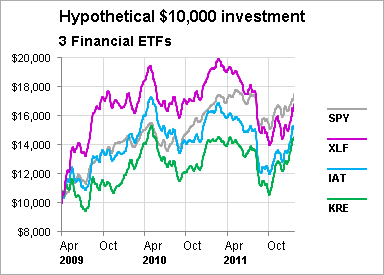 Neither IAT nor KRE delivered better returns than the XLF or SPY ETFs. While there may be regional banks that have done well, these ETFs delivered disappointing results.
Financials:
More than just banks
After looking at the XLF holdings, I realized that while it's tempting to think of this ETF as a "bunch of banks," much of this ETF is allocated to insurance providers, REITs, and diversified companies like Berkshire Hathaway. The regional bank ETFs, by comparison, are limited solely to banks.
But take a look at this ETF, the Rydex S&P 500 Equal Weight Financial ETF (NYSEARCA:RYF). Add RYF to the analysis and you'll see significant outperformance.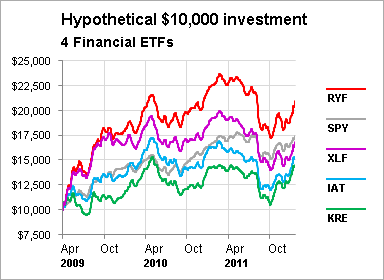 In fact, a long RYF/short XLF position would have done great since the March 2009 bottom.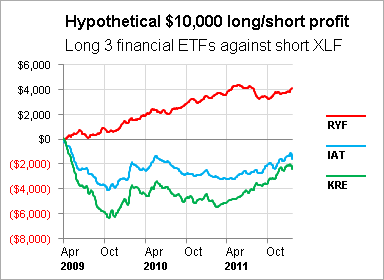 And RYF even beat the S&P500 SPY ETF.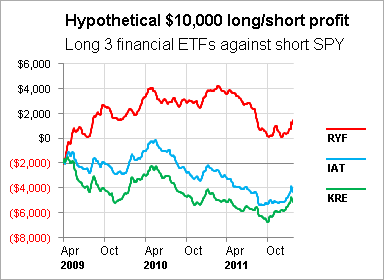 Same large cap financials, different mix
As it turns out, the RYF fund has the same large cap financial stocks as the XLF. They're just weighted differently. So while all those large-cap financials fell off a cliff in 2008, RYF held up because of its higher allocation to smaller companies.
But these smaller companies aren't necessarily regional banks. In fact, comparing RYF's holdings to the XLF and the two regional bank ETFs shows little duplication. The way it's structured, RYF isn't a big bet on any one company. As you can see here, its largest holding, BAC, is only 1.46% of the fund.
click to enlarge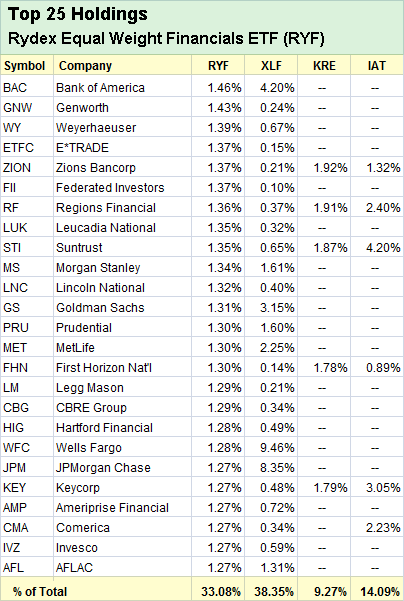 This difference in allocation might be easier to see on this list showing the XLF's top holdings against RYF's allocation.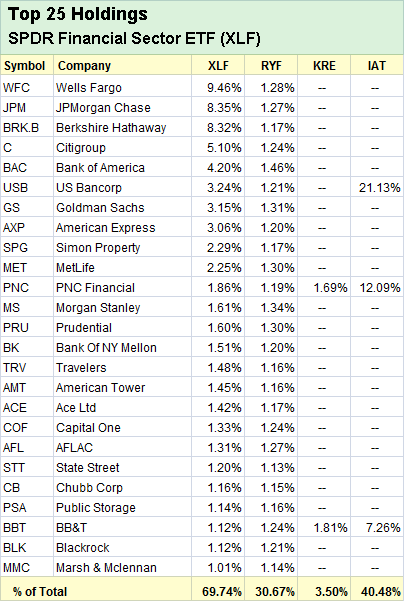 Note that stocks like Wells Fargo (NYSE:WFC) and JPMorgan (NYSE:JPM) aren't weighted nearly as high in RYF as in XLF.
Just to be clear, RYF isn't a "small bank" or "small financial" fund. There may be regional banks in its holdings, but that's not what gave it an extra lift over the past few years. RYF contains the same S&P 500 financials that XLF has, but the equal allocation among them is what made all the difference, in this case underweighting laggards that dragged down the XLF.
It could be that regional banks, many of which aren't in the S&P 500, will enjoy a renaissance, but perhaps not as a group. And if the big cap financials see big gains, RYF may underperform XLF, but I don't see that happening in the next year or so.
The only problem with RYF is that while it's been a winner in performance, it hasn't been a winner in gaining investor interest. With only $15 million in assets, this is one small thinly traded fund.
That's kind of a shame because who would have thought that a fund with S&P 500 financial stocks would have performed better than the S&P 500 itself?
Disclosure: I am long BAC.