by Brendan Gilmartin
Overview
VMware (NYSE:VMW) is scheduled to report 4Q 2011 earnings after the closing bell on Monday, January 23 with a conference call slated to follow at 5:00 p.m. EST. VMware shares recently tested and held the 52-week low of $74.04 (3/18/2011) and is now trading near a key technical resistance barrier headed into Monday's release.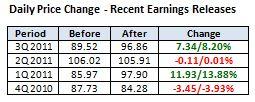 Outliers & Strategy
VMware previously indicated back in October fourth quarter 2011 revenues are expected to be in the range of $1.03 billion and $1.06 billion, a year-over-year increase of 23% to 27%. The current consensus is $1.05 bln. (Source: Yahoo! Finance)

Non-GAAP EPS is forecast to come in at $0.60 per share, the midpoint of analysts' forecasts ($0.58 to $0.60). Earnings have topped consensus estimates by an average margin of 10.45% over the past four quarters.

Keep a close watch on EMC Corp. (EMC) following VMware's results. The former parent remains a majority shareholder with close to 50% of the float. Other cloud-related plays to watch include Citrix Systems (NASDAQ:CTXS), F5 Networks (NASDAQ:FFIV), Aruba Networks (NASDAQ:ARUN), Riverbed Technology (NASDAQ:RVBD), & Salesforce.com (NYSE:CRM).
Recent News
01/18: Goldman Sachs reiterated a Buy rating and a $125 price target on VMware, according to a post on StreetInsider.com. The firm reportedly sees upside to license revenues and EPS.

01/13: Citigroup downgraded VMware from Neutral to Sell, according to a post on Barron's. The firm also lowered the price target from $87 to $80, based on expectations that the company's 1Q 2012 revenue guidance would fall shy of expectations, stemming from slower server refresh activity.

12/27: Oppenheimer upgraded VMware to an Outperform rating, with a price target of $100, based on valuation, according to a post on Benzinga.com. The upgrade was also based on its leadership position in virtualization, solid cash flow, and strong fundamentals.
Technical Review
VMware is off about 15% from the November highs. On a six-month chart, the shares recently completed a bullish "Triple-Bottom" formation near $77.50, implying there is more upside near-term. In order to extend the recent bounce, however, VMware must push through resistance between $88 and $90 (50-day SMA). Beyond that level, there is room to run toward $97.50, followed by $100. Should earnings or forward revenue guidance prove to be disappointing, there is downside risk to $82.50, followed by the aforementioned lows near $77.50. (Chart courtesy of StockCharts.com)
click to enlarge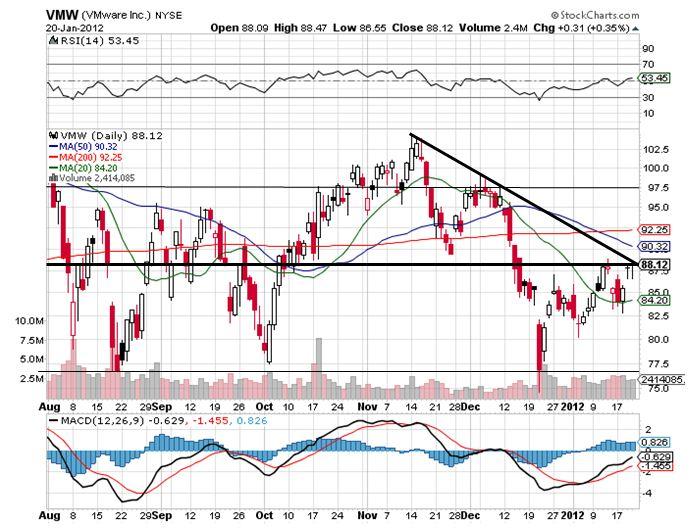 Summary
VMware shares have been sliding in recent months amid concerns over slower growth in virtualization, competition from the likes of Citrix Systems, and evidence of slower server refresh activity. Despite those setbacks, VMware maintains a dominant position in the virtualization and cloud-computing market, sits on close to $4 bln in cash ($9.42/share), and at 35.1x forward earnings, has a forward PEG ratio of just 1.55. With the escalation of uncertainty entering 2012, forward guidance will be the primary focal point when results come through after the close on Monday.
Disclosure: I have no positions in any stocks mentioned, and no plans to initiate any positions within the next 72 hours.