by Brendan Gilmartin
Overview
Johnson & Johnson (JNJ) is slated to report 4Q 2011 earnings before the bell on Tuesday, January 24. The earnings release is expected to come though at approximately 7:45 a.m. EST with a conference call to follow at 8:30 a.m. A member of the Dow Jones Industrial Average, J&J has significant market influence and the potential to impact the broader market gauges. Also note that no other major companies report at the same time as J&J, making the trade signal relatively clear.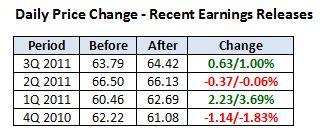 Outliers & Strategy
Key measures:
Adjusted Earnings Per Share & Earnings Per Share Excluding Items: The values for both measures are typically the same and are comparable to consensus estimates.
Revenues: Revenues are seen rising a mere 4% y/y, due in part to a series of recent product recalls.
Adjusted Earnings Per Share Guidance / Earnings Per Share Guidance (FY2012).
Back in October, Johnson & Johnson reiterated its earnings guidance for full-year 2011 to $4.90 - $5.00 per share. Look for an outlook for 2012 when the company delivers its 4Q release. The current consensus for FY 2012 is $5.22 per share. A range below this level could have negative consequences for both the shares and the index futures.
Johnson & Johnson is expected to earn $1.10 per share in the 4Q 2011 period (range is $1.04 to $1.12). Revenues are expected to rise 4% to $16.28 billion (Source: Yahoo! Finance).
Recent News
01/03: Johnson & Johnson declared a cash dividend for the first-quarter of $0.57 per share. The dividend yield is now 3.49%.
12/12: UBS maintained a Buy rating on Johnson & Johnson but lowered the price target from $72 to $69, according to a post on StreetInsider.com. The firm also increased its 2012 earnings estimate by $0.02 to $5.19, citing margin expansion, growth in the pharma segment, and re-launch of new products in the consumer space.
12/01: Piper Jaffray maintained a Neutral rating and $69 price target on Johnson & Johnson, following a meeting with management, according to a post on Benzinga.com. The firm noted that J&J's geographic expansion in BRIC countries should offset sluggish performance in developed markets.
Technical Review
Johnson & Johnson shares are trading in a tight range ahead of its 4Q 2011 earnings release on January 24. Over the past several weeks, J&J shares have ranged between $64.50 and $65.50, on relatively thin volume, implying that the shares could be due for a breakout. On a positive quarter and upbeat guidance for 2012, the shares could climb back toward the recent 52-week high of $66.83. Conversely, initial support is near $64.50 (just above the 50-Day SMA), with further downside risk to the 200-Day SMA near $63.50. (Chart courtesy of Stockcharts.com).
click to enlarge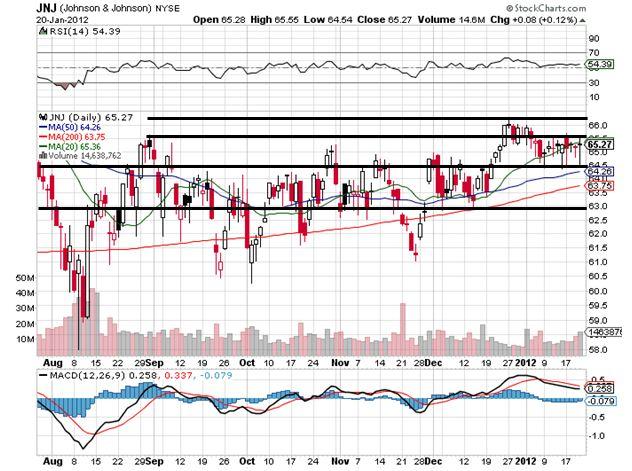 Summary
Johnson & Johnson shares have eased into a narrow trading range in recent weeks after closing out 2011 near a 52-week high. On one hand, the company is benefiting from growth in emerging markets, helping to offset the weakness in North America and developed countries in Europe.
The company also sports a yield of close to 3.50%, making it one of the more attractive dividend plays in the S&P 500, while trading at just 12.5x forward earnings. However, the shares have been held in check by a series of product recalls earlier in the year and litigation expenses. For the upcoming earnings release, much of the attention is expected to center on the outlook for 2012 and will likely dictate the response in the market.

Disclosure: I have no positions in any stocks mentioned, and no plans to initiate any positions within the next 72 hours.