This may sound counterintuitive, but after rallying 65% from the October 2011 low, Sirius XM Radio (NASDAQ:SIRI) is finally a "buy".
While our investment thesis for a given stock is usually built around fundamentals, our trading strategy (entry & exit) is always driven by technicals. That said, SIRI's fundamentals have been improving for several years now, but the longer-term technicals have been neutral at best.
However, as shown in the chart below, the stock recently had the big technical breakout that we have been waiting for. SIRI surged higher on January 5th (on very high volume), breaking through several key areas of resistance (including the 200-day moving average). In addition, the stock has had several nice follow-on days since, confirming the upside breakout.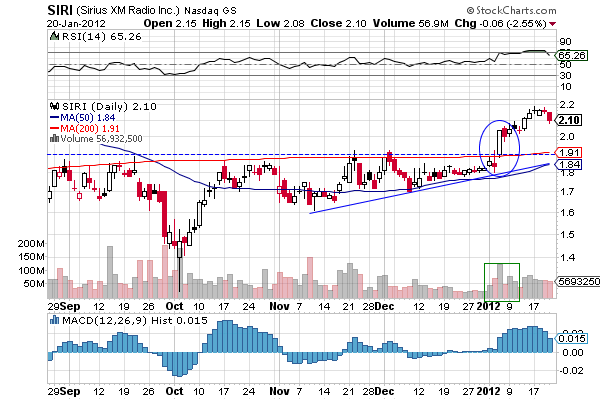 Click to enlarge
Needless to say...we are now officially SIRI stockholders.
Why Did We Wait for the Breakout?
When making an investment decision, we always look for low risk entry points. While we have fundamentally liked SIRI for quite sometime (which we highlighted in a recent article), we haven't been able to pull the trigger on the stock because we felt like downside risk was too high.
The stock was in a free fall from July 2011 through October 2011 and it certainly felt like the knife could fall further. Then SIRI began forming a base in November 2011 and proceeded to trade in a pretty tight range ($1.60-$1.90) through the end of the year.
When a stock is range bound like this, it's hard to tell what the future holds - it could collapse through downside support or it could breakthrough upside resistance. This is why it is crucial to get technical confirmation before entering the trade.
That technical confirmation on SIRI came in the form of the breakout that we described above.
Although breakouts help establish low risk entry points, it's only one piece of our risk management strategy. Breakouts often fail, so it is important to also establish a definitive stop loss level where you will exit the trade if you are wrong. For SIRI, if the 200-day ($1.91) and 50-day ($1.84) moving average fail to provide downside support, the breakout may not be real and you should think about exiting the trade.
That said, our official stop loss level on SIRI is $1.70 (which was the bottom part of its recent range).
Disclosure: I am long SIRI.