Oil: What to expect in 2012
In the past 12 months, oil prices saw higher volatility and faced upward pressure due to increased geopolitical tension in the Middle East. With mounting worries of economic recession in the EU, and lower-than-expected recovery in the U.S. economy, oil prices failed to sustain for long above the 'three-digit' levels. We expect oil prices to remain on the higher side in 2012, as these geopolitical issues are expected to linger. Prices are expected to range between $90 to $115/bbl, and investors should prepare themselves for increased volatility, not only in oil prices but also in the wider commodity category, as uncertainty regarding the state of world's economic outlook.
Demand – Strong Fundamentals in place backed by developing economies
Historically, the GDP growth of developed countries has been a key driver of the world's oil consumption. In the past decade, however, China, a developing economy, has contributed over 90% to the total growth in oil consumption. The end of 2010 saw oil consumption to be almost equally divided amongst developed and developing countries and this trend has continued in 2011.
While developing economies are expected to slow down in 2011, China's GDP growth expectations remain between 8%-9%. This will strongly support global oil consumption and we do not see a sustainable downside risk below $90/bbl. Other developing economies are also expected to contribute in sustaining high oil prices - like India, which is expected to show growth of 7% in 2012.

The chart below emphasizes the strong trend between the GDP growth rates of developing countries, specifically the ones located in Asia, and the global oil demand.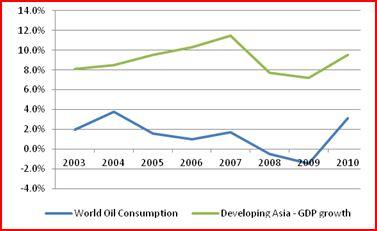 Source: IMF World Economic Outlook (Sept 2011), BP
Will the developed countries stabilize?
Concerns remain about the economic outlook for developed countries. According to the IMF's World Economic Outlook published in September 2011, the euro Area is expected to grow by only 1.1% in 2012 (pdf). And this is before the recent credit downgrades in the region. Italy, which was the seventh-largest economy in 2010, is expected to grow by 0.3% and it is very likely this forecast may be revised downward. With the European Union members in trouble, not only do their economies face the risk of recession, such an event would adversely impact the imports from China, which will ultimately slow down its economy and hence the demand shock for oil.
With the highest rate of per-capita consumption in the North American region, the stabilization and growth of North American economies remains a key issue. While we do not foresee a recession in 2012, we remain cautious on the growth outlook. The Fed has limited options to reboot the economy, with the current fed fund rate near zero. Any potential upside in the economies of the U.S. and EU will have a major impact on oil prices and will push them outside our expected range.
Higher oil prices make alternative energy feasible
When oil prices hit their peak of $147/bbl back in the summer of 2008, the media was rife with talks of alternative energy as being more affordable. Since then prices went below $40/bbl, but with the current prices hovering at the $100/bbl mark, the idea of alternative energy should not be forgotten.
This is supported by the recent numbers of 2010/11. Oil consumption grew by 3.1% globally, while overall energy consumption was up by 5.6%. A surprising figure was witnessed in nuclear energy output, which grew by 2% after three consecutive years of decline. Similarly, solar energy capcity was increased by 73% in 2010 alone, after a slight slowdown in the previous year.
Both of the above facts lend support to our expectation of oil prices staying within the $90-110/bbl range. Around these prices, investments in alternative energy give a higher payback than oil. However, this year's earthquake in Japan followed by Angela Merkel's statement that the nuclear energy plan of Germany, which contributes to almost one-fourth of the country's electrical consumption, will be shutdown in 2022 can lead to higher-than-expected oil consumption; and if other countries also follow, it will lead to higher oil prices going forward.
Production – No major surprises
Oil production saw a 2.2% increase in 2011, lower than the increase in consumption. While OPEC boosted its output by 2.5%, production was down in some parts of Europe. Going forward, we expect OPEC to maintain its output in the first half of 2012; however, with the expected increase in the demand in the second half of the year, OPEC might also signal an increase in its output.
Geopolitical tensions disrupts the supply
Earlier this year, we saw the rise of political tension in Egypt followed by the uprise in Libya. Libya produces 1.6 mbpd of oil and is the 17th largest producer in the world, with the largest crude oil reserves in Africa. Even though the OPEC members had the spare capacity to cover any shortfall in production from Libya, as tensions in the country grew, Brent crude futures also marched upward, crossing the $120/bbl mark. Even now, Libyan production is not expected to reach its pre-crisis levels before 2013. Such instances cannot be ruled out from occurring elsewhere. Earlier this year, the Saudi government announced a spending package worth $130 billion to boost its economy, after the unraveling unrest, which occurred in the neighboring country, Bahrain. However, if any such protests reoccur, especially in Saudi Arabia or any other leading oil producing country, oil prices are likely to climb beyond our expected range.
Declining Inventories despite the release of strategic reserves
After the Libyan unrest, for the third time in history, the IEA released 60 million barrels of its strategic reserves to stabilize the international markets. Despite this, the world stocks fell below the 5-year moving average, which lead to further upward pressure in prices. Going forward, the lower supply of inventories will lead to higher volatility in prices. It will also mean lesser cushion in case any new political tension develops in the Mid-East region.
Investors can trade the Oil ETF (NYSEARCA:USO).

Disclosure: I have no positions in any stocks mentioned, and no plans to initiate any positions within the next 72 hours.