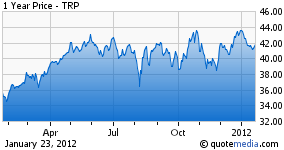 TransCanada (NYSE:TRP) seems to be clinging to an idea they once scoffed at - shipping crude out of the Bakken oil field of North Dakota and Eastern Montana.
TC needs Federal State Department approval because the pipeline will cross the international boundary between the U.S. and Canada. However, if the pipeline does not cross the border, the pipeline only needs approval through the States which it traverses - an arguably much easier process. Initially, the Keystone XL pipeline was touted as a pure oil sands crude pipeline that would bring Canadian crude to the Gulf Coast for refining, which would displace imports of crude from hostile nations. Bakken crude shippers, who are constrained with crude takeaway options, pressured TC and the Governor of Montana to allow an "on ramp" at Baker, MT to include Bakken crude batched in the line originally meant to only carry oil sands crude. TC resisted for the longest time about an on ramp but finally conceded to pressure from the industry and the Governor of Montana.
Once an on ramp was on the table, an "open season" had to take place to get shippers to commit to Bakken crude volume on the new pipeline. The open season was successful and somewhere around 60% of the available batch capacity (100,000 barrels per day) was committed, which left the remaining 40% to spot barrel shippers. Keep in mind, the published capacity from Canada to the gulf is 830,000 barrels per day and only 100,000 barrels per day were being allocated to the Bakken shippers. However, TC officials have said that the Bakken on ramp has the capability, as it is engineered, to accept up to 300,000 barrels per day into the Keystone XL.
The question begs, if TC only builds a pipeline from the Bakken to the gulf, what will the economics be? Another interesting point is that some in the industry have also said the 830,000 barrel per day capacity number is around half of the actual built capacity and that pumping stations would be built to effectively double the capacity when demand warranted it without laying another string of pipe.
So, what will TC do with a pipeline that can handle over 1.6M million barrels per day when the Bakken production takeaway needs will never approach it? Most likely TC would justify building the line, without the additional pump stations, and petition to cross the U.S./Canadian border when there is a more favorable political climate. The real question is will building only the Bakken to gulf portion of the pipeline put TC at too much risk?
Disclosure: I have no positions in any stocks mentioned, and no plans to initiate any positions within the next 72 hours.