Apple (AAPL) will release its earnings on 1/24/2012. The analyst consensus is $10.01 while the whisper is significantly higher at $12.18. AAPL's stock was very bullish prior to earnings in the last quarter of 2011 but after earnings, the stock fell back. Investors are expecting a good earnings report because AAPL sales were good during the 2011 holiday sales season. Recently, FBR Capital Markets initiated an outperform rating for AAPL believing the larger economic environment is getting better and this will do well for the sales of AAPL products.
If this is the case that many die-hard investors are banking on, weekly options may be a great way to invest in AAPL if one does not have the capital to buy the expensive stock.
Click to enlarge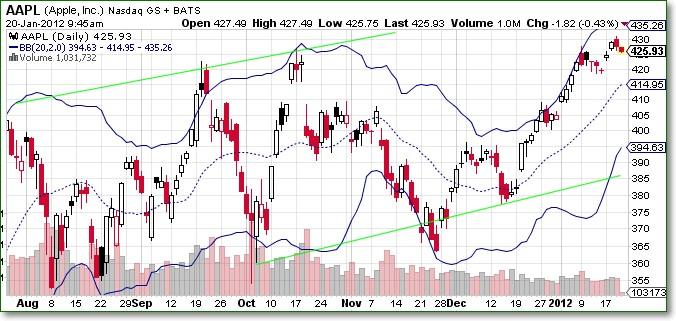 One important factor every investor should take into account when using weekly options to invest in AAPL is familiarizing one's self with how AAPL moves on a weekly and daily basis. This will allow for maximum profit and lower risk profiles. Here are the stock numbers for AAPL from five weeks in the recent past:
427.75-418.66 (week of Jan 9th) 9.09
422.75-409.00 (week of Jan 3rd) 13.75
403.59-380.48 (week of Dec 19th) 23.11
395.40-377.68 (week of Dec 12th) 17.72
393.63-370.20 (week of Nov 28th) 23.43
Finding the Average Weekly and Daily Movement of AAPL
Add the numbers together we come up with 87.10
Divide 87.10 by five (weeks) to arrive at weekly average move: 17.42
Divide weekly average (17.42) by five days for daily average: 3.48
So we now have familiarized ourselves with AAPL's weekly moving average of 17.42 and daily movement of 3.48. This is important for us to know as we look at AAPL and decide on how we would like to invest in our weekly options with it.
Example of Weekly Options Investing With Apple
Today is Friday, January 20th 2012, and Apple is presently trading at 424.75. Knowing Apple is announcing earnings on Tuesday the 24th and you would like to put together a weekly options strategy for the following Friday's expiration, (January 27th) here's a plan.
Based upon our present understanding of how AAPL moves in an average week, it could move to up to 442.17 by next week Friday (424.75 + 17.42). If AAPL has a favorable earnings report, it might move even higher. For this reason we are going to look at a Bull Put Spread play on AAPL for next week.
Sell a January 27th 390 put option (presently priced at $1.20)
Buy a 385 put option (priced at $.84)
We now have a credit spread of $.36
For the week, this would give us a 6.2% profit
Not only do we expect AAPL to move up, but on an average, if it went down every day from where it presently is trading, it would go to 407.35. So we are making a safe tactical trade with a nice profit for the week. Weekly options offer a great opportunity for short term investments with Apple.
As with all trading strategies be aware of the risk involved and formulate an exit strategy before executing any trade.