Should Newt Gingrich surge enough to become the Republican Presidential candidate in 2012, one wonders what the potential upside could be for gold ETFs like GLD and IAU? Gingrich has been a strong proponent of a U.S. dollar that "holds its purchasing power." He has not ruled out a return to the gold standard for the dollar - even though the ratio of dollars to gold would send gold prices skyrocketing, but more on that later.
Early last week Gingrich was quoted by CNN as advocating for a "commission on gold to look at the whole concept of how do we get back to hard money." The latest twist in this story came Friday from an announcement by Gingrich that the two leaders of his gold commission would be figures known for their viewpoints of a hard dollar. Gingrich teased gold investors with his comment as reported by moneynews.com that the leaders of his gold commission believed "a dollar is as good as gold."
So what price could gold reach if a gold standard or something similar came to be? State Street Global Advisors actually published a 2011 report on gold that calculated the potential dollar value of gold, if a gold standard existed. The conclusion was that gold could potentially be priced at $6,000 an ounce, a massive gain from today's prices. Here's a portion from the report that explains that $6,000 price estimate.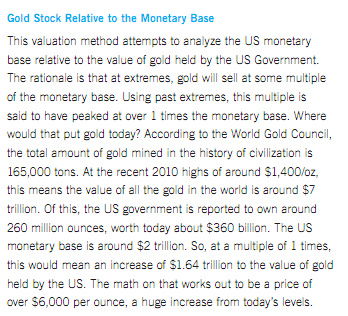 While the $6000 mark is hard to comprehend, investors in physical gold, gold ETFs and gold stocks should keep a careful eye on Newt as he has a chance to earn the Republican Presidential nomination after his South Carolina victory. If that happens, a hard U.S. dollar - potentially backed by gold - will be a prominent issue in the 2012 presidential campaign. At a minimum, gold's discussion in a presidential race would likely create further upside momentum for gold and could be a key factor pushing gold to its 13th consecutive year of positive returns.
Disclosure: I have no positions in any stocks mentioned, and no plans to initiate any positions within the next 72 hours. Christian Magoon is the publisher of GoldETFs.biz and is not an advocate of any Presidential candidate currently.