Valuation versus Share Pricing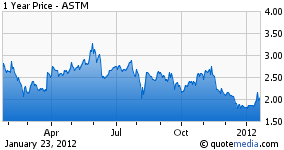 Aastrom Biosciences (ASTM) develops autologous cellular therapies for the treatment of severe and chronic cardiovascular diseases.
ASTM has made significant progress during the past 12 months and is now in a much stronger position to execute on clinical programs while anticipating an IRB approval to begin clinical trial of their autologous cell therapies, ixmyelocel-T. Critical Limb Ischemia (CLI) has a potentially enormous market opportunity. In the U.S. alone, there are an estimated 250,000 CLI patients potentially heading toward a major amputation or even death as a result of their severe disease and the lack of treatment options. 1 year mortality in this population is high, estimated at 25%. The number jumps to 70% at year 5.
Much has been written by various analysts and pundits, as shares of ASTM trade to the upside … even … in anticipation of an offering and still the trading volume remains up. Shares of ASTM had declined nearly 30% over the past months, despite very positive results from the P2b RESTORE-CLI trial.
At the end of the year, a selling wave moved across most sector companies exacerbated by investors looking to sell, square and cover positions which created less liquid conditions in many markets.ASTM has experienced a recent rise and fall in share price; current $1.97, 1/20/12 <having hit $2.15 on 1/19/12> from the end-of-year price of $1.82.
The blended valuation model implies a pricing of $4.21 given the average weighted shares outstanding of 38.64M.
We derived our current valuation by using a Blended Price Valuation Table which includes a Sum of the Parts (SOTP) analysis, a direct comparable analysis layered with a sector comparable analysis. Our SOTP scenario is extremely conservative (with a 10% discount) and details a Sum of The Parts value of $6.78 and when merged with a direct comparables implied value analysis of $3.56 reinforced by a stem cell sector implied value perspective of $1.94 implies a blended valuation of $4.21 given the current shares outstanding of 38.64 M. The Average Blended Price Valuation of $4.21 is significantly above this stocks current price of $1.97 and is still below of the 52 week trading range of $2.01 - $3.47. We note the average market capitalization of designated comparables is $137.48M or about 1.8 X the multiple of ASTM's market cap of $76.09. In a review of their overall sector stem cell companies, ASTM has a 1.2 X multiple and an implied fair value of $2.30.
Another interesting statistic is that over the past year, CEO Tim Mayleben has bought personally (open market purchase) 133, 000 shares.
The Bottom Line: I believe the current market pricing is just beginning to re-actualize ASTM's valuation and share price's potential having finished the calamitous and volatile year for all stem cell sector companies at $1.94.
Disclosure: I have no positions in any stocks mentioned, and no plans to initiate any positions within the next 72 hours.