General Electric (NYSE:GE) reported fourth-quarter results Friday that showed strong organic revenue growth, a surge in infrastructure orders, and continued improvement at GE Capital. We continue to watch GE's industrial backlog closely, and its continued growth to record levels suggests to us that the global economy is healthier than most pundits believe.
GE's total revenue expanded 4% (excluding NBCU) in the quarter, and the firm's industrial revenue growth came in at 10% on the heels of organic expansion of 5%. Infrastructure orders jumped 15% (organic orders increased 9%) during the quarter, with equipment orders up 23% and services up 7%. Notably, industrial segment emerging market orders increased a whopping 26% from the same period a year ago. GE had a book-to-bill of 1.23 in the quarter and ended the year with an impressive industrial backlog of $200 billion (up from $191 billion in the previous quarter), the largest in its history. Energy and aviation orders led the charge in orders, namely for gas turbines and jet engines. We think this bodes well for metal-bender Precision Castparts (NYSE:PCP), which makes the metal castings and airfoils for both gas turbines and jet engines and has been working with GE for decades. We continue to monitor GE's industrial backlog as an indicator of the strength of the global economy, and it continues to expand at a nice pace. We'd grow more cautious on the global industrial economy should GE's backlog trend reverse in a sustainable negative fashion.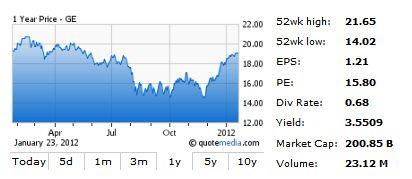 Though the industrial conglomerate reported its seventh consecutive quarter of strong earnings growth, industrial segment profit was meager at 2%, which suggests that the company continues to face a heightened competitive environment regarding pricing. Segment profit margins, though up sequentially, fell from the same period a year ago. Fourth-quarter operating earnings increased 6%, while operating EPS improved 11%, to $0.39 per share (versus consensus estimates of $0.38). Cash generated from industrial operations, however, was a record $5.5 billion for the quarter, so earnings quality remains solid.
GE Capital's fourth-quarter earnings advanced nearly 60% from the same period a year ago. GE Capital volume grew 13% from the third-quarter on relatively healthy margins of 5.4%. Tier 1 common ratios also remain sufficient at 11.4% and 9.9%, revealing the firm has largely re-established its capital strength. GE Capital's move to acquire MetLife's U.S. retail deposit business should also help to provide a source of low-cost deposit funding, bolstering lending spreads, and reducing its exposure to more expensive wholesale funding. The company also noted that it expects to restart the dividend from GE Capital to GE this year, which we view as a distinct positive.
All things considered, we continue to be impressed with GE's industrial backlog growth and the ongoing recovery of GE Capital. Given our more constructive view on the banking sector and our positive view on the commercial aerospace cycle, GE is becoming much more of an attractive candidate for addition to the portfolio in our Best Ideas Newsletter.
Disclosure: I have no positions in any stocks mentioned, and no plans to initiate any positions within the next 72 hours.
Additional disclosure: PCP is included in our Best Ideas portfolio.