As the high sovereign debt levels hinder the global economy, retirees seeking yield have been hurt by ultra-low interest rate policies from world central banks.
Ultra-low yields will likely remain until we get a more robust recovery and an improving unemployment picture. Due to a very weak and uncertain economic environment for the developed world I do not see the U.S. Federal Reserve raising rates in the short-term. I expect to see rates at these levels throughout Chairman Bernanke's term.
Retirees seeking "safe" yield should focus on low beta, large capitalization, low levered U.S. equities. Due to its perceived safe haven status and our ability to print our own currency, the U.S. is the cleanest dirty shirt amongst the sovereigns.
Screen:
Market Capitalization of greater than $10 billion.
Dividend Yield of greater than 2.5%
Beta of less than 1.0x
Debt to EBITDA of less than 2.0x
Screen Rationale:
Focused on large capitalization equities as they have scaled and durable business models. Large capitalization equities typically are not concentrated in terms of customers or products, thus reducing company-specific risks.
Focused on dividends that are higher than the 10 year U.S. Treasury.
S&P500 (NYSEARCA:SPY) has a beta of 1.0. Betas less than the market exhibit less volatility than the market.
Lower levered businesses can withstand earnings shocks better than highly levered businesses. EBITDA is a proxy commonly used to estimate free cash flow. Most private equity buyouts are based on enterprise value to EBITDA ratios.
Despite a severe recession in 2008/2009, these companies were able to maintain earnings due to their strong business models.
The five dividend stocks outlined performed the S&P500 since Jan 1, 2011.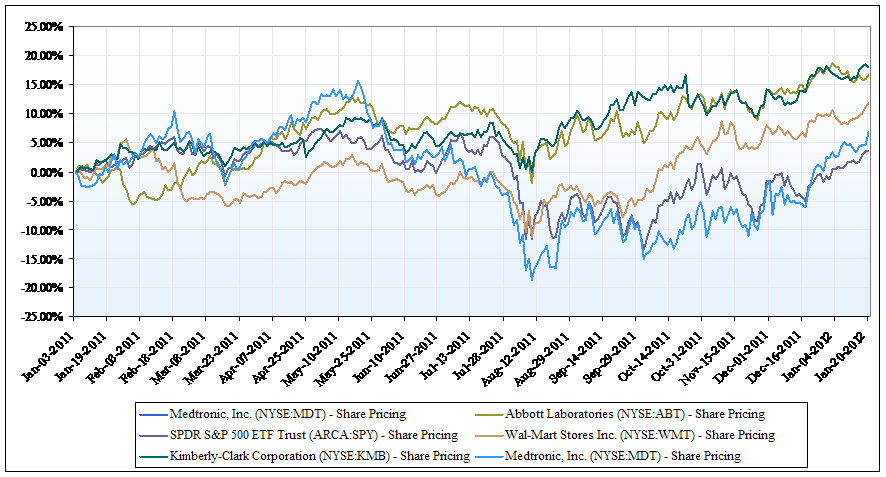 Diluted Earnings Per Share
| | | | | | |
| --- | --- | --- | --- | --- | --- |
| | 2007 | 2008 | 2009 | 2010 | LTM Period |
| Abbott Laboratories | $1.30 | $1.44 | $1.60 | $1.76 | $1.88 |
| McDonald's | $1.98 | $3.76 | $4.11 | $4.58 | $5.10 |
| Wal-Mart Stores | $3.13 | $3.39 | $3.71 | $4.46 | $4.73 |
| Kimberly-Clark | $2.12 | $2.32 | $2.40 | $2.64 | $2.76 |
| Medtronic | $1.87 | $1.84 | $2.79 | $2.86 | $3.17 |
Company Filings
Abbott Laboratories (NYSE:ABT)
Market Capitalization: $87.0 billion
Price to Earnings: 19.3x
Dividend Yield: 3.4%
Debt / EBITDA: 1.5x
Beta: 0.31
McDonald's Corp. (NYSE:MCD)
Market Capitalization: $99.8 billion
Price to Earnings: 19.2x
Dividend Yield: 2.9%
Debt to EBITDA: 1.3x
Beta: 0.46
Wal-Mart Stores Inc. (NYSE:WMT)
Market Capitalization: $198.0 billion
Price to Earnings: 13.0x
Dividend Yield: 2.5%
Debt to EBITDA: 1.7x
Beta: 0.35
Kimberly-Clark Corporation (NYSE:KMB)
Market Capitalization: $28.6 billion
Price to Earnings: 17.4x
Dividend Yield: 3.9%
Debt / EBITDA: 1.8x
Beta: 0.34
Medtronic, Inc. (NYSE:MDT)
Market Capitalization: $41.1 billion
Price to Earnings: 12.3x
Dividend Yield: 2.5%
Debt / EBITDA: 1.8x
Beta: 0.87