Last week David Fish published his Dividend Contenders: Smackdown XXII here on Seeking Alpha. He defines Contenders as "companies that have paid higher dividends for 10-24 years." This article utilizes the dogs of the index strategy to sort David's Top ten Contenders as of January 13 into a suitable grouping of ten to trade.
The aim of this article is to help determine which dividend stocks are good, better, best, bad or ugly. This article also aims to provide strong evidence of the need to heed Yale professor Robert Shiller's observation: "People still place too much confidence in the markets and have too strong a belief that paying attention to the gyrations in their investments will someday make them rich, and so they do not make conservative preparations for possible bad outcomes."
The Dogs of the Index Strategy
Two key metrics determine the yields that rank index dog stocks: (1) stock price; (2) annual dividend. Dividing the annual dividend by the price of the stock declares the percentage yield by which each dog stock is ranked. Investors select portfolios of five or ten stocks in any one index by yield to trade. They await the results from their investments in the lowest priced, highest yielding stocks they selected and pray that the price of every stock they now own climbs (having locked in a high yield percentage at purchase).
This Dogs of the Index strategy, popularized by Michael B. O'Higgins in the book "Beating The Dow" (HarperCollins, 1991), reveals how low yielding stocks whose prices increase (and whose dividend yields therefore decrease) can be sold off once each year to sweep gains and reinvest the seed money into higher-yielding stocks in the same index.
Classic Dogs of the Index theory trades selected Dow stocks at the start of the trading year. Thus, the Dow is used as a standard of comparison to conclude this piece.
Comparative Methods Used
First, David Fish's Contenders list (from here) as of December 30 showing 102 companies paying increasing dividends for 10 - 24 years is updated with pricing information from Yahoo Finance as of January 13 then sorted by yield to reveal the top thirty stocks. Market performance of these thirty selections is then reviewed using four months of historic projected annual dividend history.
To conclude, this article assesses the relative strengths of David Fish's Top ten Dividend Contenders vs. the Dogs of the Dow January stock list. Annual dividends from $1000 invested in the ten highest yielding stocks in each index versus the aggregate single share prices of the top ten stocks in each index provide a measure of risk.
Fish Dividend Contenders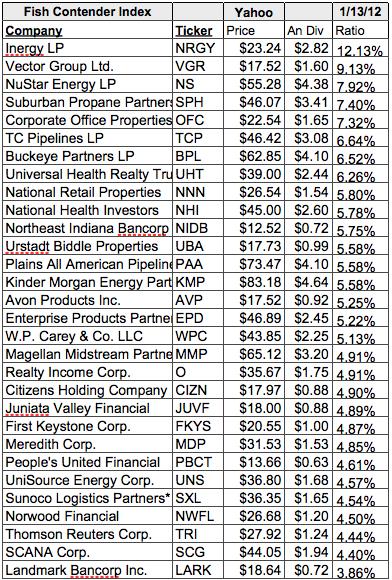 Mr. Fish's top ten Contender stocks paying the biggest dividends for January include firms representing four of nine market sectors. The top stock Inergy LP (NRGY) is one of two in the utilities sector. The balance of the top ten include one consumer, two financial and five basic materials firms The full list of 30 stocks has, two service, no healthcare, two consumer goods, fourteen financial, eight basic materials, no industrial, four utilities, no technology and no conglomerates representing the market sectors.
Vertical Moves of Fish Dividend Contender Stocks
Going back four months, one utility sector equity Inergy LP (NRGY) claimed the top of this list by yield. The middle of the list shows more activity. A sizable price gain was made by publisher Meredith Corp. in the past four months moving from tenth place by yield to twenty-third by means of a price gain from $24.34 to $31.43 or 29.2%. Also Sonoco Logistics Partners (NYSE:SXL) moved from the twentieth slot by yield to twenty-fifth as it gained in price from $31.12 to $36.36 or 16.8% over he same time period. Conversely Avon Products (NYSE:AVP) lost value moving from thirtieth place by yield at $22.30 to fifteenth place dropping to $16.58 in under three months. Also Citizens Holding Company (NASDAQ:CIZN) moved up in yield rankings as its stock price stayed close to even moving from $17.95 to $17.97 between October and January.
Color code shows: (Yellow) firms listed in first position at least once between October 2011 and January 2012; (Cyan Blue) firms listed in tenth position at least once between October 2011 and January 2012; (Magenta) firms listed in twentieth position at least once between October 2011 and January 2012; (Green) firms listed in thirtieth position at least once between October 2011 and January 2012. Duplicates are depicted in color for highest ranking attained.
January Dividend vs. Price Gap for Fish Contenders vs. Dow
Below are graphs of the relative strengths of the top ten Fish Dividend Contenders index stocks by yield and price from October to January to those of the Dow. Using four months of historic projected annual dividend history from $1000 invested in the ten highest yielding stocks each month and the aggregate single share prices of those ten stocks creates the data points for each month shown in green for price and blue for dividends.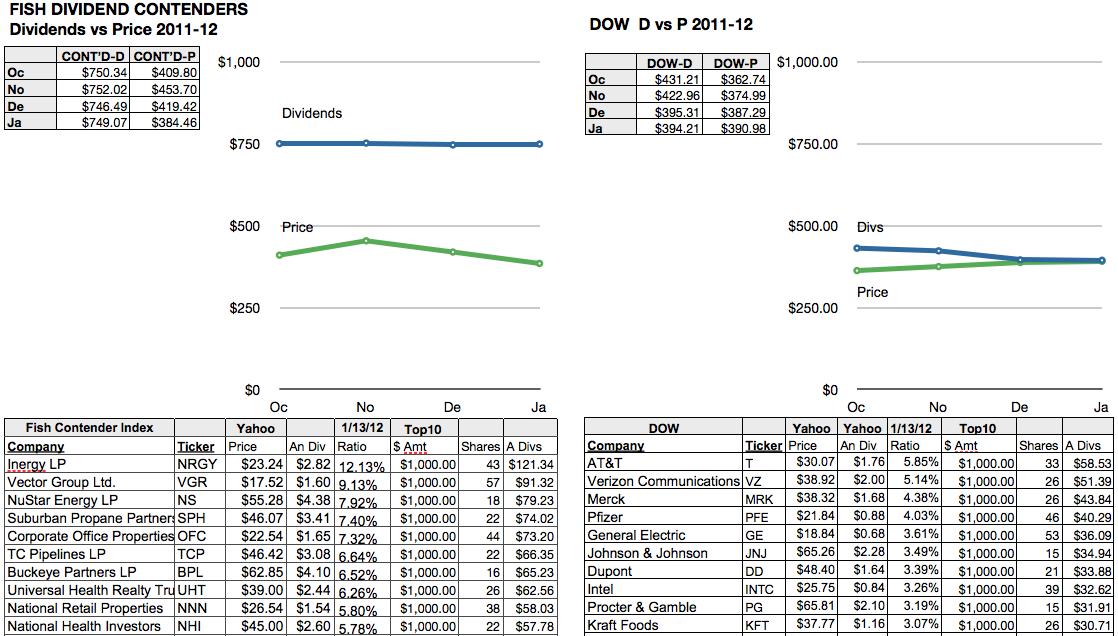 Conclusion: Another Versatile Team of Dogs on The Run
This Contenders collection of 30 versatile dividend payers shows steadily stable dividends as their aggregate single share prices dropped. The Dow index on the other hand exhibited near convergence as dividends from $1,000 invested in the top ten decreased while aggregate total single share prices rose over the past four months. The Contenders index pays 87.5% higher dividends from about the same aggregate single share per share price as the Dow.
At the end of each month, two summaries conclude this new series of articles showing comparative results of yield and price for six indices: Carnevale Power 25; Fish Dividend Champions; Contenders; Challengers; Dow 30 Index.
Disclosure: I have no positions in any stocks mentioned, and no plans to initiate any positions within the next 72 hours.
Disclaimer: This article is for informational and educational purposes only and shall not be construed to constitute investment advice. Nothing contained herein shall constitute a solicitation, recommendation or endorsement to buy or sell any security. Prices and Returns on equities in this article, unless noted otherwise, are listed without consideration of fees, commissions, taxes, penalties, or interest payable due to purchasing, holding, or selling same.