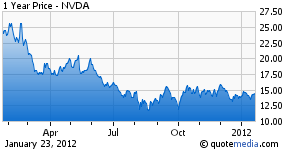 To generate strong returns in the tech sector, it is important to get ahead of the market and make long run predictions about companies. One company whose long run value I am very skeptical about is Nvidia (NVDA). Investors who just look to financial indicators are missing the point - there are 3 key reasons why Nvidia is likely to run into trouble over the next 3-5 years.
I have previously written about the benefits of a licensing model over direct chip production. Nvidia's main product in the mobile sector, the Tegra, is designed and produced in house. This exposes Nvidia to a great deal of risk that would be avoided under a licensing model.
More damaging is the increasing competition from other mobile chip makers. Nvidia has traditionally occupied a market niche for high end smartphones, which is likely to face increasing competition from Intel's (INTC) Medfield. Indeed, the only design wins for the Tegra 3 have been in tablets, which are a prime target for the greater computing performance and x86 compatibility offered by Intel. In the smartphone market, Nvidia's once unassailable lead in graphics performance has been shrinking in comparison to competitors like Qualcomm (QCOM).
On the desktop graphics front, Nvidia's traditional bread and butter, the high volume low and midrange products are facing an increasing threat from integrated graphics. AMD's (AMD) Llano chips can already provide sufficient graphics performance for anything short high end gaming and this will soon be matched by Intel's upcoming Ivy Bridge release. Nvidia does not have an x86 license and cannot produce competing desktop processors, which makes them very vulnerable to negative demand shifts in the dedicated graphics market.
In short, Nvidia has no moat to stave off competition. It faces pressure from large, experienced companies in all of its core markets, and needs constant design wins and a favorable market just to keep revenue constant. Current financials may point to an undervalued stock, but do not be fooled. A long play in Nvidia would be ill-advised.