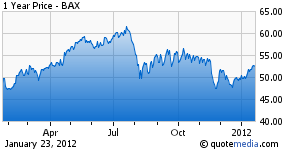 Since I first argued that Baxter (NYSE:BAX) ad Covidien (COV) were undervalued here, the respective stocks have surged by 9.6% and 10.8%, respectively - meaningfully outperforming the Dow Jones during the same time period. Analysts continue to rate Baxter a "buy" due to the favorable growth rate, positive signs in IVIG, and improving visibility. Based on my multiples analysis and DCF model, I continue to find that Baxter has favorable risk/reward.
From a multiples perspective, Baxter is relatively cheap. It trades at a respective 13.9x and 11.4x past and forward earnings while offering a dividend yield of 2.5%. Hospira (NYSE:HSP) - which is additionally involved in biotechnology - does not offer a dividend yield while trading at a respective 22.1x and 13.2x past and forward earns. From FDA setbacks to the short-term dilutive impact of probable acquisitions, Hospira is a clear "hold". This is especially the case in light of Covidien also offering a dividend yield at 1.9% while trading at only a respective 12.7x and 10.4x past and forward earnings.
At the third quarter earnings call, Baxter's CEO, Bob Parkinson, noted how the company is continuing to innovate in a challenging economy:
"The evolving global macro environment will exert ongoing pressures on our business, creating challenges that we will manage with disciplined execution of our strategies. We continue to benefit from the diversified and medically necessary nature of our portfolio, our broad geographic reach and strong financial position, which provides us with the flexibility to invest in innovation, advance our new product pipeline and augment future growth with select business development initiatives. In the third quarter, R&D spending accelerated 15%, supporting progress of investigational therapies and late-stage clinical development and success in obtaining approvals and launching innovative products in the global marketplace.

Some recent achievements include the following. In the quarter, we received FDA approval for GAMMAGARD LIQUID 10% SubQ and recently launched the therapy in the United States. This allows Baxter to participate in this fast-growing segment in the PID market in the U.S. for the first time. We're pleased with the initial market acceptance of SubQ, as we've secured both share gains and conversion of Baxter patients to this new therapy".
As the fourth quarter earnings call approaches, I anticipate results to be in line with expectations. Perhaps most importantly, management is likely going to zero in on the subjects that have created a great deal of uncertainty and held back value. In specific, investors can expect to hear about the customer retention trends in the COLLEAGUE infusion pump, feedback on how gig is faring, and visibiliting in the IVIG market. Analysts are expecting that Octapharma's re-introduction could yield 2% worth of sales growth. Risks center around competitive pressures and the impact that a lower discount rate would have on pension costs.
Consensus estimates for Baxter's EPS forecast that it will grow by 8.3% to $4.31 in 2011 and then by 7% and 10% more in the following two years. Assuming a multiple of 14.5x and a conservative 2012 EPS of $4.54, the rough intrinsic value of the stock is $65.83, implying 25% upside. This figure is confirmed by modeling a CAGR of 8.4% for EPS over the next three years and then discounting backwards at a WACC of 9%.
While Baxter provides a strong defensive play in healthcare, Hospira continues to struggle. The company is not facing up well to the FDA with recent warning letters concerning processing compliance. Furthermore, POSIDUR was a Phase III flop. It is likely that management will focus on acquiring later-stage products to drive momentum in the top-line, but this will come at the cost of short-term dilution to EPS. By the time the transactions become accretive, the economy could be fully recovered - yielding greater upside in the more macro-sensitive stocks.
Consensus estimates for Hospira's EPS forecast that it will decline by 9.4% to $3 in 2011, decline by 17% in 2012, and then grow by 21.3% in 2013. Assuming a multiple of 14.5x and a conservative 2012 EPS of $2.41, the firm is trading roughly at fair value.
Disclosure: I have no positions in any stocks mentioned, and no plans to initiate any positions within the next 72 hours.