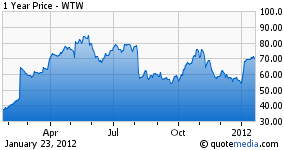 At this point last year Weight Watchers (NYSE:WTW) was still trading $35, now it has doubled. The reason for this? Last year February the stock rose from $45 to $65 in a single day on a very upbeat earnings report and stellar outlook.
Sleeping giant awakes
Weight Watchers shares have been quite boring over the last decade trading mostly between $40 and $60 a share before falling to $20 in 2009. During the last years leading into 2011 revenues were virtually unchanged at $1.5 billion, profits came in at around $200 million and earnings per share around $2.50 on average.
After the bullish statements last year February and the Weight Watchers trend which got embraced among consumers, the company is in the picture again and set to report some spectacular growth figures for 2011 in the coming month.
Fundamentals
In 2010 the company reported annual revenue of $1.5 billion on which in net earned $194 million or $2.56 per share.
In the first 9 months of the 2011 fiscal year alone the company reported revenue of $1.4 billion, on track of reporting $1.8-$1.9 billion for the year. In the same period it reported $240 million in net income or $3.16 per share.
Cautious outlook
On the 8th of November the company raised the full-year earnings outlook once more to $4.05-$4.10 per share implying a $0.79-$0.84 profit for the fourth quarter or 23% implied growth year-on-year. In the third quarter the company still earned $1.09 per share which then represented 84% year-on-year growth.
The dramatic slowdown in annual growth and actually lower earnings quarter on quarter are worrying signs for a company which now trades at 18x earnings and operates a business model extremely vulnerable to "trend" swings.
Share prices go up and down. However when earnings and valuation multiples rise at the same time, it takes just a slight headwind to get investors back on their feet which could lead into quite a dramatic correction when investors get disappointed.
Weight Watchers might have just put on too much weight in terms of its stock appreciating too fast.
Disclosure: I have no positions in any stocks mentioned, and no plans to initiate any positions within the next 72 hours.