Speedway Motorsports (NYSE:TRK) operates 8 raceways across the United States. Owning raceways is an attractive business to be in because the substantial upfront costs of building a raceway and needing to then secure premium events such as NASCAR create substantial barriers to entry. Currently TRK trades at approximately 13x this year's earnings (my estimate - $1.21 before impairment and debt restructuring), 75% of book and has a dividend yield of 2.5%.
The upside case
Not only is TRK cheap currently, its earnings will grow considerably as economic conditions in the US improve. I estimate that with an upswing in US unemployment to eventually below 5%, TRK could earn $3/share (basically a return to 2008 revenue on its current cost base) which at a 15x multiple creates an opportunity for a 280% return from current levels for the long-term investor. Of course, the timing and strength of the recovery remains uncertain, but TRK is an attractive way to both play a US recovery and avoid any European exposure.
The chart below shows TRK's annual revenue (in $M - green) and the US unemployment rate (red). Note the revenue uptick in 2008 is due to an acquisition: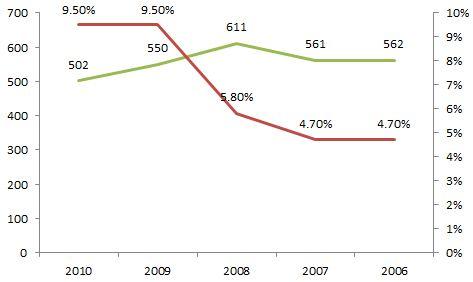 Business Overview
Speedway Motorsports owns 8 speedways across the United States, which host racing events, including 23 NASCAR events each year. Revenue comes from admissions and associated event incomes such as sponsorship, food and merchandise sales, TV rights to the events and using the facilities for other purposes when races aren't occurring.
Revenue breakdown
Revenue breakdown for FY2010 was as follows. Note that admissions and event related revenue are strongly correlated, for example more tickets sold means more food sales. The NASCAR contact comes up for renewal in 2014, and revenue has been increasing over time.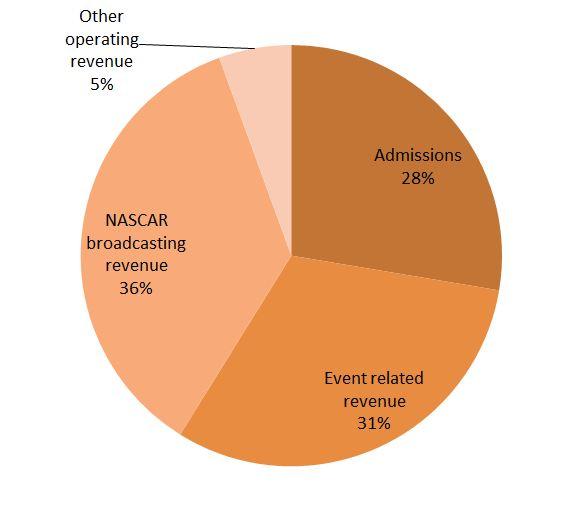 Click to enlarge
Risks Of CEO/President's controlling stake
The President and CEO of the company, Bruton Smith, holds 70% of the outstanding shares. This creates a clear motivation for him to create shareholder value, but equally it gives him tremendous decision making power within the company, and there are some relationships between Speedway Motorsports his other businesses such as Sonic Financial, Sonic Automotive and Chartown that are disclosed in the SEC filings and all seem above board, but could potentially lead to conflict of interest.
Dividend Coverage - comfortable, but dividend increase unlikely
Dividend costs are approximately $17M a year, suggesting a 33% payout ratio with $50M of earnings. However, it is unlikely the dividend will increase substantially, because debt covenants limit the maximum dividend to $0.48 vs. its current level of $0.40. Therefore increasing the dividend by more than 20% will not happen without significant debt paydown.
Cash Generation - on par with earnings
Earnings are a reasonable proxy for cashflow at TRK, capital expenditure is generally at, or slightly less than, the level of depreciation. The primary assets are the raceways themselves and associated grounds and structures.
Share Buybacks - minor contributor to EPS growth
Speedway Motorsports has been buying back shares at the rate of approximately 66,000 a quarter for the past 3 quarters, were this to continue given the current 41.5M share count, it would support EPS growth of approximately 0.6% per year before any increase in net income.
2014 TV Contract Renegotiation
The TV contract is up for renewal in 2014. Historically, TV revenues have risen over time, but to the extend interest in NASCAR declines or advertisers shift spend from TV to other media, this would present a risk to TRK given the TV contract is over a third of revenues.
Fatal Crash At Las Vegas Speedway
In October 2011, Dan Wheldon died in a crash at an IndyCar race at the Las Vegas Speedway, which Speedway Motorsports owns, but IndyCar rented for the event. There is some speculation that the high banked oval at Las Vegas (and also at Texas track which Speedway Motorsports also owns) presents a risk to drivers, and IndyCar could break its contract with the venue. However, to date, that has not happened.
Acquisition risk
The company has been acquisitive over time and has acquired 5 of its 8 speedways in the past 16 years.
FY2011 Performance
This year has seen both falling revenues and falling costs for TRK, but costs have fallen slightly faster than revenues leading to earnings growth. An exact trend in revenues is hard to determine because race timings change quarter-on-quarter, but I see admissions increasing now that we are past the peak of US unemployment (currently 8.5% vs. a peak of 9.9%).
Comparables
| | | | | |
| --- | --- | --- | --- | --- |
| Company | Market Cap | Raceways owned | P/B | P/E |
| Speedway Motorsports | $652M | 8 | 0.75 | 13x (forecast) |
| International Speedway Corp (NASDAQ:ISCA) | $1.24B | 13 | 1.06 | 22x |
| Dover Motorsports (NYSE:DVD) | $42M | 2 | 0.66 | n/m |
Summary
TRK is a cheap stock at 13x earnings with a reasonable well covered 2.5% dividend and ongoing stock buybacks. The business is well positioned for the long term given barriers to entry. Earnings are positive this year due to taking out costs if you are willing to overlook the goodwill impairment, which is non-cash, and 2012 should show revenue growth as improving US unemployment translates to increasing event attendance. The leverage to admissions recovery could be substantial, ultimately causing EPS to grow from $1.12 to $3 since most costs are fixed. However, this will take time and won't happen in 2012. The risks are that the US economy stalls, the CEO's 70% controlling stake leading to a decision that is not aligned with external stakeholders and general uncertainty ahead of the 2014 TV contract renegotiation. However, these risks appear moderate and TRK appears cheap even before significant revenue upside is factored in.
Disclosure: I am long TRK.