GeoEye, Inc., (NASDAQ:GEOY) together with its subsidiaries, provides earth imagery and imagery information products, as well as image processing services to the United States and foreign government defense and intelligence organizations, domestic federal and foreign civil agencies, and commercial customers. The company sells basic imagery, but also provides advanced imagery analysis and information services to its customers. Shares of the company have taken a hit recently as investors mull the impact of potential defense spending cuts on the company, and may represent a value at the current price.
(Click charts to expand)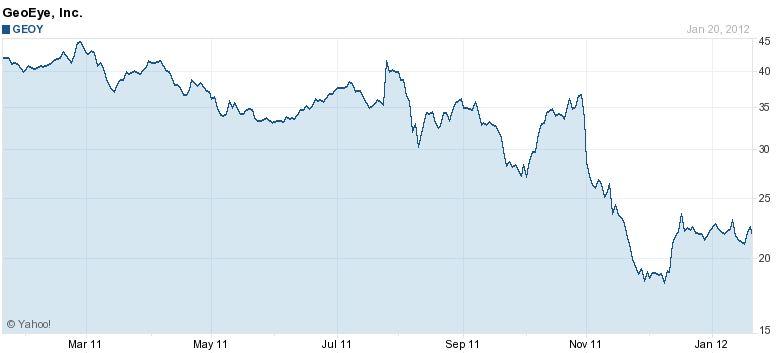 Geoeye enjoys a constant revenue stream from its biggest customer, the United States government. Satellite imagery is very valuable in a variety of public sector fields, with both military and civilian applications. In 2010, the company signed a 10-year, $3.8 billion contract with the National Geospatial Intelligence Agency to provide the high resolution imagery. This contract gives the company a very predictable baseline revenue stream for the next few years. Geoeye has a significant advantage in government contracts because its newest satellite, the Geoeye-1, provides some of the best quality imagery available on the market, and it will be rolling out even better imagery in a few years with its current project, the Geoeye-2 satellite.
Geoeye's satellites have a multitude of applications in both the public and private sector. In addition to providing extremely high resolution photography to the U.S. and other governments, Geoeye's satellites provide imagery and ground location services for a scientific and commercial use in a variety of applications, from archaeology, mining, and energy exploration to fishing and naval tracking. In 2008, Geoeye began providing Google (NASDAQ:GOOG) with millions of square kilometers of imagery for the Google Maps and Google Earth applications. Google has also selected Geoeye to be the imagery data provider for the new Google Earth Builder application, which lets private enterprises upload and store their geospatial information in the cloud. Geoeye is working on expanding its business into Latin America and Asia, recently signing a multi-year, multi-million dollar contract with a Russian company to provide imagery for a countrywide base map of land properties in the Russian Federation. Geoeye is also focusing on expanding its international and imagery products businesses. The imagery products business integrates geospatial data and analysis with the imagery, giving the customer a more informative final product.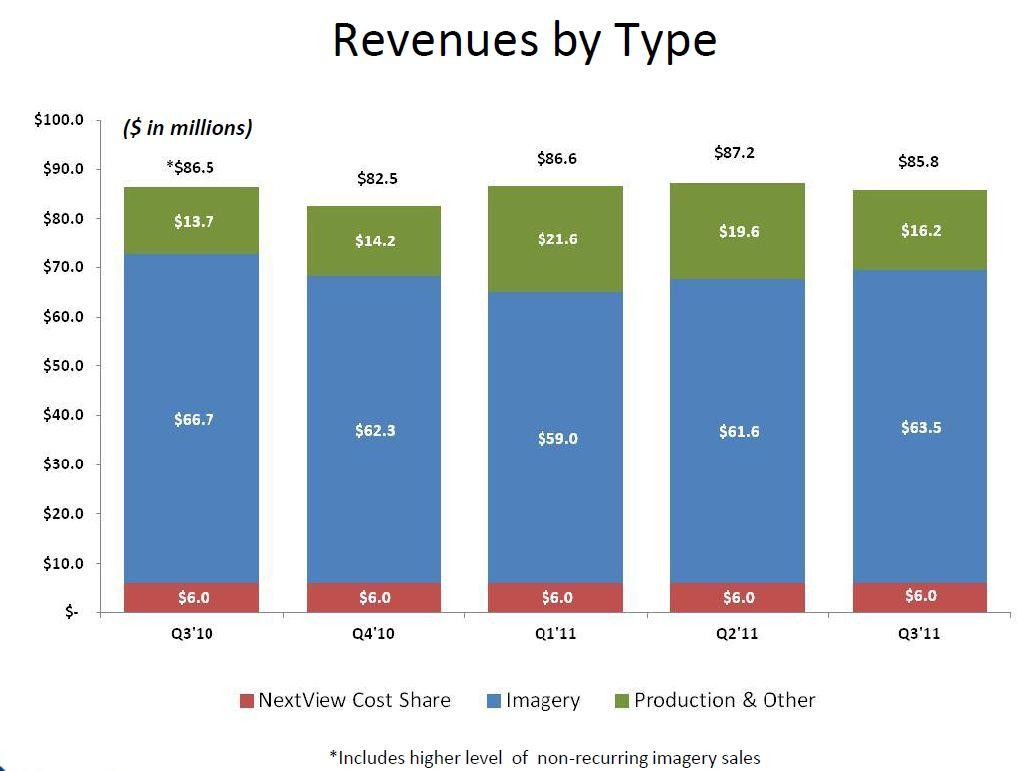 Geoeye benefits from high barriers to entry in the satellite imagery field. While there is some competition in the industry, the prohibitively high cost of launching imagery satellites offers some protection to Geoeye's high margins. Geoeye's newest satellite, the Geoeye-1, cost about $450 million to launch and is capable of providing the best quality imagery on the market. Geoeye's next satellite, the Geoeye-2, is currently being built by Lockheed Martin (NYSE:LMT) and is scheduled for launch in early 2013. Geoeye-2 will have an image resolution of 25cm, making it the highest resolution satellite on the market. Once the Geoeye-2 reaches orbit, the company will have 3 sub meter satellites in Earth orbit, giving it the capability of daily revisits. Daily revisits open up a number of change detection and other applications, which Geoeye will be alone in offering at the sub meter resolution.
Geoeye is attractively valued at its current price. The stock trades at a P/E of around 10, with a PEG around 0.60. The company also boasts a price to book of 1.05 and a price to sales of 1.43. These valuations are very low, likely due to two factors. First, there is a lot of uncertainty about future government (particularly defense) contracts, which are currently the leading source of revenue for the company. Another factor is the company's long-term debt. The company has about $510 million in long-term debt, which is a cause for concern given its interest coverage of just 1.8. However, the company maintains a solid current ratio of about 2.4 thanks to the asset value of its satellites, which are worth about $915 million.
Insider transactions since September 2010 are extremely bullish for Geoeye. Insiders have been snapping up shares over the past two years, with the only insider sales coming on options exercises. Insiders seemed to believe that the shares were a bargain around the $40.00 range, and even more so around the $22 range where the stock trades today.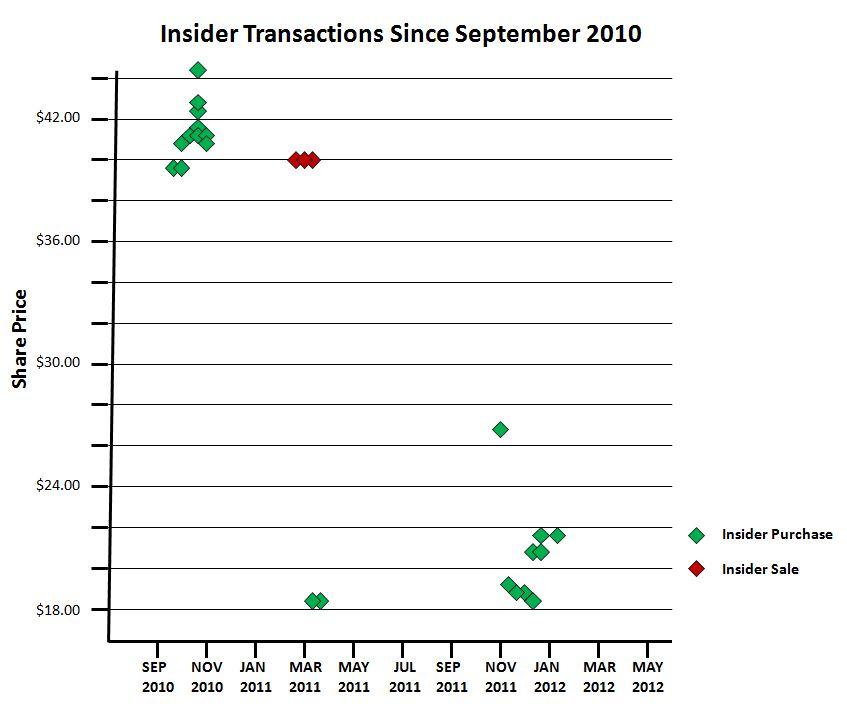 Geoeye, Inc, offers an attractive value for a dynamic company in a high-growth industry. Concerns about defense budget cuts and the high capital cost of doing business in the industry have weighed the stock down to the point where it might be worth some consideration. As always, do your own due diligence before investing, and thank you for reading, and please feel free to contribute to the discussion.

Disclosure: I have no positions in any stocks mentioned, but may initiate a long position in GEOY over the next 72 hours.
Disclaimer: This article is solely for the purpose of discussion. The author does not claim any financial expertise and any recommendations made or implied in this article should not be taken without further research or consulting your financial professional.