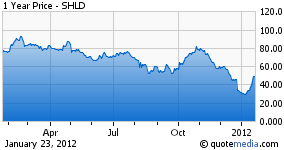 As we've already covered in a past article, since the start of 2012 and propelled both by an hot market and baseless takeover speculation, Sears (NASDAQ:SHLD) has been on an incredible short squeeze that took it more than 50% higher in a matter of days.
Part of this speculation rests on the assumption that either Eddie Lambert or the company itself can carry on buying back Sears shares. This happens because Eddie Lambert, pressured by his investors in his ESL fund, has had to buy stock from the fund, where reportedly Sears accounts for more than 50% of the fund. It also happens because in its latest 10-Q Sears reports having executed more of its stock buyback program.
There are two problems here. The first, regarding ESL, is that external investors, Goldman Sachs (NYSE:GS) among them, will surely continue to pressure Eddie to drop the Sears exposure a lot more.
The second, however, is even more worrying for Sears shareholders.
The Amended Domestic Credit Agreement
One of the largest sources of financing for Sears is the Amended Domestic Credit Agreement. As of October 29, 2011, Sears had $1.7 billion of borrowings and $622 million of letters of credit outstanding in this agreement. That made for about $1 billion of further availability. However, according to the 10-Q, there are covenants:
The Amended Domestic Credit Agreement limits our ability to make restricted payments, including dividends and share repurchases, if availability under the credit facility, as defined, is less than 15%. It also imposes various other requirements, which take effect if availability falls below designated thresholds, including a cash dominion requirement and a requirement that the fixed charge ratio at the last day of any quarter be not less than 1.0 to 1.0.
And herein lies the problem. Not only will this credit agreement restrict further repurchases of stock - something that according to the latest 10-Q, Sears already seems to have stopped doing - but there's also a good chance that the fixed charge ratio will be violated once Sears reports its latest quarter.
The fixed charge ratio is basically a measure of the company's ability to service its debt, the formula being (EBIT + Lease expenses) / (Lease expenses + Interest). For it to remain above 1:1 as in Sears debt covenant, EBIT has to exceed Interest paid on debt, which given Sears latest profit warning, now seems unlikely (though the 10-Q is not clear enough about which period is considered, even TTM EBITDA is approaching zero, and EBIT is always lower than EBITDA due to depreciation and amortization).
Conclusion
Share buybacks are not going to happen anymore at Sears, private investors in Eddie Lambert fund will continue pressuring him to reduce the Sears exposure, and Sears is highly likely to be about to violate one of the covenants determining availability of one of its largest sources of financing.
This is hardly the kind of situation that warrants a valuation premium, yet Sears actually trades at an EV/EBITDA of close to 10, and that's even before the impact of the latest profit warning. It simply makes no sense, Sears' short squeeze will end and the stock will fall precipitously.
Addendum: As per Sears, the FCCR does not apply unless the revolver is drawn more than 90% - which is $2,947.5 MM. Sears is at only $1.1 billion as of 12/23/11 per the 12/27/11 press release.
Disclosure: I am short SHLD.