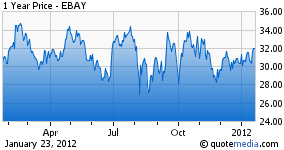 Best-idea eBay (NASDAQ:EBAY) reported strong fourth-quarter results and provided conservative forward guidance. We are maintaining our above-market fair value estimate of the online auction and payment processor (our full report can be found here).
eBay's revenue for its fourth quarter jumped 35% from the same period a year ago. The firm's PayPal business continued to perform well, ending the quarter with 106.3 million active registered accounts (up 13% from the same period a year ago). Revenue from PayPal jumped an impressive 28% thanks to continued merchant and consumer adoption and increased penetration on eBay. PayPal's net total payment volume grew 24%, and the firm noted that its international markets exceeded revenue from the US for the first time, reflecting its global footprint. Its Marketplaces business also performed well, with revenue jumping 16% from the same period last year. Gross merchandising volume, excluding vehicles, improved 10% with sold items increasing 11% globally.
The global e-commerce giant reported non-GAAP net income of $0.60 per share, a 15% increase, thanks to the strong top-line expansion noted above and improved productivity, offset in part by a modestly higher tax rate. Profitability was also solid, though its non-GAAP operating margin fell slightly due to the impact of acquisitions and business mix. However, all three business segment margins (Marketplaces, Payments, and GSI) advanced on a sequential basis from the third quarter. Overall, we were pleased with the bottom-line performance.
Looking ahead, eBay expects net revenues for the first quarter of 2012 in the range of $3.05 - $3.15 billion with non-GAAP earnings per diluted share in the range of $0.50-$0.51, the latter slightly below street consensus. The company expects net revenues for the full year 2012 to jump to $13.7 - $14 billion (18% - 20% growth) with non-GAAP earnings per diluted share in the range of $2.25 - $3 (11% - 13% growth), ranges we think are achievable. Though the strong US dollar will negatively impact the firm's top and bottom line growth by approximately 3 percentage points, the company expects strong operating earnings growth of about 15% for the year on the heels of improving segment margins at PayPal and GSI.
Disclosure: I have no positions in any stocks mentioned, and no plans to initiate any positions within the next 72 hours.