Japan's experience post-1990, when enormous bubbles in stocks, land, and real estate imploded, is highly relevant for the US (and to a lesser extent Europe) today. The similarities in condition and the differences in policy reaction provide useful lessons for economic policy.
For starters, Japan in 1990 was pretty similar to the US in 2008 post-Lehman. Both situations saw a rapid decline in asset values spilling over to the banking system and aggregate demand. But there are three differences:
US policy reaction was much quicker
Partly as a result of that, the fall in Japanese asset prices was much larger, ending up around a whopping three year GDP worth of wealth being wiped out in Japan
Banks are more central to the financial system in Japan and the response of Japanese banks was doing nothing.
So, if anything, both countries ended up in what Richard Koo from Nomura has called a balance sheet recession but US policy authorities and banks reacted much quicker. A balance sheet recession is one where asset prices have fallen, taking wealth with it (as debt mostly remains), forcing increased savings and reduced spending in order to restore balance sheets.
In a balance sheet recession, credit demand is very low, taking interest rates down as well, which makes monetary policy less effective as there are no interest rates low enough to revive credit demand to pre-crisis levels. This situation is also known as a 'liquidity trap.'
Lost decades?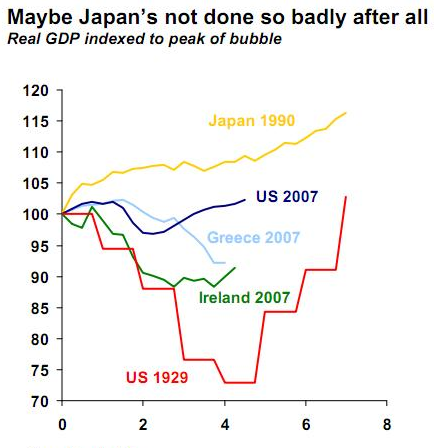 We noticed that the real curious thing about Japan is that despite the much bigger shock to the economy (at least partly the result of the slow reaction from policy makers and banks to the crisis) it didn't really lead to a terrible economy. Unemployment never seriously rose (certainly not to US levels). While nominal GDP stayed flat for two decades (a quite unprecedented feature for a modern economy), real-GDP per person actually grew a fraction faster in Japan over the same period compared to the US.
It is debatable, therefore to what extent Japan suffered from two 'lost decades.' Indeed, bigger fish have since entered the debate. Krugman argues that Japan really only suffered one lost decade and Eamonn Fingleton showed a bunch of metrics in which Japan performed rather well during that period.
It's actually somewhat of a moot point whether Japan has suffered lost decades. There is no doubt Japan could have done better, but considering the unprecedented size of the financial shock it experienced, it is still surprising how well it actually did. There can be little doubt that fiscal expansion has been a big part in keeping the economy afloat. But things could have been much better if monetary policy had been equally expansive.
Monetary policy
Opinions vary whether monetary policy is effective under a balance sheet recession. Indeed, Richard Koo explains why monetary policy isn't effective in a balance sheet recession:
The first casualty of this shift to debt minimization is monetary policy, the traditional remedy for recessions, because people with negative equity are not interested in increasing borrowing at any interest rate. Nor will there be many willing lenders for those with impaired balance sheets, especially when the lenders themselves have balance sheet problems. Moreover, the money supply, which consists mostly of bank deposits, contracts when the private sector collectively draws down bank deposits to repay debt.
We took that and argued the ineffectiveness of monetary policy during a balance sheet recession can actually be put to productive use. If buying bonds doesn't lead to accelerating inflation, why not let the Bank of Japan (BoJ) buy many more government bonds now that the main worry is the exploding public debt?
There should be considerable room for this as Japan, rather than suffering from accelerating inflation, is actually suffering from the opposite, deflation. Even the QE program that the Bank of Japan (BoJ) embarked upon between the end of 2001 and 2006 hasn't changed that, as it didn't revive bank lending.
click to enlarge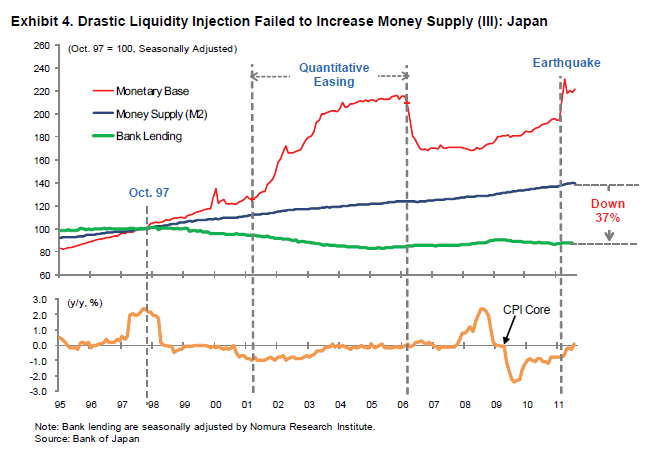 Here is TheMoneyIllusion blog weighing in:
If the BOJ tightens (as they did in both 2000 and 2006) every time there is a possibility of even a tiny bit of inflation, then fiscal stimulus in Japan will probably fail. If the BOJ did allow even modestly higher inflation it might work, but in that case it probably wouldn't even be needed, as higher inflation would (temporarily) lower both the real interest rate and the real exchange rate, boosting growth.
The reasoning here seems to be that the BoJ frustrated the fiscal expansion to a considerable degree, although we disagree with the MoneyIllusion that fiscal policy has been a failure. If not for fiscal expansion, what else kept the economy going? Indeed, Richard Koo argued that without fiscal expansion, Japanese GDP would have fallen by 40-50%.
When the private sector spends less in order to repair balance sheets, there is a demand void to be filled. Remember that the equivalent of three year GDP worth of wealth has been destroyed, a much bigger financial shock than which the US suffered even in the 1930s (when only the equivalent of a single year of GDP was wiped out in wealth).
But monetary policy has been way too tight, letting deflation settling into the economy is a clear sign of that. The BoJ should embark on a rather large QE program. We continue to be surprised how punters and (worse) policy makers seem to be vexed by non-existing problems (the fear of accelerating inflation). This results in worsening the problems we have, which are all too real.
A more aggressive monetary policy in Japan would have prevented deflation to get ingrained into the economy. It might have lessened Japan's dependence on fiscal stimulus, and insofar it would have, Japan's debt wouldn't not have ratcheted up the way it has. Even now it can be useful by taking out a significant part of that debt.
Lessons from Japan
So perhaps the most notable lesson from Japan is that two decades of fiscal deficits and debts, leading to 200% public debt/GDP and 8%+ budget deficits and bouts of QE has led to deflation rather than hyperinflation. If this isn't vindication for Koo's balance sheet analysis and the Keynesian liquidity trap analysis then what is? What does it take for those 'Austrian economists' to admit that they're plain wrong, that in a balance sheet recession and/or liquidity trap one can throw everything but the kitchen sink in terms of policy but inflation just fails to take off under these conditions?
The good news is that the Fed, or at least a significant part of it, so far doesn't seem to be making the same mistake.