Do you wonder if R.R. Donnelley & Sons (RRD) knows how the buggy whip makers felt after the introduction of the automobile? R.R. Donnelley & Sons Company is in the print business and provides capability for printing a wide variety of media including books, catalogs, magazines, inserts, financial information, etc.
With the advent of the Internet and eBook readers like Amazon's (AMZN) Kindle and Barnes & Noble's (BKS) and Apple's (AAPL) iPad, print books and magazines are on the way out and R.R. Donnelley's target market is shrinking and will continue to shrink.
The company has nobly attempted to reposition itself with its CustomPoint platform where customers can self-order printed product. In its most recent Q3 2011 conference call, the company indicated the CustomPoint platform experienced a 12.7% increase in order activity with more than 566,000 order executed during the quarter. The CustomPoint platform is a nice try, but it's kind of like selling self-portrait kits to passengers on the Titanic. And, CustomPoint appears to fall short, as I did not see support for an Application Programming Interface (API) which would allow R.R Donnelley's customers to automatically enter orders from their own servers instead of having to manually access R.R. Donnelley's platform for every order, order revision, etc.
The company has also made some strides to transition to the digital age via acquisitions. The company recently acquired Sequence Personal, which offers the capability to aggregate content for digital printing, LibreDigital which provides digital content distribution such as e-reading software and Genesis Packaging & Design which provides point-of purchase signage and other displays used for a variety of applications.
Of these new acquisitions, the only one that doesn't look like an accessory for a horse & buggy is LibreDigital. The Sequence Personal and Genesis Packaging & Design acquisitions will certainly help with the company's print business, but only delay the company's demise. But, LibreDigital looks like a brand new Porche, ready to take the company on a race around the track. LibreDigital was one of the first companies to deliver digital files to Amazon and created the first iPhone book application. If R.R. Donnelley lets LibreDigital run the race, R.R. Donnelley might successfully transition itself to the digital information age. But if R.R. Donnelley attempts to convert LibreDigital to a pack mule for catalogs, then all bets are off.
To its credit, R.R. Donnelly serves its customer well as it was recently named Staple's (SPLS) Supply Chain Vendor of the Year and also recognized as an IKEA Tulip Award winner for best print supplier.
R.R. Donnelly apparently recognizes its dire situation, as the company recently closed and froze is defined benefit pension program, lest the company eventually end up in bankruptcy as in the case of Kodak.
R.R. Donnelly's stock price has really taken a hit over the last eight months by falling from about $20 plus change in May to around the current $12 price as shown below: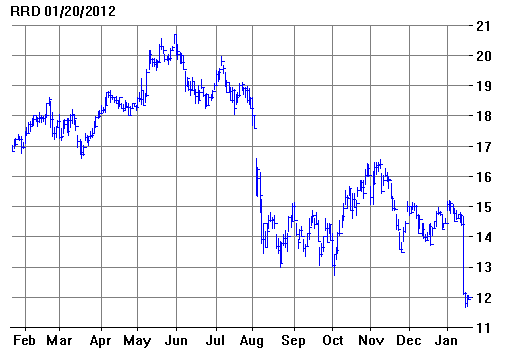 A contributor to the company's drop in stock price depreciation is basically related to a shutdown in the Initial Public Offering (IPO) market, as the R.R. Donnelly prints the financial information associated with company public offerings. I hope R.R. Donnelly is not expecting this cash cow to recover and be around forever, as I would venture to guess that eventually all IPO financial information will be distributed electronically.
With the drop in R.R. Donnelley's stock price, the dividend yield for the company has skyrocketed to around 8.5%. The company's next dividend payment of $0.26 is March 1, 2012 to stockholders of record at the close of business on January 27, 2012, which makes the ex-dividend date as January 25, 2012.
An investor considering on investing in R.R. Donnelley for the dividend may have second thoughts based upon the company's long-term prospects. However, an investor might consider entering a collar position for the company which enables participation in the dividend and also provides protection against a significant drop in the company's stock price. A collar position may be entered by selling a call option against an existing or purchase stock and using some of the proceeds for purchasing a protective put option.
Using PowerOptions tools, a collar position was found for R.R. Donnelley with a potential return of 3.1% and a maximum potential loss of 8.4%. The time frame for realizing the potential return is 145 days. The potential return of 3.1% and the maximum potential loss of 8.4% take advantage of the upcoming dividend payment and an assumed second dividend payment prior to June options expiration.
The specific call option to sell is the 2012 Jun 13 at $0.55 and the put option to purchase is the 2012 Jun 11 at $0.85. A profit/loss graph for one contract of the position is shown below: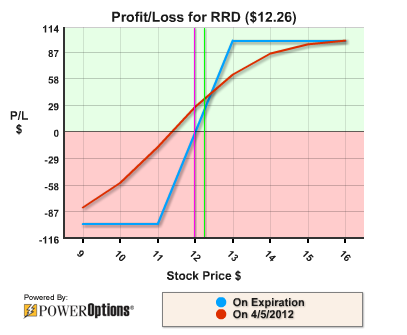 As a bonus, if the price of the stock is greater than or equal to the $13 strike price of the call option at expiration in June 2012, the position will return 8.2%.