AK Steel (AKS) is one of those companies that has lost a lot of value in 2011 and could be considered a candidate for long term investing now that we are in 2012. We considered that, and here is what we found.
Goldman Sachs (GS) downgraded AK Steel because of what it called ongoing weakness in the electric steel market. The explanation of Sachs points out AK Steel is the least vertically integrated mill in our coverage, with virtually no participation in iron ore or coking coal assets. It is thus highly vulnerable to cost pressure." They saw a possible 28% downside as a result. This announcement came January 7, 2011, just over a year ago. At that time they were trading just under 16. The real decline for the year did not come until August, when they declined heavily just as the stock market as a whole did. Dropping 50%, they were trading 7 to 9 for the rest of the year.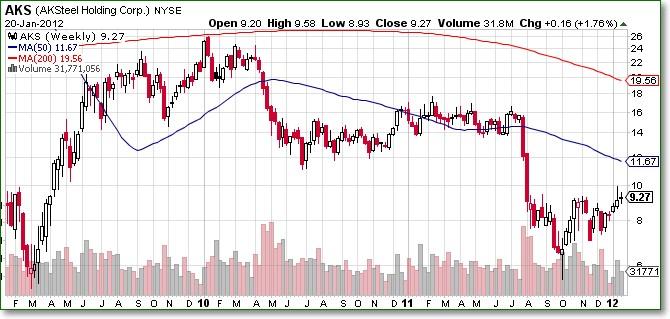 AK Steel Holding Corporation, through its subsidiaries, produces flat-rolled carbon, stainless, and electrical steels, and tubular products in the United States and internationally. It manufactures flat-rolled carbon steels, including coated, cold-rolled, and hot-rolled products; and specialty stainless and electrical steels that are sold in hot band, and sheet and strip forms. The company also involves in finishing flat-rolled carbon and stainless steel into welded steel tubing used in the automotive, large truck, and construction markets, as well as trades in steel and steel products and other materials in Europe.
What is Electrical Steel?
Electrical steel is an alloy that contains iron and silicon. This type of steel is very often used to build the cores of transformers as well as the stators of generators and motors. It is also efficient at retaining heat so that high temperatures won't impact the performance of items, such as power lines and manufacturing machinery, in which it is important to keep temperatures down for energy efficiency and equipment longevity. Transformers are devices for changing the voltage of electricity and often appear as large cylinders perched atop a telephone pole, with three or four feed cables running into nearby houses. Generators and motors -- you have a better idea what they are.
Being as specialized as it is, AKS is more vulnerable to economic downturn than other steel companies that are more diverse. A year later, after it looks to have a solid foundation, Deutsche Bank just downgrades AKS to hold sighting continued low expectations for its carbon and electrical steel business. Taking into consideration the scale of the recent estimate cuts that were made; financial profile; and struggle with being able to meet pension obligations. AKS is one of a number of small companies that have pension short falls that equate to more than half their market cap. AKS has been hit the hardest with it's at a surreal 92%.
Keeping in mind the economy, the challenges AKS is facing financially and its industry focus as a whole we do not believe AKS would make a good long term investment at this point. As the economy turns, it might be worth a second look, but we believe there are better opportunities out there to look at.