Two recent Seeking Alpha articles - Buy Apple Stock Before Earnings (Under One Condition) and Should You Put All Of Your Eggs In Apple's Basket? - led to an idea: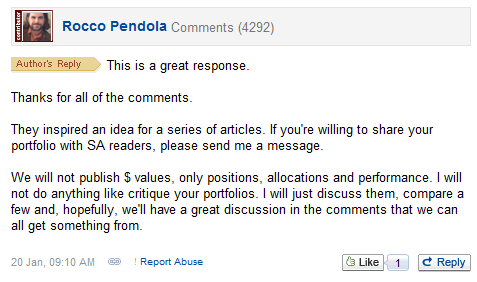 I received a tremendous response to that comment. If I do not use your portfolio, don't take it personally. I want to make comparisons that best serve the larger readership. Because I intend to continue this theme as a frequent series, feel free to send along your holdings. As noted in the comment, I will not post dollar values, only positions, allocations and, possibly, performance data. Send whatever you feel comfortable with, but know that publicly I will never attach dollar amounts to a name.
With that said, initially it makes sense to compare the portfolio a professional investment advisor puts together for his "high income" and/or "high net worth" clients to a couple sent to me by retail investors. Presumably, Seeking Alpha readers have, at one time or another, considered having a "professional" manage some or all of their money. While I certainly do not mean to say one approach is better than the other via this not-so-random comparison, looking at the different portfolio compositions can inform our discussions regarding diversification and asset allocation.
The Portfolios Of Two Retail Investors
A Seeking Alpha contributor, who is not a "professional" and asked not to be named, sent me the abridged thoughts and list of holdings that follow.
Out of the gate, he made a good point that I did not see come up in either of the above-cited articles or their respective comments sections:
Diversification does not mean "15-20 different stocks" or even several industries. It also should include some allocation to entirely different asset classes (e.g., commodities, sovereign and corporate bonds, real estate), cash!, and definitely different parts of the globe.
Excellent observation. If you've never read Faber and Richardson's The Ivy Portfolio: How to Invest Like the Top Endowments and Avoid Bear Markets, you should. While the book only generated a few specific investment ideas for me, it drove home the bullet point. Harvard and Yale generate incredible returns, year-after-year, because they put together diversified portfolios, but, to them, diversification does not mean big-cap, mid-cap, small-cap, international. It means a truly imaginative and eclectic mix, consisting of:
Domestic Stocks
Foreign Developed Stocks
Foreign Emerging Stocks
Domestic Bonds
Real Estate
Commodities
Private Equity
Hedge Funds
Cash
Both endowments spread themselves between these asset classes and others, strategically, but not necessarily equally. It's that type of mix that, in my opinion, represents true diversification and can keep a portfolio not only safe, but in the green during bear markets and outperforming in bull runs. While many of us do not have access to (or the bankroll to access) alternatives such as private equity and hedge funds, we can certainly do a better job of diversifying the Ivy way.
To a certain extent, that's what this unnamed Seeking Alpha contributor does in his portfolio:
50% in mutual funds. Split 20% in U.S. index funds; 10% in sector-specific, actively-managed funds in real estate and financials; 10% in corporate bond funds; and 10% in international funds.
10-20% using a statistical model that predicts earnings beats and misses. Uses OTM options to play these predictions.
3-5% on "super speculative momentum plays," most recently through put buying in Eastman Kodak (EK) and AMR Corp. (AAMRQ.PK).
5-10% in cash to react to opportunities like market crashes, bear markets, etc.
As this portfolio illustrates, most mere mortal everyday investors cannot achieve anything resembling Ivy-like diversification without pretty heavy use of mutual funds and/or ETFs.
Seeking Alpha user "laundryanto" sent along his relatively straightforward portfolio. I would not be surprised if this set of holdings, or something like it, is typical among many retail investors:
17.51% - Annaly Capital Management (NYSE:NLY)
16.75% - Hewlett Packard (NYSE:HPQ)
16.74% - Phillip Morris (NYSE:PM)
13.45% - Transocean (NYSE:RIG)
09.11% - iShares Silver Trust (NYSEARCA:SLV)
08.77% - Verizon (NYSE:VZ)
08.60% - Amazon.com (NASDAQ:AMZN)
07.98% - Google (NASDAQ:GOOG)
01.07% - THG, Inc. (THQI)
An Investment Advisor's Portfolio For High-End Clients
Compare this to the extensive list of holdings Northern California investment advisor, Peter T. Cacioppo, CFP, at Eagle Hill Wealth Management, puts his "high-income" and/or "high net worth" clients in. It's important to note that his typical client is a couple in their 60s with considerable pension income, $1-$2M in paid-for real estate and roughly $3 million invested. These clients pull approximately 2-3% out of their holdings annually to fund expenses and travel.
While not all readers meet this criteria, it's still informative to see what a registered investment advisor considers a "diversified growth and income portfolio." Here's the breakdown of the top 10 holdings followed by an image you'll need to enlarge to view that shows the entire portfolio (both, of course, reprinted with permission).
3.97% - Blackstone Group (NYSE:BX)
3.78% - MCD
3.60% - Amgen (NASDAQ:AMGN)
3.57% - GOOG
3.52% - Sysco (NYSE:SYY)
3.48% - 3M (NYSE:MMM)
3.47% - Apple (NASDAQ:AAPL)
3.47% - Intel (NASDAQ:INTC)
3.34% - Roche (OTCQX:RHHBY)
Click to enlarge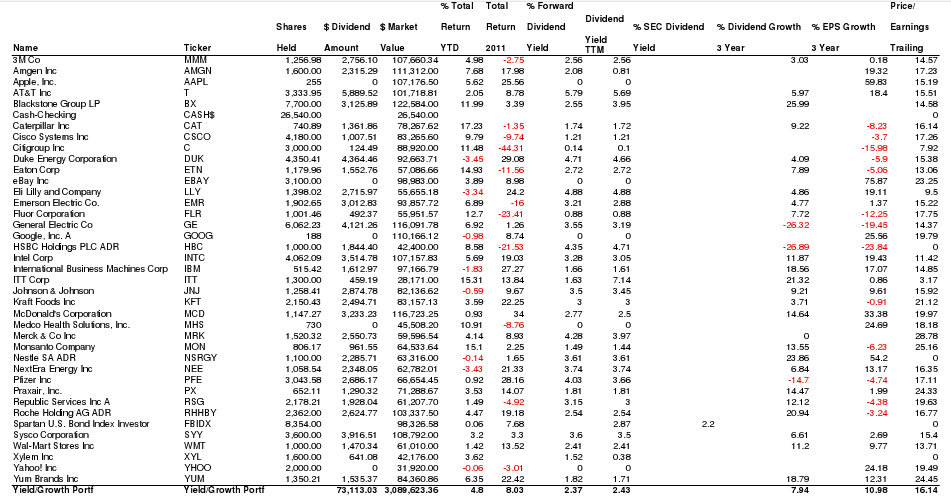 And a few images illustrating how Morningstar breaks this portfolio out on several diversification criteria.
Click to enlarge
At 93% U.S./Canada composition, this portfolio has very little overseas and emerging market exposure. But, it's certainly not sleepy. I would not go as far as Morningstar and call it aggressive - for me, at age 36 - it's somewhere just south of that label because it lacks direct international exposure and contains less than 5-10% speculative plays. And it's probably not diversified, particularly if you use anything close to the Ivy definition of diversification.
I intend to continue this series using the portfolios of others. If you're a retail investor, feel free to send something along. If you're an investment advisor who takes a different approach and takes on a wider-ranging set of clients, feel free to do the same.
I hope the comments will not only touch on what I've discussed here, but spark further ideas and articles.
Disclosure: I am long AAPL, INTC, P, VZ.
Additional disclosure: I may initiate a long position in ZNGA over the next 72 hours.