SuperValu (NYSE:SVU) continues to struggle as same store sales continue to shrink. To further complicate issues, the company has a large debt load. As with a lot of companies having issues, the market has assigned a very cheap multiple to the stock. In this article, I analyze whether SuperValu stock is a worthwhile investment on a relative value basis. I conclude that its debt could be a significant hindrance in its ability to execute well in the competitive grocery space.
SuperValu's current P/S ratio is 0.04 and it has averaged 0.10 over the past 5 years with a high of 0.22 and low of 0.04. The forward valuation has a similar story. SVU is currently trading about at $7 a share with analysts expecting the company to report EPS of $1.23 next fiscal year for a forward P/E of 6. Revenues are expected to fall 1.1%. Competitors include Safeway (NYSE:SWY), Kroger (NYSE:KR), and Winn-Dixie Stores (NASDAQ:WINN). SWY is trading at $21 a share with analysts expecting EPS of $1.83 next year for a forward P/E of 11. Revenue is projected to rise 1.6% for SWY. KR is trading at $24 a share with analysts expecting EPS of $2.22 next year for a forward P/E of 11. Revenue for KR is projected to rise 5.9% next year. WINN is being acquired and is forecast to lose money next fiscal year.
Because SuperValu has a lot of debt ($6.6 billion as of the end of last quarter), another valuation metric to look at is EV/EBITDA to take a look at the companies on a total capital basis. This metric is more on par with what EVU should be trading at because of the pressure on its sales. SVU is trading at a 4.3 EV/EBITDA multiple. KR is trading at a 5.4 EV/EBITDA ratio. SWY is trading at a 5.0 EV/EBITDA ratio. WINN is trading at a 3.8 EV/EBITDA ratio. On a discounted cash flow basis, I value the company right around $7.50 per share using an 11% cost of equity.
Analysts are not optimistic. The consensus price target for the analysts who follow SVU is $8. That is upside of about 14% from where the stock is trading now and suggests that the stock is fairly valued at these levels with limited upside.
SVU does generate a low of free cash and has paid a dividend since 1985. Its most recent quarterly dividend was 8.8 cents a share for an annual yield of 5%. The last dividend action was in 2010 when it was cut from 17.5 cents a quarter to 8.8 cents a quarter.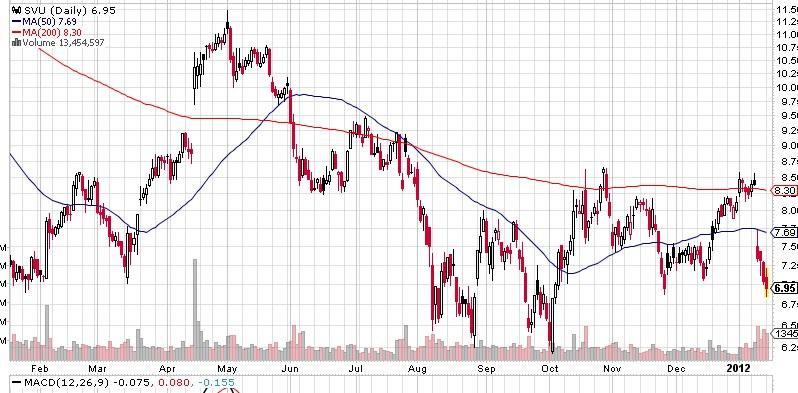 The stock has been up and down all year. After rallying 50% to over $11 a share in May of 2011, the stock has struggled, falling all the way to below $6.25 a share in October of last year. Since then, the stock rallied, twice reaching the $8.50 level but wasn't able to hold on to its gains and tumbled to its now $7 level. The stock is now below its 200 day moving average, which sits at $8.30, and its 50 day moving average, which is at $7.69. On the upside, the $7.50 level should be formidable resistance followed by the $8 area. On the downside, the $6.80 area will be critical followed by the 52 week lows of $6.25.
Disclosure: I have no positions in any stocks mentioned, and no plans to initiate any positions within the next 72 hours.