Baker Hughes Incorporated (NYSE:BHI) is expected to report earnings for last fiscal quarter before the opening bell on January 24, 2012. The company was founded in 1972 and is headquartered in Houston, Texas. BHI trades an average of 5.6 million shares per day.
52 Week High: $81.00
52 Week Low: $41.91
Book Value: $35.77
Float Short: 1.63%
Analysts are expecting an improvement of $0.15 in earnings per share compared to last quarter's results of $1.18. The number to beat is $1.33 per share, based on the estimated mean earnings. Analyst estimates range between $1.23 and $1.41 per share.
The P/E ratio has trended lower, as the current trailing twelve months P/E ratio is 12.7, while the forward P/E ratio is now 8.8. A falling PE ratio may signal a bargain for astute investors, or maybe time to move on. Considering the growth Baker has had, I find the earnings multiple quite low. The rig counts haven't changed, and with oil at the current prices (too high for this SUV driver), big oil should be doing better. Baker may be largely indirectly related to the barrel price, but the rig count would suggest along with the revenue trend that worries are fully priced in. With the short interest as low as it is, it's like a hat tip from the smart money indicating the lows put in during October and again in December will hold.
I am bullish with Baker and will be looking to sell put options to collect option premium during dips.
For the same fiscal period year-over-year, revenue has improved to $14.41 billion for 2010 vs. $9.66 billion for 2009. The bottom line has rising earnings year-over-year of $812.00 million for 2010 vs. $421.00 million for 2009. The company's earnings before interest and taxes are rising with an EBIT year-over-year of $1.42 billion for 2010 vs. $732.00 million for 2009. Rising revenue along with rising earnings is a very good sign and what we want to see with our companies. Be sure to check the margins to make sure that the bottom line is keeping up with the top line.
Here is a look at the fiscal year revenue.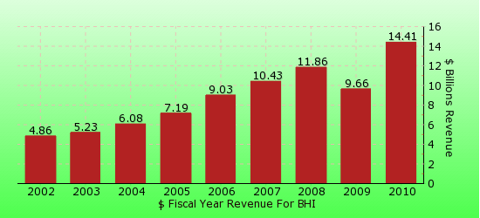 Gross reported revenue compared to the mean estimate (rounded).

| | | | | |
| --- | --- | --- | --- | --- |
| Fiscal Quarter Ending Month-Year | Revenue Estimates | Actual | $ Difference | Difference % |
| Sep-11 | $ 5.17 B | $ 5.18 B | $ 11.71 M | 0.23% |
| Jun-11 | $ 4.54 B | $ 4.74 B | $ 196.31 M | 4.32% |
| Mar-11 | $ 4.30 B | $ 4.53 B | $ 227.11 M | 5.28% |
| Dec-10 | $ 4.28 B | $ 4.42 B | $ 143.28 M | 3.35% |
| Sep-10 | $ 3.80 B | $ 4.08 B | $ 273.36 M | 7.18% |
M = millions, B = billions
Differences are rounded. (Some one-time items are often excluded in reported EPS.)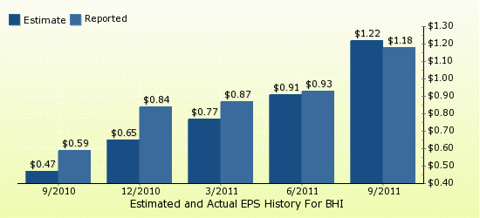 Reported earnings per share compared to the mean estimate. Differences are rounded.
The total short interest number of shares for BHI.

The number of days to cover short interest based on average daily trading volume for BHI.

Please feel free to share your thoughts and comments.
I use a proprietary blend of technical analysis, financial crowd behavior and fundamentals in my short-term trades, and while not totally the same in longer swing trades to investments, the concepts used are similar. You may want to use this article as a starting point of your own research with your financial planner. I use Seeking Alpha, Edgar Online and Yahoo Finance for most of my data. I use the "confirmed" symbols from earnings.com that I believe to be of the most interest.
Disclosure: I have no positions in any stocks mentioned, and no plans to initiate any positions within the next 72 hours.