Those investors who are looking for high dividend yields should consider pipeline master limited partnerships (MLPs). Over the last ten years, MLPs have been the best performing asset class in the world. MLPs have grown from $30 billion invested in 2003 to $250 billion invested today.
We like the pipeline companies because they are not levered to the price of oil or natural gas. They merely act as mid-stream fee collectors as they transport oil and gas from point A to point B. This immunity from the price of oil and gas has a strong appeal to income producing investors who don't want their investments fluctuating with commodity prices.
I found six pipeline MLPs with high dividend yields that we'll explore to determine if they are investment worthy.
Cheniere Energy Partners (NYSEMKT:CQP) is a $3.49 billion mid-cap Houston based MLP with a generous dividend of 8.1%. It operates the Sabine Pass liquefied natural gas (NYSEMKT:LNG) terminal in Louisiana. This terminal has a regasification capacity of 4 billion cubic feet per day and a storage capacity of 16.9 billion cubic feet.
Unfortunately, Cheniere had to face the tough challenge to restructure its business from a natural gas importer to a liquefier, importer and exporter. During this process, Cheniere has experienced negative earnings (EPS of -0.16 last quarter). Its net asset value per share is currently -3.07, since its total liabilities are higher than its total assets.
On the positive side, Cheniere has operating cash flow of $21.82 million and levered free cash flow of $27.63 million. This cash flow should increase as Cheniere turns its earnings situation around to the positive side.
Its current business restructuring should put Cheniere on the path to prosperity. The demand for energy is rising in India and China, providing Cheniere with continuous demand for its services.
Copano Energy (NASDAQ:CPNO) is a $2.29 billion mid-cap limited liability company. This midstream company provides the services of gathering, processing, and transporting of natural gas. Copano pays a 6.6% dividend.
Copano looks fairly valued with its stock trading at 3.69 times its net asset value per unit. It has an operating cash flow of $151.9 million. However, it did report negative earnings per share of ($2.86) last quarter.
Despite last quarter's negative earnings, it just received an upgrade from sector perform to outperform from RBC Capital Markets. RBC also upgraded its price target on Copano from $36 to $40. The stock is currently trading at $34.
Copano just recently closed a public offering to raise funds for capital projects, hedging, acquisitions, working capital, and general corporate purposes.
Nustar Energy (NYSE:NS) is a $3.75 billion mid-cap San Antonio based operator of oil and gas pipelines. Nustar pays a dividend of 7.6%. Its business operates in three segments: storage, transportation, and asphalt and fuels marketing. It has 80.4 million barrels of storage capacity, 5,605 miles of refined product pipelines, 2,000 miles of anhydrous ammonia pipelines, and 812 miles of crude oil pipelines.
Nustar looks attractively undervalued as its stock is trading at only 1.51 times its net asset value per unit. It is operating in the black with a profit margin of 4.16%, earnings per share of $3.14, and operating cash flow of $283.5 million.
Nustar has been recently ranked at 15 out of the top 100 best places to work. One reason for this is Nustar's ability to pay 100% of its employee's health care premiums, and its ability to match 100% of 401k contributions up to 6% of pay.
It has increased its dividends since its start in 2001, giving me confidence that it will continue to do so as it grows its business and cash flow over time.
Energy Transfer Partners (NYSE:ETP) is a $10.13 billion large-cap Dallas based natural gas pipeline company. It currently pays a nice dividend of 7.4%. ETP has natural gas operations that include 17,500 miles of gathering and transporting pipelines. It currently operates in nine U.S. states.
ETP is another attractively undervalued company as the stock trades at only 2.01 times net asset value per unit. It has a profit margin of 10.63%, earnings per share of $1.31, and operating cash flow of $1.13 billion.
ETP offers a dividend reinvestment plan at a 5% discount to market value. This looks like a no-brainer to me especially since investors will also avoid any service or brokerage fees. However, be aware that its dividend payment has remained stagnant since 2008. With a current yield of 7.4%, that's not such a terrible thing.
Enbridge Energy (NYSE:EEP) is a $9.06 billion mid-cap Houston based operator of oil and gas pipelines. It is currently paying a 6.4% dividend. It is involved in crude oil storage and transportation and natural gas midstream services.
EEP is undervalued as it trades at only 2.56 times net asset value per unit. It has a profit margin of 3.79%, earnings per share of $1.01, and operating cash flow of $618.7 million.
One highlight of EEP is that it operates on a low-risk business model. It obtains a large percentage of its revenue from long-term fee-based agreements.
EEP has increased distributions to investors by 70% in the last 20 years.
Boardwalk Pipeline Partners (NYSE:BWP) is a $5.46 billion mid-cap Houston based natural gas pipeline and storage company. It pays a nice 7.7% dividend. It operates about 14,200 miles of pipeline serving customers in 12 states. It also owns 11 storage fields with working gas capacity of around 167 billion cubic feet.
Boardwalk is undervalued as its stock is trading at only 1.78 times net asset value per unit. It has a wide profit margin of 20.48%, earnings per share of $1.07, and operating cash flow of $455.4 million.
In 2010, 93% of its revenues were obtained from firm contracts. Its weighted average contract life is approximately six years.
Boardwalk has increased its distributions to investors every year since 2006.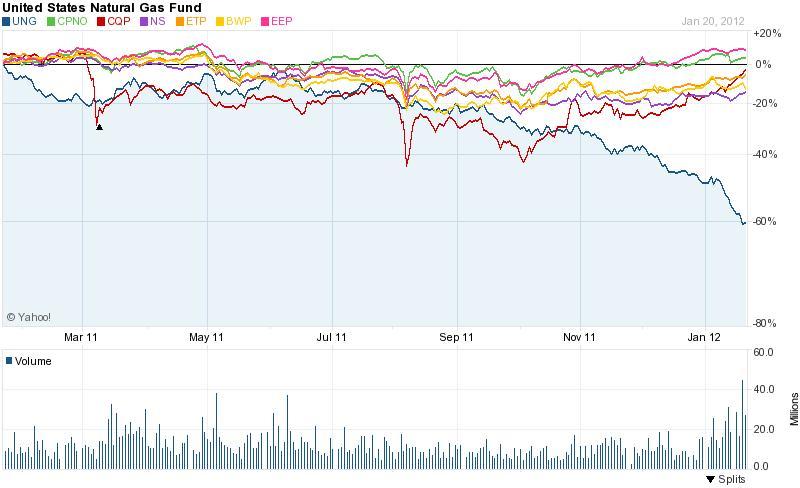 Click to enlarge
(Click to enlarge)
Conclusion:
This article highlights the pipeline MLPs with the highest yields. Pipeline MLPs are attractive in my opinion because they act as fee collectors in the energy business. This gives them the advantage of being independent of the fluctuations in oil and natural gas prices. In the chart, you can see how the price of natural gas as represented by UNG dropped dramatically while the pipeline MLPs remained steady.
Investors looking for income in the form of high yield should consider the pipeline MLPs as a portion of their portfolio. I would pick one that is both undervalued and increases its distributions regularly. This would include: BWP, EEP, and NS.
Disclosure: I have no positions in any stocks mentioned, and no plans to initiate any positions within the next 72 hours.