By Stephen D. Simpson
Maybe it's true that if you look hard enough, there's always a growth story to be found in any industry. For more than a few years, one of the prime laments in the med-tech space was "where have all the growth stories gone?" Large companies scooped up many interesting small and mid-cap companies, while the poor IPO market led many others to stay private and/or sell-out.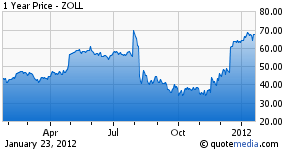 Still, it is by no means true that Intuitive Surgical (NASDAQ:ISRG) is the only worthwhile growth story left on the device side of med-tech. ZOLL Medical (NASDAQ:ZOLL) deserves a place on this list as well, not only because the company is looking at its third straight year of double-digit growth, and not only because the company has excellent growth prospects from new products, but also because of what the company should be able to do with its operating margins.
Old, But Far From Broken
ZOLL has been a public company for quite a while and is part of the "triopoly" of companies that sell defibrillators to the professional (hospitals and emergency rescue service) market in the United States. While Physio-Control [once independent, then part of Medtronic (NYSE:MDT), and now owned by Bain] is the incumbent market share leader, ZOLL has been closing that gap largely by offering strong products with differentiating features.
Outside the U.S., Philips (NYSE:PHG), Nihon Koden, and Mindray (NYSE:MR) are more formidable competitors, but only Philips has clearance to sell in the U.S. While ZOLL does have products for the public-access/first responder market (automatic external defibrillators, or AEDs), this is lower-margin, price-sensitive market and ZOLL has generally only tried to compete in the higher-end niches, letting the likes of Philips and Opto Circuits' Cardiac Science battle it out in malls and airports.
The defibrillator market is a good news / bad news situation. The bad news is the traditional U.S. hospital market is not a growth market outside of competitive displacement. The good news is that there is more growth potential outside the U.S., as well as growth in that EMS market, and that customers tend to be relatively loyal. One of the bigger challenges for ZOLL is finding better operating leverage from this business, as margins from this business have not been great historically.
New Products Will Drive The Story
ZOLL management likely would not concede that defibrillators are a legacy market, but there is little doubt that the exciting top-line growth at ZOLL is going to come from new products outside of this market. In particular, investors should watch the future of AutoPulse, temperature management, and LifeVest.
AutoPulse is a wild-card at this point. The idea is quite appealing - an automated portable CPR device that delivers proper chest compressions while freeing up medical personnel to otherwise attend to the patient. In theory, it's a multi-hundred million dollar market. Unfortunately, it's new, it's different, and it costs money - all of which are problematic for rescue services that find their budgets already pinched.
The opportunity in temperature management is also a big question. Therapeutic hypothermia has shown great promise in improving outcomes for a variety of patients (including trauma, burns, and stroke/MI), and ZOLL's intravascular approach works very quickly. This market has been slow to develop, though, and Physio-Control, Philips, Stryker (NYSE:SYK) and Bard (NYSE:BCR) have also acquired competing therapies for this market. Here too the potential can be measured in the hundreds of millions of dollars per year, but it's going to take time to ramp up.
The biggest and best opportunity at ZOLL is the LifeVest. A wearable defibrillator that looks perhaps a bit like a crossing guard harness, the LifeVest is a solution for those people at risk of sudden cardiac arrest who are, for various reasons, not good candidates for an ICD. This is a larger market than many realize - perhaps $2 billion or more a year. Target populations include those who have had a heart attack or bypass but cannot yet have an ICD (there is typically a 30-day waiting period), certain heart failure and cardiomyopathy patients, and perhaps bridge-to-transplant patients as well.
Although the LifeVest is a deceptively simple device, it works exceptionally well and ZOLL has no real competition at present. Based on a rental model, the device is highly reusable and offers exceptionally good margins for the company. Better still, the LifeVest business is already about one-third of the size of the ZOLL's defibrillator business with less than 10% market penetration in just a few years of active marketing efforts.
The Margin Question
Med-tech is often lauded for its rich operating margins, but ZOLL has a rather different history in this regard. Improving this metric could be one of the best drivers for this stock in the coming years. Products like the LifeVest and temperature management system offer inherently better margins for the company and as new products continue to out-grow the established defibrillator franchise, margins should improve. Moreover, as sales increase in general the company should see better margin leverage as the company's overhead and capacity is better absorbed.
Beating, Raising, Building
ZOLL has an excellent track record lately for beating analyst estimates, despite the fact that those estimates keep moving up with each quarter. Right now the defibrillator business is a wild-card, as no one is quite sure what the "real" hospital equipment environment is, given the different outlooks from companies like Stryker and Hill-Rom (NYSE:HRC). Likewise, EMS budgets remain under the strain of budget issues is many states and municipalities. Still, this is a profitable business and ZOLL has new products on the way (like the R-Series) that can drive competitive share gains.
In the meantime, the LifeVest business is only getting stronger. The company recently got a favorable reimbursement decision for the product and ZOLL is just beginning to move this product into international markets. As more and more clinical data builds on its efficacy and cost-effectiveness, this should only become a more valuable product for the company.
All of this sets up a great back-drop for a growth stock story. ZOLL has profitable fast-growing emerging products with addressable markets almost as large as the defibrillator markets, but with higher margins. That said, the stock is not exactly cheap, having climbed almost 60% in the last year. Double-digit sales growth and significant margin improvement suggest a fair value in the $70's, but if ZOLL can achieve a level of free cash flow production more in line with successful med-tech company averages, a triple-digit stock price is not out of the question.
Disclosure: I have no positions in any stocks mentioned, and no plans to initiate any positions within the next 72 hours.