By Stephen D. Simpson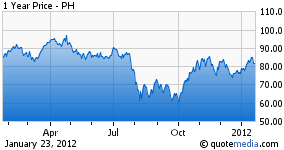 Industrial motion control leader Parker Hannifin (NYSE:PH) spooked the market on Friday, as investors took its earnings and guidance as the "Ghost of Industrial Reports Yet To Come". Although orders to Europe and Asia did indeed trail off throughout the December quarter and margins are a concern, history suggests this is more along the lines of a bump in the road. More to the point, with market leadership and a surprisingly consistent record of performance, value-oriented investors should keep a careful eye on this one.
Slower Motion In Q2
To be sure, Parker Hannifin's second quarter results were not the sort of beat-and-raise encouragement that a market already nervous about the industrial sector needed to see. Revenue rose about 8% (and the large majority of that organic), and that actually bested the average analyst guess. Reported sales growth was fueled by the North American industrial segment (up over 13%), while aerospace (up 8%), international industrial (up 6%), and climate/industrial controls (down 3%) trailed.
Margins were problematic. Gross margin stayed flat versus last year and operating income did rise more than 9%, but Parker Hannifin nevertheless missed estimates. Performance was disappointing in both industrial segments, where operating margin fell about two and two-and-a-half percent, respectively. Aerospace margin showed a nice uptick, but climate/industrial controls was down significantly.
The Guidance Problem
Orders grew only 3% in the second quarter, with orders in the international industrial segment getting notably weaker as the quarter wore on. Echoing the concerns of basically every multinational industrial company, Parker Hannifin spoke to softening business in Europe and uncertain orders in Asia.
What's more, with segments like autos, trucks, construction, and agricultural equipment looking notably soft, it's worth wondering how much of this spreads to other companies like Eaton (NYSE:ETN), Sauer-Danfoss (NYSE:SHS), and Cummins (NYSE:CMI). Along similar lines, if ex-US motion control and automation markets are slowing, that definitely presents a challenge to ABB (NYSE:ABB), Siemens (SI), and to a lesser extent Emerson (NYSE:EMR) and Rockwell (NYSE:ROK).
If there's good news here, it may be in that ABB and Siemens have already warned of softening conditions in Europe and uncertainty in Asia, and companies like Eaton and Cummins have already traded lower on decreasing expectations of a strong European market for heavy vehicles. Likewise, Cummins, Eaton, and Sauer-Danfoss may be able to offset some of that with better emerging market performance.
Trouble Today, But A Good History
While Parker Hannifin is often mislabeled as an early-stage industrial company, it's more of a short-cycle play in reality. What's more, while the company clearly needs a strong economy in core markets like North American and Europe to underpin its model, it's not as though the company doesn't have a good record of navigating cycles. To wit, a peak-to-trough decline of less than 20% in sales puts this company in relatively rare company.
Strength in North America can't completely counterbalance weakness in Europe and Asia, and a prolonged shortfall in orders is a threat to margins. That said, the company's aerospace business should benefit from increased production at Boeing (NYSE:BA) and EADS, as well as platform wins at China's COMAC and General Dynamics (NYSE:GD). What's more, it's worth remembering that there's a lot of capital stock in Europe that needs to be refreshed and stock that needs to be built to support growth in countries like China and Brazil.
The Bottom Line
Parker Hannifin has been a remarkably consistent producer of free cash flow and a steady improver in metrics like return on invested capital. That definitely speaks well to management and the underlying quality of the business.
There is little question that perception and investor worries about Europe (and to a lesser extent China) are likely to weigh on these shares for at least the first half of 2012. The question then shifts to whether companies like Siemens are right and the back half of the year sees a solid rebound.
Even with lower expectations in place, these shares look undervalued at present. A forecast of 6% compound free cash flow growth over the next decade does not seem excessively optimistic, but is sufficient to generate a triple-digit fair value for Parker Hannifin shares. While a miss-and-lower may put these shares in the dog house for a spell, value investors may want to keep a careful eye on this name and consider adding it as a high-quality industrial name.
Disclosure: I am long SHS.