The average one-day change for all stocks that have reported earnings this season has been +0.51%, so in general, companies have been reacting positively to their reports. Below are the stocks that have had the best and worst one-day reactions to their earnings reports so far this season (since 1/9 when Alcoa reported).
As shown, 8x8 (EGHT) has had the best earnings report day with a gain of 24.93%. NetScout (NTCT) ranks second with a gain of 16.83%, followed by PetMed Express (PETS), Linear Tech (LLTC), and Skyworks (SWKS). Other notables on the list of winners include Lennar (LEN), Goldman Sachs (GS), Microsoft (MSFT), Morgan Stanley (MS) and IBM (IBM).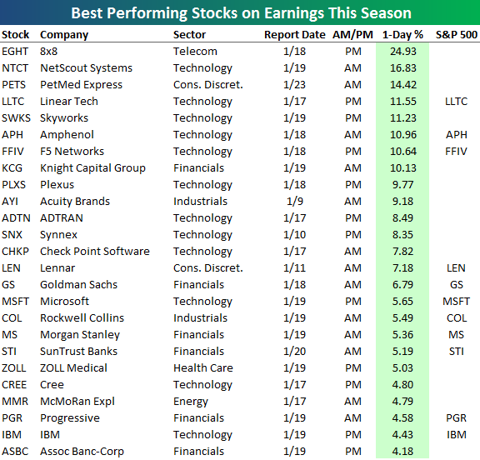 Twin Disc (TWIN) has had the worst one-day response to earnings so far this season with a decline of 18.86%. Sealy (ZZ) ranks second worst with a decline of 17.39%, followed by Supervalu (SVU), New Oriental (EDU), BancorpSouth (BXS) and Infosys (INFY). Google ranks 8th worst with a one-day decline of 8.38%, while Citigroup is right behind Google with a decline of 8.21%.
For the top earnings season coverage around, become a Bespoke Premium member today.