The average one-day change for all stocks that have reported earnings this season has been +0.51%, so in general, companies have been reacting positively to their reports. Below are the stocks that have had the best and worst one-day reactions to their earnings reports so far this season (since 1/9 when Alcoa reported).
As shown, 8x8 (NASDAQ:EGHT) has had the best earnings report day with a gain of 24.93%. NetScout (NASDAQ:NTCT) ranks second with a gain of 16.83%, followed by PetMed Express (NASDAQ:PETS), Linear Tech (NASDAQ:LLTC), and Skyworks (NASDAQ:SWKS). Other notables on the list of winners include Lennar (NYSE:LEN), Goldman Sachs (NYSE:GS), Microsoft (NASDAQ:MSFT), Morgan Stanley (NYSE:MS) and IBM (NYSE:IBM).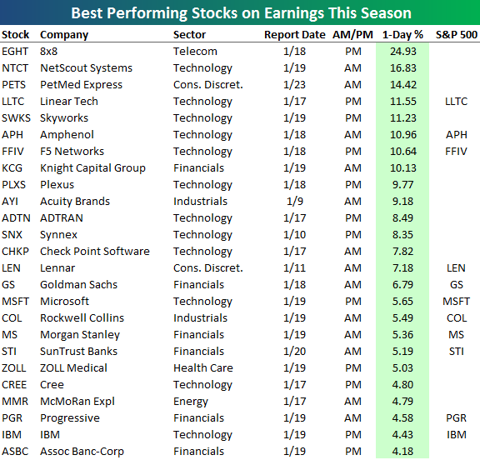 Twin Disc (NASDAQ:TWIN) has had the worst one-day response to earnings so far this season with a decline of 18.86%. Sealy (ZZ) ranks second worst with a decline of 17.39%, followed by Supervalu (NYSE:SVU), New Oriental (NYSE:EDU), BancorpSouth (NYSE:BXS) and Infosys (NASDAQ:INFY). Google ranks 8th worst with a one-day decline of 8.38%, while Citigroup is right behind Google with a decline of 8.21%.
For the top earnings season coverage around, become a Bespoke Premium member today.