A company increasing its quarterly dividend by 70%, leading to a rather remarkable buying spree, which makes the stock quite heavily overbought. What to do?
The company in question is Rimage Corporation (RIMG). What does it do? It provides workflow-integrated digital publishing systems that are used by businesses to produce recordable CD, DVD, and Blu-ray discs with customized content and durable disc labeling. And they do this more or less world wide. This is just the kind of company that has made Germany into such a powerhouse, apart from the fact that the company is American, of course.
But finding some kind of niche, selling to business customers, gaining a reputation for excellence and dominating its field is what characterizes the German "Mittelstand," the backbone of the German economy. It's good to see that America still has a few of these.
Some statistics (from Yahoo)
Market cap $136M
Revenue $87M
Cash $114M with zero debt. That's a whopping $11 in cash per share.
They do generate more cash, leveraged free cash flow is $11M
The lone analyst following the company expects them to produce 57 cents in profit in 2011. That's quite a bit down from the 83 cents in 2010, as it happens. Part of it is related to the acquisition of Qumu, which took the Q4 earnings per share estimates down from 55-65 cent per share to 42-45 cent per share).
This year isn't going to be better, with an expected profit falling to 53 cents even if revenue is expected to grow a healthy 17%. On the positive side, they have managed to surprise this lone analyst quite consistently the last four quarters.
So we now have a rather curious constellation of data impacting the share price:
Mediocre profitability development but good cash flow generation
Enormous net cash holdings, almost covering the whole share price!
A generous dividend (although perhaps in relation to the net cash holdings, it's somewhat less generous)
A whopping overbought situation of the stock (RSI at 90)
What to do?
Well, with $11 in cash per share, the company clearly is worth more than the $13 per share it goes for today, even if it's terribly overbought. We would prefer to wait a little until that overbought situation has cooled, at least somewhat. More so because we think the whole market is due for a little breather as well.
But 6% dividend companies are of course nothing to be sniffed at, these days. And the 17 cents dividend on 10M shares, that's $7M per year (provided they keep the dividend constant). Since they generate even more leveraged free cash flow, they can keep at it for as long as they can generate that cash flow.
The curious thing is, what are they doing with those $114M in cash? They should put that to work (well, they did, they bought Qumu for $39M in cash, but that transaction is already closed, as it happens) or return it to shareholders, at least part of it.
We can probably see more Qumu-type acquisitions in the near future, but as for the Qumu acquisition itself, the jury is still out whether these will add value. As one can see in the chart below, the market reacted quite negatively in October to the downward profit revisions as a result of the Qumu acquisition so one might even argue that they should be a little more careful the next time.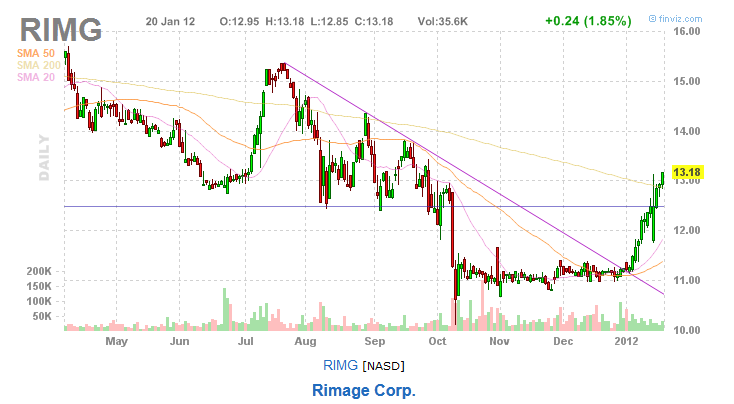 Click to enlarge
This year, that Qumu acquisition seems well and truly history, with the stock taking off with considerable abandon. This is somewhat curious as the announcement (and even the payment) of the dividend predates this share explosion by some considerable time. Actually there are more curious things in the trading pattern of the stock. The whopping cash position isn't something recent, we are a little mystified why the share price hasn't done better.
Disclosure: I have no positions in any stocks mentioned, and no plans to initiate any positions within the next 72 hours.