Johnson & Johnson (NYSE:JNJ) has you covered from Acuvue (contact lens) to Zyrtec (allergy treatment). Johnson & Johnson markets products for the gamut of our daily experiences. A newborn's first bath is filled with the scent of Johnson's Baby Wash. The wounds we acquire throughout our childhood are mended with a Band-Aid and a mother's kiss. Clean & Clear and Neutrogena help us through those awkward teenage years. As we age and work hard to reach our goals, Bengay soothes the aches and pains we amass.
During the conference call regarding the 3rd quarter of 2011, Louise Mehrotra, Vice President of Investor Relations for Johnson & Johnson, announced that:
Worldwide sales to customers were $16 billion, up 6.8% as compared to the third quarter of 2010. On an operational basis, sales were up 2.6%, and currency had a positive impact of 4.2%. Net earnings on an adjusted basis were $3.4 billion, and earnings per share were $1.24, up 0.8% versus the third quarter of 2010.
According to Chief Financial Officer and Corporate Vice President Dominic J. Caruso, in the future, Johnson & Johnson aims to "continue gaining approvals for key new medicines and launch exciting new product such as ZYTIGA® and INCIVO®." ZYTIGA is a prescription for prostate cancer treatment used alongside Prednisone, and INCIVO is a pharmaceutical for the treatment of hepatitis C, and was recently launched in the UK. They intend to focus on "gaining or holding share across many of our key markets, and continue to build our capabilities in emerging markets like India and China."
Even though Johnson & Johnson is a huge multibillion-dollar corporation, the company is segmented into about 250 small subsidiaries, which operate like small businesses in 57 countries. Johnson & Johnson's subsidiaries can be classified into three categories; consumer health care; medical devices and diagnostics; and pharmaceuticals.
Johnson & Johnson's diversity of businesses functions to hedge the company against economic volatility, as Johnson & Johnson has essentially divided its eggs into a variety baskets. With each subsidiary's independent operation, a few experiencing a poor year will not have a significantly negative impact on the overall performance of the company.
An area of concern for investors is that Johnson & Johnson subsidiaries have been subject to several product recalls of late. The company has been involved in 30 product recalls since 2009. These recalls have the possibility of shining a negative light on the company and could negatively impact revenue.
Johnson & Johnson's stock price has been in a trading range between $59 and $67 for about the last nine months, and with the negative publicity, the company's stock price may be stuck in this range for the foreseeable future. A graph of the company's stock price is shown below: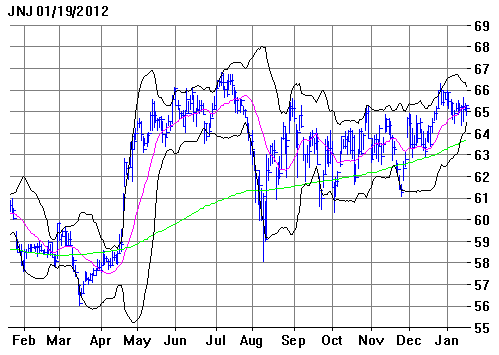 Click to enlarge
Basically, due to the negative news surrouding the company related to recalls, the stock could be treading water for a while with little to gain from owning the stock, except for the company's nice dividend, which currently is yielding 3.5% annually.
An investor in Johnson & Johnson might consider entering a collar for Johnson & Johnson to generate some income, take advantage of the dividend and purchase protection in case the company's stock takes a dive as a result of the company's performance or external conditions.
A collar can be entered by selling a call option against a stock and using some of the proceeds from selling the call option to purchase a protective put option. The put option acts as insurance in case the price of the stock takes a nosedive. Since an investor is long the company's stock, the collar enables participation in dividend payments.
Using PowerOptions tools, a collar position was found for Johnson & Johnson with a potential return of 1.9% and a maximum potential loss of 5.9%. The time frame for realizing the potential return is 54 days. The potential return of 1.9% and the maximum potential loss of 5.9% include the payment of an upcoming dividend of $0.57. The dividend is payable on March 13, 2012 with a record date of February 28, 2012 and an ex-dividend date of February 24, 2012.
The specific call option to sell is the 2012 Mar 65 at $1.25 and the put option to purchase is the 2012 Mar 60 at $0.29. A profit/loss graph for one contract of the position is shown below: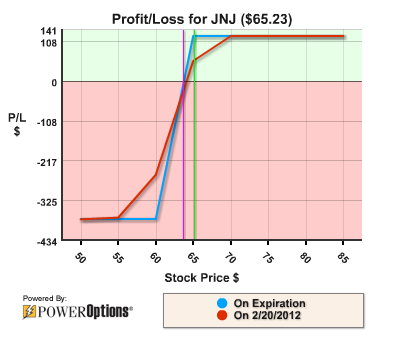 As can be seen from the graph, if the price of Johnson & Johnson's stock drops below $60, the value of the collar remains constant and does not lose any additional value. Since the stock is slightly in-the-money, there is the potential for the position to be assigned due to the dividend payment, but the position should still return a profit with diligent sale of the put option following assignment.
Disclosure: I have no positions in any stocks mentioned, and no plans to initiate any positions within the next 72 hours.