2012 has been a good year for the equity markets so far. Global markets started the year with great returns. S&P 500 (NYSEARCA:SPY) is up by 5% since December 31. iShares MSCI Emerging Markets Index (NYSEARCA:EEM), which lost 20% in the last year, is also up by 9%.
When we look at the sectors, financial stocks have been the best performers. Financials, which lost an average of 25% in the last year, have significantly outperformed the broad market indices. Their year-to-date return of 9.4% is followed by industrial stocks (8.3%) and basic material companies (7.3%). The optimism over eurozone bailout, combined with the "January Effect," has pushed some stocks to overbought levels.
A stock is usually considered overbought when the relative strength index reaches above 70. That does not mean that these stocks are expensive stocks. I would rather consider them as momentum stocks, supported by short-term catalysts. Nevertheless, overbought stocks signals a red flag for contrarian investors. Here, is a brief analysis of 6 stocks in the overbought territory. Let's see, what is driving these stocks, and whether they are still worth to consider after making significant gains recently.
Microsoft (NASDAQ:MSFT)
Microsoft has been a big disappointment in 2011, but took off in January. The stock returned near 15% so far in 2012. You probably read several articles claiming that Microsoft is dead money, or how it can avoid being a dead money, or why it has been a dead money, and why that may soon change. (Apparently, Microsoft stock is more or less associated with the term "dead money.") The stock reached its all-time high of $46 at the peak of technology bubble. Since then, Microsoft has indeed been a dead money, returning close to nothing to its shareholders.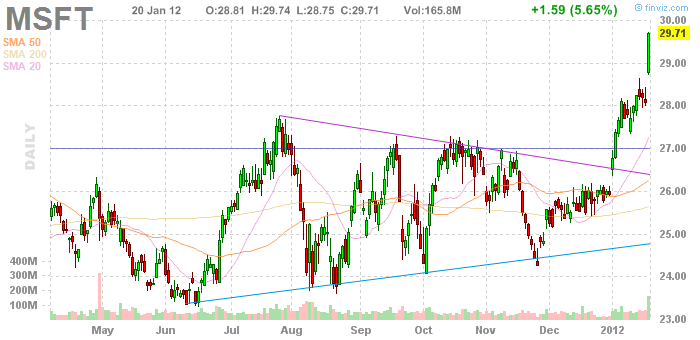 At the same time, while the stock has gone nowhere, Microsoft was able to boost its earnings at a double-digit rate. Analysts also expect Microsoft to continue growing at a double-digit rate. So why the stock has a tendency to trade at such low P/E ratios? I believe it is the massive amount of share dilution by insiders. Particularly, Bill Gates himself is selling Microsoft stock at an enormous rate. He sold about 80 million shares in 2011 alone. The automated share sales program starts in February. Until then, it is normal to experience good returns. The company is doing great, and the stock is cheap. But, due to the reason above, I suggest you make sure that you do not have any shares left by February.
General Electric (NYSE:GE)
General Electric is in a high momentum since October. In October 12, when the stock was trading at $16, I suggested General Electric as a good buy, stating that the stock has multiple-bottomed. My target price at that time was $22. Since then, General Electric bounced back, steadily heading towards my target price. In its most recent earnings transcript, GE was able to beat analysts' estimates. The 4th quarter EPS of $0.39 was $0.01 higher than the consensus estimate. However, the revenues were down 8%, which is a bad sign of slowing business.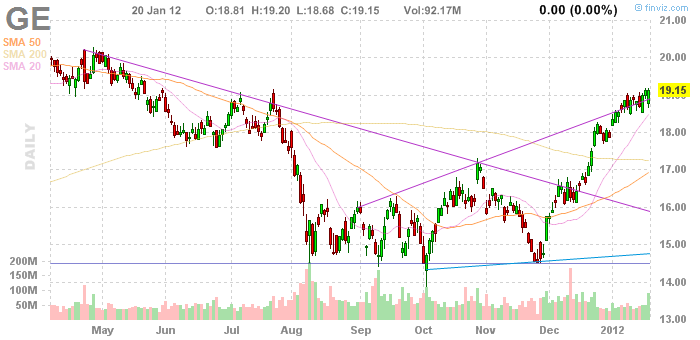 The management also suggested that they like to return more capital to shareholders via dividends and buybacks. The GE Capital was able to boost its earnings by 58% to almost $1.6 billion. I think, the growth will continue at double-digit rates, unless we experience a double-dip recession. However, I am not sure whether GE Capital should spend its earnings to support General Electric's share buyback program. I think, it will be wiser for the GE Capital to re-capitalize its earnings to achieve a stronger balance sheet. So, shall we buy or sell General Electric? I believe, the stock is a long-term buy, and current price is cheap. At the same time, I am waiting for a correction in the stock price. It is my humble opinion to wait for a few weeks until GE cools down a bit.
Ford (NYSE:F)
Ford was a huge disappointment in the last year. The eurozone worries, and double-dip recession rumors, caused a massive sell-off in the stock. Ford's market cap was slashed by near 45% in 2011. Since early December, Ford is bouncing back. Within the last month, shareholders enjoyed a return of 25%.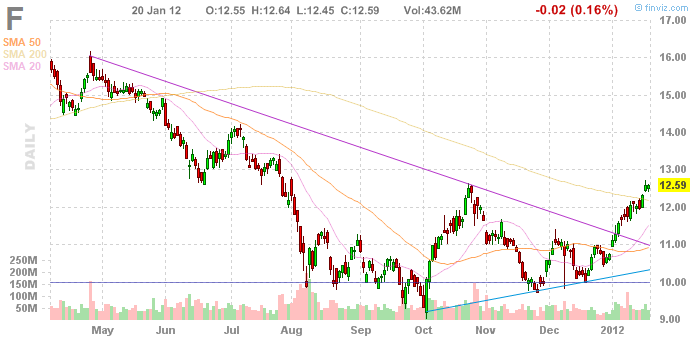 I think Ford is a great company, whose history goes in par with the U.S. industrial growth. The stock is also cheap, trading at attractive ratios. Trailing P/E ratio of 7.58, and forward P/E ratio of 7.97 are among the lowest in the industry. However, given the company's huge debt-to-equity ratio of 15.90, I do not expect the stock to double in 2012. Nevertheless, I believe Ford will re-test its 52-week highs in this year. While, the stock is not as cheap was it was a month ago, any price below $15 is a good deal. The momentum might slow down a bit, but that should not deter patient investors from investing in the company.
Amgen (NASDAQ:AMGN)
Amgen a Jim Cramer favorite, is also favored by the market. The stock is in a strong momentum since August, returning 45%. The company offers a yield of 2%, but that does not explain the strong momentum. Amgen is frequently listed among stocks that has the highest short interest. I guess, the recent momentum was due to some sort of short squeeze.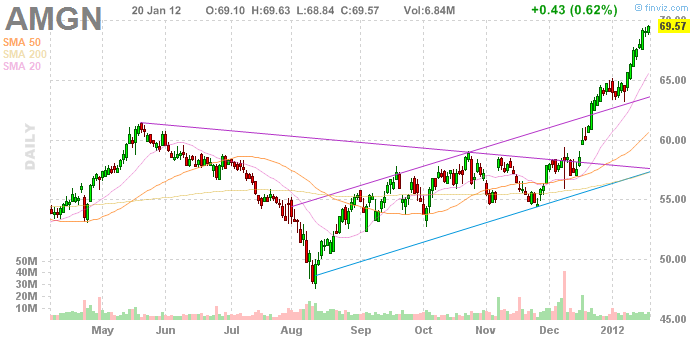 Looking at the graph above one can see that in early August, Amgen was in the oversold territory, implying that it is a great buy for contrarian investors. Now, using the reverse logic, one can see that it is in overbought territory, suggesting that contrarian investors should avoid the stock. Analysts have a mean target of $64.50. At a price of $69.50, Amgen looks over-priced. My opinion is not much different than analysts. I think Amgen is a buy below $65. However, current price does not offer a compelling entry point.
Kraft Foods (KFT)
Kraft was an outperformer in the last year, returning near 25%. The year to date return of 3.5% is also in the positive territory. It is worth to note that Kraft is trading near its 52-week high.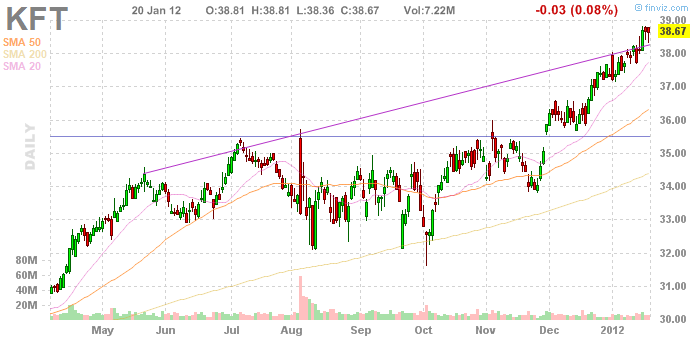 As Stone FX suggests, Kraft is trading at a very rich multiple for a company with a single-digit growth estimates. Its trailing P/E ratio of 21, and forward P/E ratio of 15 is well-above the market average. Kraft is a great dividend payer with a yield of 3%. However, its relatively high debt-to-equity ratio of 0.79 is a strong red flag. Analysts have a target price of $40, and the stock is also trading near the analysts estimates. Therefore, I think Kraft has limited upside potential for this year. I rate it as a sell.
AT&T (NYSE:T)
AT&T made it to headlines several times in 2011. Its broken T-Mobile deal is expected to cost almost $4 billion, but I do not think the market has priced this break-up fee, yet. Instead, given its rich valuation, market has priced AT&T's rich yield of 5.77%.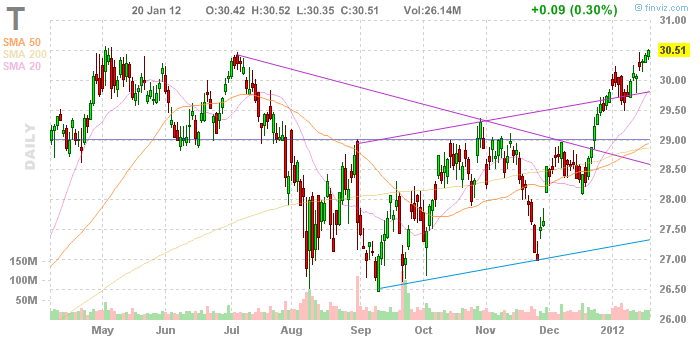 I consider AT&T as a "buy and forget about' type of stock, where one can buy the stock and enjoy increasing dividends for the rest of his/her life. It is also a dividend stock pick for the next 5 years. Long-term investors should consider adding the stock on dips. However, finding a fair entry point is a challenge for investors. So, is it a good time to add more AT&T to your portfolio? Looking at the graph above, I do not think so. I think, investors should wait for the stock to fall below the overbought territory. I would not buy a stock trading near its 52-week high, and AT&T is no exception. Just wait for a pullback.
Disclosure: I have no positions in any stocks mentioned, and no plans to initiate any positions within the next 72 hours.