Shares of Columbia Laboratories (CBRX) once again took a beating yesterday, cut by more than half, after a negative 13-4 vote by the FDA Advisory Committee on Friday after-hours, recommending against approving its progesterone vaginal gel 8% Prochieve in reducing the risk of pre-term birth in women with a single gestation and a short uterine cervical length at the mid-trimester of pregnancy.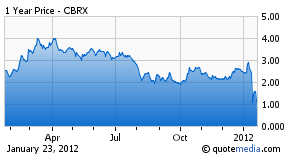 With the shares having been slashed by more than half on Tuesday of last week as well, after the FDA said in a briefing document released ahead of its meeting last Friday that Prochieve failed to show statistically significant efficacy in reducing the risk of pre-term birth, CBRX is now off by more than three-quarters in the last two weeks.
While the FDA Advisory Committee recommendation is non-binding and the FDA's Division of Reproductive and Urologic Products is free to make up its own mind when it is expected to take action on NDA on or before the PDUFA date of February 26, 2012, it is almost certain that the decision will be negative this time around. This is because generally a negative Advisory Committee meeting recommendation is almost never overturned by the FDA. Conversely, as long as we are on the subject, it is also important to note that the corollary, however, is not true; that is, the FDA is not obligated to agree with a positive Advisory Committee recommendation, and in fact in about a third to half of the cases, it does not do so.
It is most likely then that CBRX will be a handed a CRL on or prior to the PDUFA date next month, and that the FDA may require additional trials as part of the new application, possibly with a revised protocol design that will address some of the deficiencies with the current results. However, CBRX has sold U.S. rights to CRINONE 4% (progesterone gel) to generic and branded drug developer Watson Pharmaceuticals (WPI) in exchange for royalties on annual net sales. Also, CBRX does not have the financial resources to conduct more extensive trials on its own, so any further trials will have to be funded by WPI, and at the present time it is not clear if they will take that direction or if they will abandon the drug.
Analysts had estimated that the drug, if approved, would generate $250 million in peak sales for WPI, with CBRX getting manufacturing revenue and a tiered royalty rate of between 10% and 20% of product revenues. While the impact is minimal for WPI that just last quarter generated over $1.08 billion in revenues, nevertheless it is still a significant setback given that WPI was using this drug as a way to expand outside its core generics expertise into higher-margin branded drugs.
We believe that it is extremely likely that (i) the FDA will require additional clinical trials in its review next month, (Ii) WPI will decide to go ahead and fund the new trials, and (NASDAQ:III) the new trials, properly designed, will deliver the statistically significant efficacy that the FDA needs in order to approve the indication the next time around.
We base our optimism on (i) progesterone gel, despite not reaching statistical significance, has already shown benefits in several other studies that were not included as part of this NDA, (ii) the drug CRINONE has already been on the market for 14 years to treat infertility, and has been shown to have no safety issues, the indication of reducing pre-term births in women with a short uterine cervical length is an unmet need, and the condition has huge human and fiscal costs in terms of increased infant mortality and higher hospitalization costs that could be ameliorated with a new drug, and (Iv) by some accounts, the study has already changed the practice of obstetrics, with many doctors routinely testing women for short cervix, and prescribing progesterone if needed.
We believe that current prices are an attractive level for the aggressive non-risk-averse investor for a very minor portion of their portfolio. There is an outside risk that WPI may decide to abandon the drug in which case share prices will break even the 54c lows it hit yesterday in the pre-market. However, outside of that long-tail event, it is quite likely that CBRX shares will be much higher in the intermediate- to long-term once this news is digested and the street looks ahead. Furthermore, shares of rival generic and branded drug manufacturer KV Pharmaceuticals (KV.A) that has a similar preterm pregnancy treatment that is already on the market are up strongly as they are most likely to benefit from a delay in Prochieve's timeline for eventual approval.
Credit: Fundamental data in this article were based on SEC filings, I-Metrix® by Edgar Online®, Zacks Investment Research, Thomson Reuters and Briefing.com. The information and data is believed to be accurate, but no guarantees or representations are made.
Disclosure: I have no positions in any stocks mentioned, and no plans to initiate any positions within the next 72 hours.
Disclaimer: Material presented here is for informational purposes only. Nothing in this article should be taken as a solicitation to purchase or sell securities. Before buying or selling any stock you should do your own research and reach your own conclusion. Further, these are our 'opinions' and we may be wrong. We may have positions in securities mentioned in this article. You should take this into consideration before acting on any advice given in this article. If this makes you uncomfortable, then do not listen to our thoughts and opinions. The contents of this article do not take into consideration your individual investment objectives so consult with your own financial adviser before making an investment decision. Investing includes certain risks including loss of principal.