Amgen (AMGN) has grown tremendously over the last six weeks. It looks like a solid investment as we explore how smart they have been at making money by looking at some key ratios. But climbing close to its 52 week high brings out a little caution in us. Therefore we will give you some advice on protecting your stocks if you are interested in investing in AMGN by using options.
Amgen Inc., a biotechnology medicines company, discovers, develops, manufactures, and markets human therapeutics based on advances in cellular and molecular biology for grievous illnesses primarily in the United States, Europe, and Canada. The company markets recombinant protein therapeutics in supportive cancer care, nephrology, and inflammation. Its principal products include Aranesp and EPOGEN erythropoietic-stimulating agents that stimulate the production of red blood cells; Neulasta and NEUPOGEN to stimulate the production of neutrophils, which is a type of white blood cell that helps the body to fight infections; and Enbrel, an inhibitor of tumor necrosis factor that plays a role in the body's response to inflammatory diseases.
How smart are they at using their money & assets to make more money?
Looking at the Return on Equity
I want to know how savvy the company is at making money with what they have now. This will give me an indication of how well I think they can do in the future given we do not know what events may occur. The first thing I want to know is how well they generate income from the money shareholders give them. So if I give them a dollar what can I expect their return on that dollar to be? This is known as return on equity. The industry average is -16.46% while AMGN is 15.84%. So for every dollar I give them, they would have produced 15.84 cents in equity while the industry average as a whole would have lost 16.46 cents.
Looking at the Return on Assets
Not only do I want to know how well they use their money to generate money but I may also want to know how well they generate money with all their assets. This is known as return on assets. While the industry as a whole over the last year has been terrible, AMGN has fared much better. For every dollar in assets owned by the companies in Biotechnology over the last year, they lost 11.4%. ARCC made 8.8 cents for every dollar in assets they owned. Huge difference!
Looking at the Return on Capital
The last question I would ask to see how savvy they are investing in themselves is this: "When you invest money back into the business (whether borrowed or owned) how much money do you make for every dollar you invest?" This is called return on capital. For every dollar the industry reinvests, they lost 6.2%. AMGN does a little better with a profit of 9.7%!
Earnings growth has been remarkably strong. Amgen's normalized earnings per share grew at an average rate of 12.7% per year from 2001 until today. That's well above the market average, and leaps and bounds stronger than other companies like Pfizer and Merck. With a strong earnings history and a solid management core, AMGN looks like a good company to invest in. But, there is a reason for caution.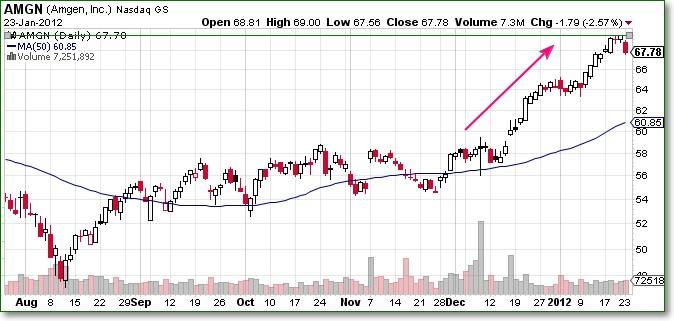 Consider Hedging a New Investment
AMGN has grown a lot since the first of December 2011. In the last 6 weeks it has grown almost 20%. Presently trading at 67.78, analysts have its 52 week high pegged at 75.00. So it does not have a whole lot more to go before it reaches that point.
One form of hedging here that may work well is called the "stock replacement strategy." Instead of buying the stock right now, you can buy an "in-the-money" or just "at-the-money" call option. The purpose of this is to position oneself to buy possibly buy the stock in the near future. An example might be to buy a July 2012 '67.50' call (presently priced at $4.65).
Buying an in-the-money option can decrease the amount of time value that will disappear as the option approaches expiration. So if the stock rallies above 72.43 the profit potential is unlimited. As always, when the stock increases, the Call can be sold at a future date for a profit.