As the price of a barrel of oil continues to trade around $100 per barrel, the price of natural gas has plummeted like a rock. Natural gas is currently trading at $2.33 million BTUs (British Thermal Units). Usually, the price of gas to oil is 6:1 but with natural gas trading at $2.33 and oil around $100 the ratio is 43:1. Natural gas hasn't been this cheap since 2002. There are several fundamental reasons that natural gas prices have dropped. These include a warmer than normal winter season, an oversupply of natural gas in the U.S. and other factors. This will impact the top and bottom lines of companies that have to produce, let alone sell, into that environment. The chart below shows the trend in natural gas prices as they bottomed in late 2009 and look to be near a new bottom soon. Will this trend repeat itself again?
Click to enlarge: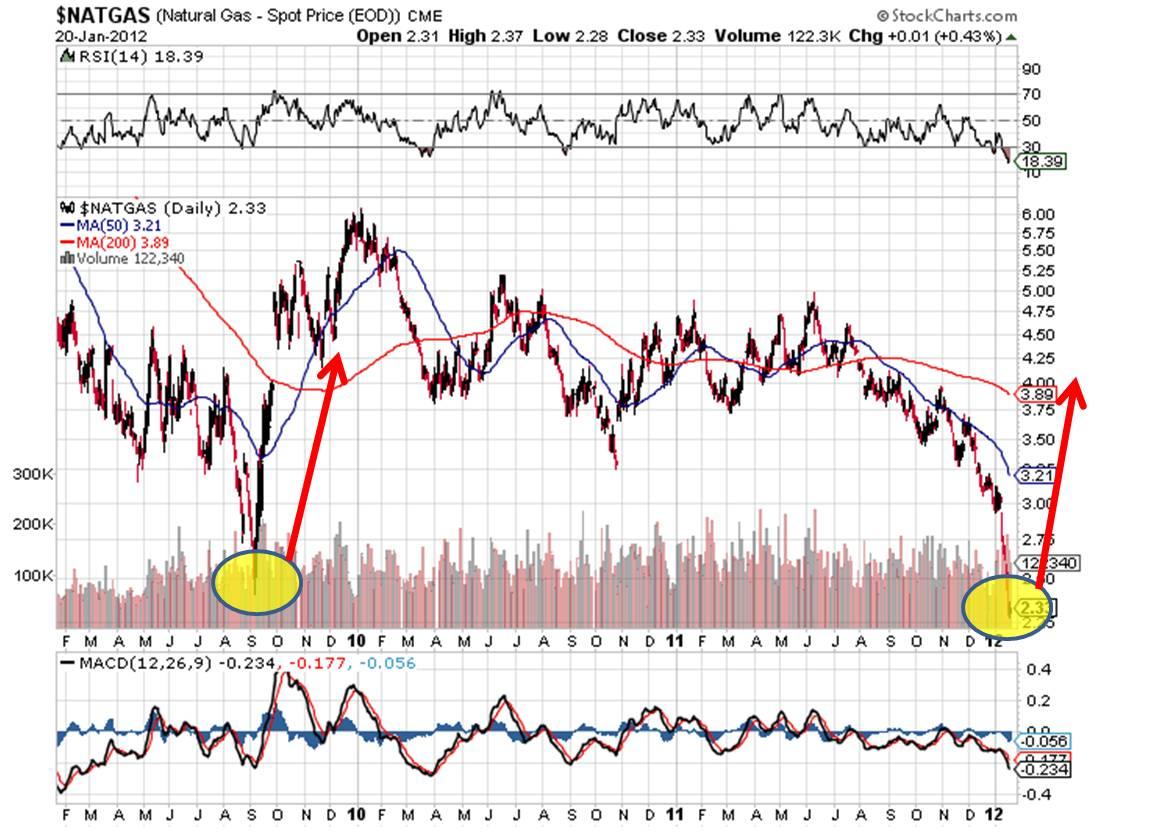 The trade on natural gas should be based on a contrarian perspective. Eventually the oversupply will be leveled out to normal levels. This is especially possible with new technology such as gas to liquid technology that will increase the U.S. export of natural gas and more usage of natural gas for transportation and other uses as a cleaner fuel source. This will take some time before these technologies affect the oversupply of natural gas.
The best trade on natural gas today is to buy cheap assets and wait until their value increases. The natural gas companies have dropped in price along with the market price of natural gas. However, you will be confronted with an uncertain amount of time for natural gas market prices to increase to normal price levels. Natural gas royalty trusts have followed the price of natural gas as shown in the chart below. I suggest you look at the natural gas royalties as a way to buy a cheap asset with a high yield dividend to increase returns.
Click to enlarge: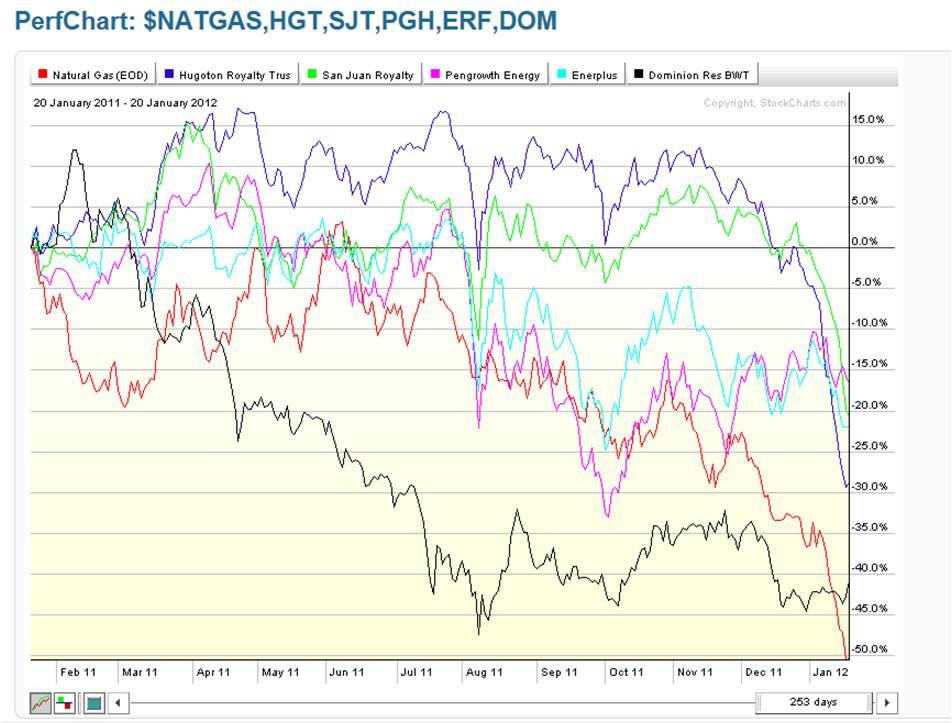 The beauty of owning a natural gas trust is that they pay you to wait on strengthening gas prices. Remember, natural gas is cheap here, but there's an enormous supply overhang. A royalty trust is a collection of oil and gas producing properties. Royalty trusts enjoy a tax status similar to REITs as they can pass most of their income onto shareholders in the form of "distribution" payments. We're not expecting a big rise in natural gas prices, only looking to buy cheap assets at this time. As you can see in the chart below, royalty trusts associated with natural gas have followed the price of natural gas down in the past year. This makes these royalty trusts cheap and their dividend yield higher than previous years. You should look to ease into a position over time to average your position cost. Dividends will vary based on production, price and costs. I have compiled a list of natural gas royalty trusts that will pay you to wait on a rebound.
Hugoton Royalty Trust (NYSE:HGT) receives royalty payments from a domestic natural gas producing area with an estimated five million productive acres covering parts of Texas, Oklahoma and Kansas. The Green River Basin is located in south-western Wyoming. XTO Energy is a producer in the Ringwood, Northwest Okeene and Cheyenne Valley fields of Major County, the Northeast Cedardale field of Woodward County and the producing region of the properties in the Anadarko Basin. Hugoton is trading at $14.00 which is near the 52 week low price. Hugoton is down 33% in the past year. However, Hugoton has a dividend yield of 9.91%, paid monthly.
San Juan Basin Royalty Trust (NYSE:SJT) was carved out of Burlington Resources Oil & Gas Company LP's (BROG) working interests and royalty interests in certain properties situated in the San Juan Basin in north-western New Mexico. Burlington is the principal operator of the Underlying Properties. The underlying properties are primarily gas producing properties. San Juan Basin is trading at $18.15 which is near the 52 week low price. San Juan Basin is down 33% in the past year. It has a dividend yield of 8.12%.
Pengrowth Energy Corporation (NYSE:PGH) is a Canadian Royalty Trust engaged in the development, production and acquisition of, and the exploration for, oil and natural gas reserves in the provinces of Alberta, British Columbia, Saskatchewan and Nova Scotia. Pengrowth is trading at $10.25 which is down 21% in the past year. Pengrowth has a dividend yield of 8.18%.
Enerplus Corporation (NYSE:ERF) has oil and natural gas property interests that are located in western Canada in the provinces of Alberta, British Columbia, Saskatchewan and Manitoba, and in the United States in the states of Montana, North Dakota, Maryland, Pennsylvania, West Virginia, Wyoming and Utah. Enerplus' properties consisted of approximately 42% crude oil and natural gas liquids (NGLS) and 58% natural gas. Enerplus is projecting a 10% growth in liquids in 2012. Enerplus is trading at $23.14 which is down 21% in the past year. It has a dividend yield of 9.09%, paid on a monthly basis.
Dominion Resources Black Warrior Trust (NYSE:DOM) was formed to acquire and hold certain overriding royalty interests burdening proved natural gas properties located in the Pottsville coal formation of the Black Warrior Basin, Tuscaloosa County, Alabama owned by HighMount Black Warrior Basin LLC. The Royalty Interests generally entitle the Trust to receive 65% of the Company's Gross Proceeds. The Royalty Interests are non-operating interests and bear only expenses related to property, production and related taxes. Dominion is trading at $8.53 which is down 45% in the past year. It has a dividend yield of 10.96% paid on a quarterly basis.
Disclosure: I have no positions in any stocks mentioned, and no plans to initiate any positions within the next 72 hours.