In a recent article, I profiled Apple (NASDAQ:AAPL) as having strong fundamentals coupled with a strong backlog of new products and positive market sentiment, but pointed out the recent price action leads me to believe it may be exhibiting a "Buy the Rumor, Sell the News" pattern. See below.
Here is the excerpt from the article:
Apple Inc., together with subsidiaries, designs, manufactures, and markets mobile communication and media devices, personal computers, and portable digital music players; and sells related software, services, peripherals, networking solutions, and third-party digital content and applications worldwide.

Apple has a PEG ratio of 0.8, a profit margin of 23.9 and a ROE of 41.67. Apple has many new products and services lined up to be released within the next few quarters. Apple has been on the tip of everyone's tongue due to the upcoming earnings announcement. Apple is up 16% from its recent low of $363 on November 25th to a current closing price of $420. The quick advance prior to earnings is reminiscent of a buy on the rumor sell on the news type move.
I received a comment from a reader questioning why after taking the time to point out that Apple was undervalued and had good prospects I would say anyone would sell on the news. Well, the fact of the matter is 5 out of the last 7 quarterly earnings have been a case of buy the rumor sell the news. Please review the following description of the buy the rumor sell the news phenomenon followed by a review Apple's historical earnings share price performance. Omitted are Q1 and Q2 of 2011 where Apple did not display this phenomenon and was up once and down once.
Buy The Rumor Sell The News Defined
The "buy the rumor, sell the news" phenomenon occurs all the time in the markets today. Investors by up stocks based on what they believe will happen in a given earnings report, economic event or new product release (the rumor). After the event transpires or the report is released (the news), they dump their positions and the stock moves lower. These buy the rumor sell the news spectacles often apply to things like new products being announced or earnings announcements.
What happens is the stock rallies hard into earnings. The rally occurs because investors emboldened by the rumors their favorite stock -- Apple in this case -- is going to hit it out of the park in regards to exceeding earnings estimates and has new products on the horizon that are a sure thing to be successful and are revolutionary. The buying prior to the earnings announcement runs the stock up to all-times highs, leaving it vulnerable to profit-taking once the actual earnings are reported.
Now, this is only one of three possible scenarios, although it is the most likely outcome. A second occurrence, which has an even more devastating outcome, is the earnings announcement is not impressive and the short-term investors in the stock for a quick buck bail immediately, along with long-term investors who are devastated by the debacle. The third outcome is the earnings and products released are colossal hits out of the ballpark, propelling the stock even higher, the rarest of outcomes.
Historical Apple Earnings Price Action
AAPL reported Q2 2010 earnings of $3.33 per share on 4/20/2010.
Estimates: High: $2.72 Low: $1.93 Consensus: $2.46
AAPL beat consensus for this quarter.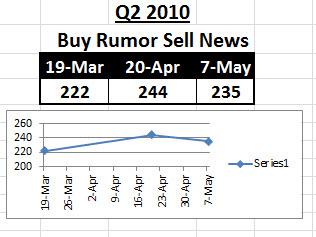 AAPL reported Q3 2010 earnings of $3.51 per share on 7/20/2010.
Estimates High: $3.47 Low: $2.77 Consensus: $3.11
AAPL beat consensus for this quarter.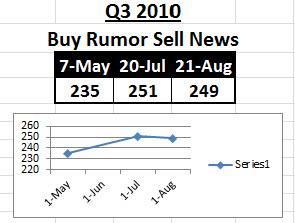 AAPL reported Q4 2010 earnings of $4.64 per share on 10/18/2010.
Estimates High: $4.48 Low: $3.43 Consensus: $4.08
AAPL: beat consensus for this quarter.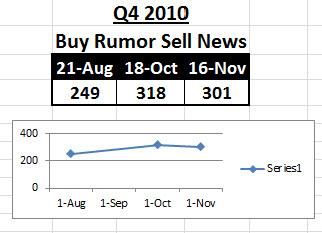 AAPL reported Q3 2011 earnings of $7.79 per share on 7/19/2011.
Estimates High: $6.58 Low: $5.10 Consensus: $5.86
AAPL beat consensus for this quarter.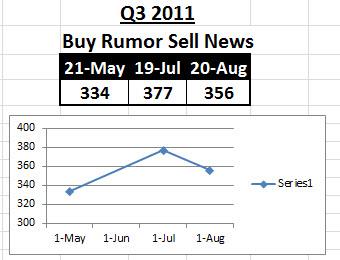 On 10/18/2011, AAPL reported 4 quarter 2011 earnings of $7.05 per share. This result was in-line with the consensus of the 45 analysts following the company and beat last year's 4 quarter results by 51.94%. Nevertheless, Apple sold off severely after earnings.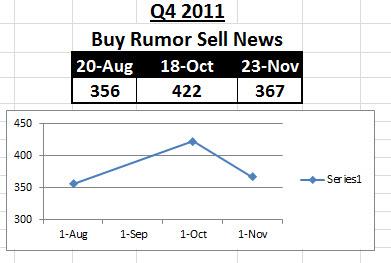 Let's review Apple's current action and investor activity to determine if Apple may fit into this scenario again. First, is Apple's stock running up significant gains into earnings based on positive news hype? In a word, yes. Apple recently touched a new all-time high just yesterday of $427 per share and has risen over 16% since November 23rd rising from $367 to $427 a share as of yesterday. Please review the following charts displaying these statistics: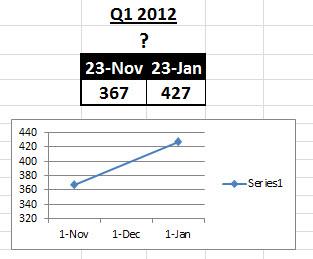 Apple's current P/E ratio is above average for the Computer Hardware industry and signals that investors are willing to pay a premium for this stock. Additionally, during the past year, earnings growth has outpaced its historical five year growth rate. For fiscal year Q1 2012, the consensus of the 46 analysts covering Apple is a per share value of $10.03 with the mean at $10.03 the high at $11.45 and the low at $8.88.
Conclusion
If you are long Apple as of today, there is a 70% chance you will have the opportunity to buy back your shares at a lower price than today based on past price action and could lock in all your profits with zero risk. This would definitely be the conservative play and you could have picked up an extra 33% return over the past two years employing this strategy. Otherwise, stay long and strong for the long term since Apple seems to always recoup its losses and move higher. Good luck to all.
Disclosure: I have no positions in any stocks mentioned, and no plans to initiate any positions within the next 72 hours.