I sold my ExxonMobil (NYSE:XOM) stake Monday at $87.43, based on the stock approaching my fair value of $85 - $95 per share. I was tempted to retain my position due to the company's strong financial position, a decent dividend and possibly a little more upside. XOM is still as solid as ever, only the stock's valuation has changed and the argument could be made I sold a little early but in the end, my selling discipline won out. I originally bought shares in May 2010 at $60.50 so Monday's sale closes the trade for a 45% gain.
Having exited XOM and setting up a potential exit in Penn West Petroleum (NYSE:PWE), another dividend-paying energy stock (see my sell article here), I was looking to bolster my exposure to energy. Regardless of whether Europe, China and/or the world slips into recession, the long-term bull case for energy, and oil in particular, remains intact. Alternative energy sources sufficient to replace oil remains a distant dream.
New drilling techniques such as fracking are now being extended to oil shales after much success with natural gas but unless these new procedures yield huge new deposits on the scale of Saudi Arabia, the world's oil production is still in the process of peaking. Not to mention methods like fracking and deep-ocean drilling are much more expensive, resource-intensive and possibly damaging than traditional methods of extraction.
With all that, it makes sense to maintain energy exposure as long as I can ignore short-term volatility and focus on the long-term. But my value investing discipline demands I buy only undervalued stocks. No matter how enticing the big picture story may sound, buying stocks at a sufficient discount to fair value is still vitally important to generating returns, even in the energy sector.
Last week, I ran a screen looking for deep value stocks and one energy name intrigued me: Total SA (NYSE:TOT). Seeing TOT picked by Marc Faber in the recent Barron's Roundtable further piqued my curiosity.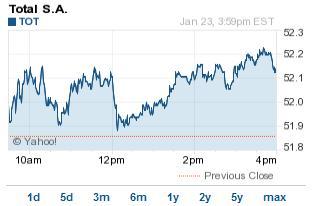 Total SA is the French-based energy supermajor with global operations. TOT is trading at my buy point based solely on my valuation of their energy reserves. The company lists nearly 11 billion barrels of oil equivalent in reserves, with 56% comprised of oil and natural gas liquids which is a better ratio than XOM.
The French energy giant truly has a global footprint, with 32% of production coming from Africa, 24% from Europe, 22% from the Middle East, 10% from Asia-Pacific, 8% from South America and 3% from North America. Total has struggled with replacing reserves in recent years, managing to find new resources at a slower pace than its competitors and at higher cost to boot. Perhaps this inefficiency, along with the euro region crisis, explains TOT's discounted price to peers.
The company also has chemicals and refining operations but I would view those as bonuses at best and in the case of refining, a net negative, as the company has agreed not to close any French refineries for some time even as they underperform. With the euro region in financial crisis and recession, I would expect more weakness from these segments.
The main risks surrounding an investment in TOT is a continued run inefficient operations mentioned above and geopolitical issues. The company has a large share of assets in less stable areas of the world such as Africa and Russia. Its exposure to the euro is troublesome but as a global company dealing with an essential commodity priced in US dollars, I expect the company to manage whatever outcome arises out of Europe.
Being a French company, Total will be subject to the political realities of operating in that country which means investors have to expect that Total will not be completely free to run its business solely in the best interests of shareholders. In fact, the refining segment is already subject to these pressures and may be prevented from downsizing even if it continues to run losses. Still, Total is not Gazprom and at this price, investors are being compensated for this risk.
I value shares at roughly $76, about 50% higher than current price. Throw in a 5% dividend and I expect Total to make a fine replacement for Exxon-Mobil and Penn West.
Disclosure: I am long TOT, PWE.
Additional disclosure: I am short PWE covered calls.