EDAP TMS (NASDAQ:EDAP), the French therapeutic ultrasound company, experienced over a 12% jump Monday on higher than usual volume. Overall, the stock is up nearly 50% year to date. At this point, EDAP may be looking attractive on the surface. This stock, however, has a history of increases then sharp decreases in value. Financially, its cash position has experienced fluctuations similar to its stock price over the past few years - up and down. What is an investor to think of this most recent blip?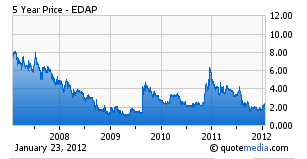 EDAP has two main products on the medical device market. The Ablatherm ® robotic HIFU for the treatment of prostate cancer and the Sonolith® ESWL for use in treatment of kidney stones are marketed in 30 countries in Europe. On the upside, the company has room to move into the US market. Currently much of the EDAP technology is used primarily in Europe. In January, EDAP announced its Sonolith® i-move had broken into the US, being used at New York Methodist Hospital.
High Intensity Focused Ultrasound (HIFU) Technology has potential in treatment for prostate cancer in the US. The most recent CDC data cites 223,307 men are diagnosed with prostate cancer in the United States. This cancer is the 2nd leading cancer for American men behind only melanoma. Amongst such invasive treatments as surgery, radiation therapy and chemotherapy, the CDC does list high intensity focused ultrasound therapy as a potential treatment for prostate cancer. NIH supports the positive results of this type of treatment and predicts increasing demand for cancer therapy in the coming years. In December, EDAP positioned its Ablatherm ® HIFU as a necessary compliment to prostate surgery and has received positive support from the American Urological Association.
As for domestic competition, currently, the privately held US HIFU company is developing their own HIFU device, the Sonablate 500. The company hopes to gain FDA approval in 2013. Pending FDA approval, EDAP's position as a world leader in HIFU technologies may position it to enter US markets in a strong fashion. EDAP is presenting this week at the ArabHealth Exhibition and perhaps good news is on the way. The recent increase in stock price without any major announcements of moves into new markets or positive data likely means the EDAP rollercoaster will likely continue.
Disclosure: I have no positions in any stocks mentioned, and no plans to initiate any positions within the next 72 hours.