BreitBurn Energy Partners L.P. (BBEP) engages in the acquisition, exploration, and development of oil and gas properties in the US. The companies assets primarily consist of producing and nonproducing crude oil and natural gas reserves located primarily in the Antrim Shale and other formations in northern Michigan; the Los Angeles Basin in CA; the Wind River, Big Horn, Powder River, Evanston, and Green River Basins in central Wyoming; the Sunniland Trend in Florida; and the New Albany Shale in Indiana and Kentucky.
At the end of 2010, its proven natural gas and crude reserves consisted of approximately 160 million barrels of oil equivalent (Yahoo Finance and BreitBurn). Of this 83% is proved developed. Production is 40% oil and 60% natural gas. BBEP's market cap is only $1.15B. Since its IPO in 2006, BBEP has increased production by approximately 98% and proved reserves by approximately 94%. The Current production by state is illustrated in the chart below.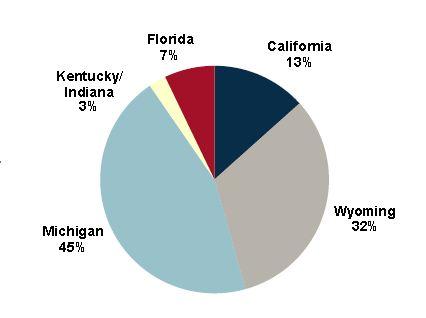 You can easily see that Michigan is BBEP's biggest source of production. BBEP has approximately 470,000 net acres in the Antrim Shale play. Almost all of this is held by production. What some don't know is that the Utica Collingwod shale play has recently been identified in Northern Michigan. BBEP has more than 90,000 net acres in areas where the company believes the Utica Collingwood is prospective. Virtually all of this acreage is already HBP due to the shallower Antrim play.
The Utica Collingwood play is between 10,000 - 12,000 feet deep, and it is 40-45 feet thick. BBEP is in the enviable position of being able to watch others develop the Collingwood first. This new play is a bonus gift that should add to the company's stock price in the not too distant future. It is significant as BBEP has only a $1.15B market cap. By way of comparison Kodiak Oil & Gas Corp (NYSE:KOG) with a market cap of $2.01B has only approximately 155,000 net acres in the Bakken (and not much else). I think you can see why BBEP investors should be excited about the discovery of the Utica Collingwood beneath 90,000+ net acres of its already producing 470,000 net acres in Michigan.
Even without considering the Utica Collingwood discovery in Michigan, BBEP's other assets are quite impressive. FY2011 production will be approximately 7.0 million Boe. As of Q3 2011 its distribution increased to an annualized $1.74 (8.91%) per unit at BBEP's current price of $19.53. It has now increased distributions for six consecutive quarters. BBEP recently closed a $57 million acquisition of oil properties in Greasewood Field, WY (July 28). It closed a $283 million acquisition of gas and oil properties in the Evanston and Green River Basins in Wyoming (Oct. 6). BBEP is a growing concern.
BBEP also has a goodly amount of hedges. With the recent crash in natural gas prices this is extremely important to many investors, so I have included BBEP's hedging chart below.
click to enlarge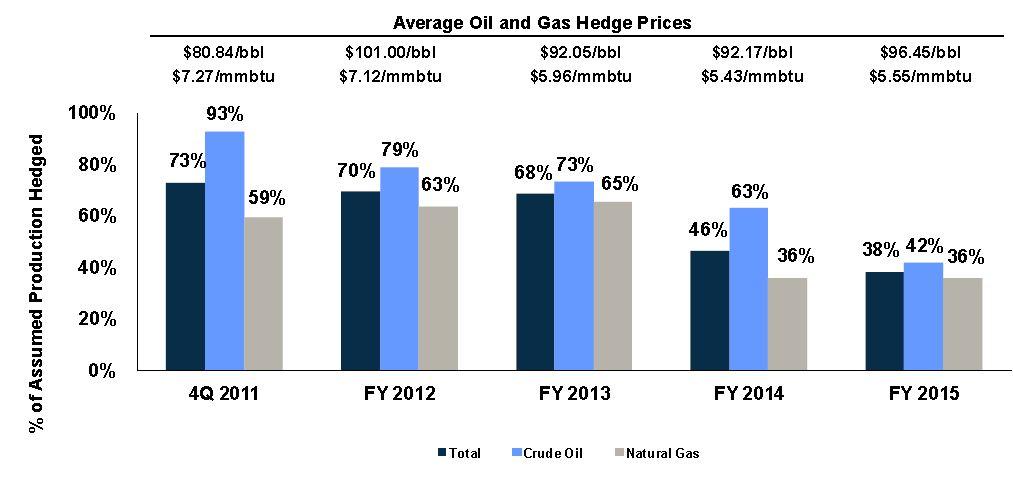 Click to enlarge
BBEP is probably not as hedged as many would wish given the recent natural gas price collapse. However, this collapse may be only a year or so in duration. In many places natural gas prices have been going up. In fact Russian natural gas prices have risen in direct opposition to US natural gas prices downtrend since last summer, and Russian prices were much higher to start with. Plus the BP Energy Outlook forecasts natural gas use to grow three times faster than oil use worldwide over the next twenty years. Once the US brings LNG liquefaction plants online, the price of natural gas in the US will automatically increase.
If Congress acts (as it should) to spur natural gas use in the trucking industry, this too would help to push US natural gas prices up. They are currently far below their historical trading ratio to oil. Some think a US natural gas prices rise may happen as soon as this spring. If a republican president gets elected in the fall, it is almost sure to happen soon after that. I do note that US natural gas futures prices seem to have bottomed at $2.23 on Jan. 20, 2012. They have been rising strongly since.
As I wrote this US natural gas prices were at $2.61. This rebound should give a lift to BBEP and other natural gas producers such as Chesapeake Energy (NYSE:CHK), EOG Resources (NYSE:EOG), Exxon Mobil (NYSE:XOM), Linn Energy (LINE), etc. The fact that BBEP was recently added to the Alerian MLP Index should also help BBEP rise. BBEP appears to be a good investment at a P/E of 16.94 and an FPE of 17.75. It should have significant growth opportunities, as I have only begun to detail above. It has an average analysts' recommendation of 1.6 (nearly a strong buy). Admittedly the growth from the Collingwood in Michigan is probably at least two years off, but this new "free" growth area should help the stock price to appreciate.
The two year chart of BBEP provides some technical direction for this trade.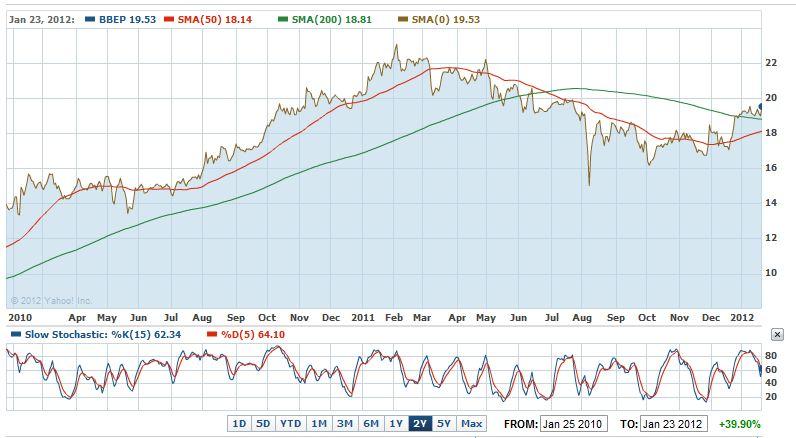 Click to enlarge
 
BBEP looks to be climbing steadily from a September 2011 low (about the low in oil prices). It is neither overbought nor oversold on the slow stochastic sub chart. If the natural gas price rebound, which started a couple of days ago, continues BBEP is likely to continue to rise with it, especially if oil does not fall precipitously. It is currently at or near a good support level. It could really go up or down from here in the short term. In the longer term it should go up judging by its assets.
I like its strategy of trying to pick up mature natural gas properties on the cheap, while natural gas futures prices are low. If you are a long term investor I think you can probably average in over a long period on this one. Then if the market goes down appreciably in the next six to nine months, you will probably buy at least some of the stock at the bottom. Plus you will get to collect the nearly 9% dividend, which far surpasses all but the riskiest bonds. For me the newly discovered Collingwood play pushes this one over the top.
Good Luck Trading.
Disclosure: I have no positions in any stocks mentioned, but may initiate a long position in BBEP, CHK, EOG over the next 72 hours.