With a 193-year history, Bunge Limited's (NYSE:BG) stability has been nothing short of impressive. Yet in recent years, with the increasing international connectedness of modern globalization, the company's growth has also accelerated exponentially. In 2001, Bunge had about $2 Billion in long-lived assets located between Brazil, Argentina, and the United States. In 2011, Bunge had grown to $7 Billion in long-lived assets located 7 regions of the world.
Bunge's operations can be divided into four business segments which include:
Agribusiness. Bunge includes a global network of related infrastructure including grain elevators, oilseed processing plants, and port terminals. Strategically positioned in developing regions, Bunge is primed for increased business in Asia and South America. The company is a global leader in oilseed processing and a dominant player in the marketing of grain and oilseeds.
Sugar & Bioenergy. Bunge's latest emphasis in sugar comes at a time when sugar is growing in global importance as a doorway into multiple new sustainable markets. In 2010, Bunge sold its fertilizer nutrients business in Brazil to add five new sugar cane mills. In 2011, the company also opened a tentative agreement with Solazyme (SZYM) for the creation of a 100,000 metric ton renewable oils facility at one of their Brazilian sugar mills opening the possibility of new renewable markets ranging from fuel, to chemicals, to food, and even to cosmetics. Bunge owns sugarcane milling capacity that producers sugar, ethanol, and electricity. Bunge currently stands as the second largest company in global trade and distribution.
Food & Ingredients. Bunge is the leading producer of oils, margarines, & industrial fats in North America, South America, and in Europe. It is also the leading corn and wheat miller in North America and South America. Bunge's milling business creates milled wheat, corn and rice products for food processors, bakeries, brewers, and food producers around the world.
Fertilizer. Bunge's maintains fertilizer operations in Brazil, Argentina and the United States. Bunge also participates in a joint venture with Morocco's OCP. Bunge offers blended nitrogen-, phosphate-, and potassium-based fertilizers to farmers & distributors in North and South America. The company also maintains several important related infrastructure facilities in Brazil.
As a diversified agricultural conglomerate, Bunge does not have many peers that can match it in scope and scale. However, Bunge does compete against many large corporations in each of its individual business segments. For Agribusiness, Archer Daniels Midland (NYSE:ADM) operates more than 270 plants worldwide and stands as a leader in grain and oilseed processing. In Sugar & Bioenergy, Cosan (NYSE:CZZ) stands as the leader in Brazilian sugar. This is further compounded by the fact that in 2008 Cosan acquired the Brazilian distribution business of Exxon Mobil Corp. (NYSE:XOM) giving the company a leadership role in ethanol distribution infrastructure. For Food & Ingredients, Bunge again competes against large conglomerates like Archer Daniel Midland and private company Cargill, Inc. For its fertilizer segment, Bunge finds a more saturated market with competition derived from large corporations like Canada-based Potash Corp. (NYSE:POT) and United States fertilzer titan Mosaic (NYSE:MOS).
Bunge currently trades at $58.65 as of January 23, 2012, a significant discount off its book value of $75.51/share. With a trailing P/E of 9.06 and a forward P/E of 8.64, a strong argument can be made that Bunge remains undervalued in the present. This thought is also consistent with the steadily growing dividend distribution that the company has offered over the prior years as illustrated in the chart below.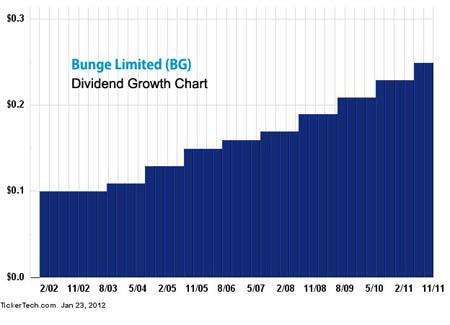 With these ongoing indicators of an undervalued company, Bunge's management went one step further by validating its commitment to shareholders. In June 2010, Bunge authorized a share repurchase program for up to $700 million worth of company stock. In December 2011, the company announced a 1-year extension of the stock repurchase program. As of September 2011, Bunge had repurchased $474 million of company stock.
As a leading conglomerate with metrics pointing towards an undervalued share price, Bunge offers a compelling investment possibility for investors looking to find an entry into global agribusiness.
Disclosure: I am long BG, SZYM.