China Mobile (NYSE:CHL) is the world's largest telephone company with over 600 million customers and a market cap of nearly 200 billion dollars. This puts CHL ahead of US heavyweights AT&T (NYSE:T) (178 billion dollars) & Verizon (NYSE:VZ) (110 billion dollars). Both T & VZ are viewed as defensive stocks that investors should own if they are less optimistic about the economic outlook in the US. Similarly, CHL is among the most defensive Chinese stocks to own. With the current uncertainty regarding the Chinese economy, investors who believe in China should buy CHL.
Defensive Characteristics
Non-cyclical
The mobile phone business is not very cyclical. If the economy gets bad, consumers are likely to cut back on almost everything else before canceling their mobile phones. If we do get a Chinese economic meltdown then the mobile phone business will be less affected than other businesses. Consumers will likely cut spending on expenses such as restaurants, travel, technology, and durable goods ahead of mobile phones.
Dividend Yield
While not quite as high as its American rivals (T pays a dividend of 5.85% & VZ pays a dividend of 5.14%), CHL does pay a solid dividend of 4.16%. This should provide a solid floor for the stock should things slow down in the Chinese economy. Chinese investors will be looking to rotate (as they have been doing for some time now) out of risky stocks into more defensive positions. When the US & European economies hit a rough patch in 2011, investors flocked to dividend stocks. A similar rotation is likely to occur if China enters a deeper economic slow down.
Valuation
CHL trades at a P/E ratio of just 10.2; when coupled with its 6.8% growth rate, CHL is not an expensive stock.
Government Backing
The Chinese government through its 100% ownership of China Mobile Communication Corporation, owns over 70% of CHL. This means that CHL benefits from government regulations that are designed to protect CHL's control over the Chinese mobile phone market. The 70% ownership also means that a great deal of CHL stock is not for sale, which means a serious decline in the shares is not likely.
Cash
CHL has over $50 billion dollars or $13 per share in cash reserves. This money can be used in many ways to boost CHL shares. CHL could raise the dividend, initiate a buyback, improve its network, or make major acquisitions to boost its future prospects.
CHL Chart Confirms Defensive Fundamentals
CHL (orange) vs Shanghai Composite Index (blue) 1 year chart
As you can see, CHL has started to outperform the Chinese stock market during the most recent sell off. This is a trend that should continue as rotation out of cyclical Chinese stocks continues.
CHL Also Benefits if Chinese Economy Improves
In the long run, what is good for the Chinese economy will be good for CHL. If growth continues and the middle class continues to grow, then more Chinese people will be able to afford mobile phones. The correlation between China's long run performance (Shanghai Composite Index) and CHL (orange) is shown in the 5 year chart below.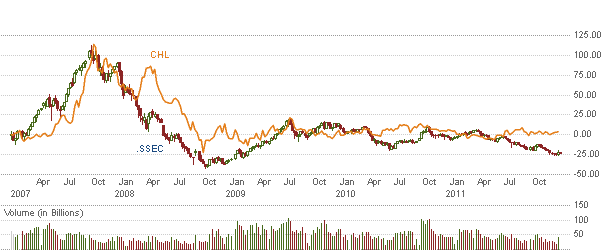 This chart indicates that in the long run, CHL's prospects are tied to the Chinese economy as a whole.
Conclusion
If you think China is entering a slowdown then CHL is a good defensive buy. CHL's defensive characteristics make it so CHL can perform well even if the Chinese economy is slowing down. If you think growth in China will continue to be strong then CHL is still a solid buy. If Chinese stocks "get hot", investors who are looking for blue chip exposure to China will flock to shares of CHL because of the solid fundamentals.
Disclosure: I have no positions in any stocks mentioned, and no plans to initiate any positions within the next 72 hours.