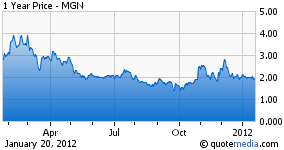 Mines Management (NYSEMKT:MGN) is a U.S.-based mineral company focused on the acquisition and exploration of silver dominant mineral deposits. The company's primary focus is on the advancement of the Montanore silver-copper project located in northwestern Montana, with a goal to ultimately become a new mid-tier producer of precious and base metals.
Montanore Project
The company's current focus is advancement and development of the Montanore Silver-Copper Deposit, one of the largest silver-copper deposits in the world.
The deposit is located in northwestern Montana, about forty miles north of the famed Silver Valley of Idaho, within one of the world's most prolific silver districts. Mines Management acquired the Montanore deposit in 2002 when its partner and operator, Noranda Minerals of Canada, withdrew due to low metals prices at the time.
Mines Management's wholly owned Montanore project hosts one of the world's largest silver-copper deposits containing in-situ mineralization estimated at more than 230 million ounces of silver and nearly 2 billion pounds of copper, not considering dilution or sub-economic mineralized zones.
The project has already undergone extensive engineering, and is designed with an initial production capacity of approximately 12,500 tons per day estimated to yield 8 million ounces of silver and 60 million pounds of copper, with the added potential to increase production.
If in production today at its base case, the Montanore would rank in the top ten silver mines in the world, according to The Silver Institute's 2005 World Silver Survey.
La Estrella Gold-Silver Property in Peru
On January 10th 2012 Mines Management announced that it has signed a letter of intent with Estrella Gold Corp. (TSX-V- EST) for an option to acquire up to 75% of the La Estrella gold and silver project located in central Peru approximately 230 km southeast of Lima.
Mr. Glenn M. Dobbs, the company's President and CEO, stated:
The La Estrella exploration project represents Mines Management's step into one of the most prolific silver and gold regions in the world. The project is in a favorable district, and possesses a number of very positive attributes including previous exploration success, and a permitted drilling program which may afford us the ability to move forward expeditiously. We look forward with enthusiasm to the prospect of working with Estrella Gold on the project.
Financial Condition
It's cash and investment position remained strong at $20.5 million as of September 30th 2011.
The net decrease in cash and cash equivalents for the quarter ended September 30, 2011 was approximately $1.5 million. Management has reviewed the near term spending forecast and continued a plan to diligently conserve cash where prudent.
Given our current cash and investment position of approximately $20.5 million as of September 30, 2011, we have sufficient funds to complete the permitting process and initiate the adit rehabilitation and drill station development. Additional financing would be required to complete the evaluation drilling program and a bankable feasibility study.
Insider Transactions
Glenn Dobbs the President and CEO of Mines Management sold 100,000 shares at December 8th 2011.
There has also been other smaller insider sells during the last 6 months. Director Jerry G. Pogue and Vice President Douglas Dobbs have also been selling shares.
Conclusion
I recommend buying Mines Management below $3. I believe that this company's valuation is one of the cheapest in the sector.
Disclosure: I have no positions in any stocks mentioned, but may initiate a long position in MGN over the next 72 hours.