Overview
Yahoo! (YHOO) is slated to report 4Q 2011 earnings after the close on Tuesday, January 24. The results are typically released at 4:05 p.m. EST and will be followed with a conference call at 5:00 p.m. The results also follow a mixed report last week from eBay (EBAY) and a weaker than expected quarter for Google (GOOG).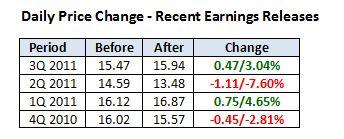 Outliers & Strategy
Key measures:
Non-GAAP Earnings Per Share: The value for this measure typically compares with consensus estimates.

Yahoo! is expected to earn $0.24 (range is $0.21 to $0.28) on Revenue (Ex-TAC) of $1.19 bln. (Source: Yahoo! Finance)
Yahoo! shares are now trading at a mere 19.3x earnings, well below the 5-year average (39.8x), resulting in a PEG ratio of just 1.50.
Recent News
01/19: Yahoo has reportedly instituted a hiring freeze, while more layoffs could be coming as part of an extensive cost-cutting initiative, according to AllThingsD.com.
01/18: According to a report in Barron's, the departure of co-Founder Jerry Yang paves the way for a potential sale of the company's Asian assets, including stakes in Alibaba Group and Yahoo! Japan. The report showed analysts from BMO Capital and Stifel Nicolaus were anticipating a potential sale of those assets with Yang out of the way.
01/17: Yahoo! announced that Jerry Yang has resigned from its Board of Directors and all other positions with the company.
01/05: Jefferies downgraded Yahoo! from Buy to Hold, according to a post on WSJ.com. The report suggested new CEO Scott Thompson has solid experience as a technologist, but may be less familiar with Yahoo's line of business, including consumer Internet and ad advertising sales.
01/04: Yahoo! announced the appointment of Scott Thompson as Chief Executive Officer, while Tim Morse will resume his role as Chief Financial Officer. Thompson served most recently as President of PayPal.
Technical Review
Yahoo shares have traded in a fairly narrow range over the past couple months, with the 50-Day SMA flattening out ahead of the upcoming earnings release. Resistance is at the recent highs near $16.50, with support seen at the 200-Day near $15.25, followed by $15.00 and $14.50. (Chart courtesy of StockCharts.com)
Summary
Not much is expected from the numbers out of Yahoo! when it reports earnings after the close of trading on Tuesday, January 24. Rather, the focus is expected to shift toward the commentary from new CEO Scott Thompson and his plans to revive the beleaguered consumer Internet and media giant.
There has been talk in recent weeks that Yahoo will sell-off its stakes in Alibaba Group and Yahoo! Japan in order to generate cash for acquisitions and other growth initiatives. Other reports suggest Thompson is positioning Yahoo! for extensive cost-cutting via possible layoffs in an effort to temporarily boost margins. Given the recent change in the c-suite, coupled with the departure of co-founder Jerry Yang, the actual earnings results for the past quarter may take a back seat to talk about expense reductions and possible asset sales.
Disclaimer: By using this report, you acknowledge that Selerity, Inc. is in no way liable for losses or gains arising out of commentary, analysis, and or data in this report. Your investment decisions and recommendations are made entirely at your discretion. Selerity does not own securities in companies that they write about, is not an investment adviser, and the content contained herein is not an endorsement to buy or sell any securities. No content published as part of this report constitutes a recommendation that any particular investment, security, portfolio of securities, transaction or investment strategy is suitable for any specific person.
Disclosure: I have no positions in any stocks mentioned, and no plans to initiate any positions within the next 72 hours.